Victor Glemaud Shares His Life in Parties
The Haitian-American designer reflects on his personal and professional highlights so far.
---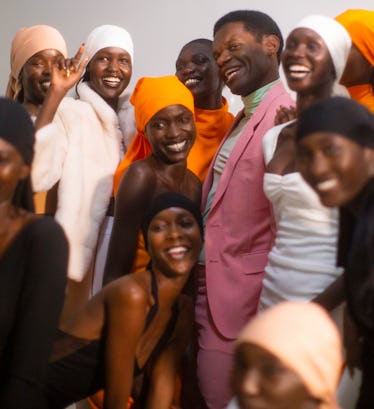 Cyle Suesz/Courtesy of Hampden.
In October 2021, the knitwear designer Victor Glemaud watched Ousmane Sembène's 1966 film, Black Girl, and had an epiphany: It would be the inspiration behind his fall 2022 runway show. Sembène's movie, which follows a young girl who leaves Senegal to become a governess in the South of France, only to end up as a domestic worker, was impossible for him to shake. "It's a powerful story of women and immigration. I started thinking about my mother and her twin sister," explains Glemaud, 44, who was born in Haiti and grew up primarily in Queens, New York. The resulting collection, in a palette of clementine, white, black, and brown (top), emphasizes his deft hand with statement knits.
Glemaud has been in fashion since he was 19, when he studied at the Fashion Institute of Technology while interning with the designer Patrick Robinson. Before he started his eponymous line, in 2016, Glemaud worked as a publicist, studio director, and style director, among other roles, at companies like KCD, Paco Rabanne, and Tommy Hilfiger. He recently added an eyewear line, with Tura, to his repertoire, and later this year, he will debut an interiors collaboration. "Fashion is a roller coaster. And it takes time," says Glemaud of his self-described "meandering" journey. "It's about checking your ego and just doing the work."