Victoria Monét Is Underrated and Loving It
The Grammy-winning songwriter turned solo act talks Jaguar II, the public's perception of her career, and how becoming a mother changed everything.
Photographs by Molly Matalon
Styled by Kat Typaldos
---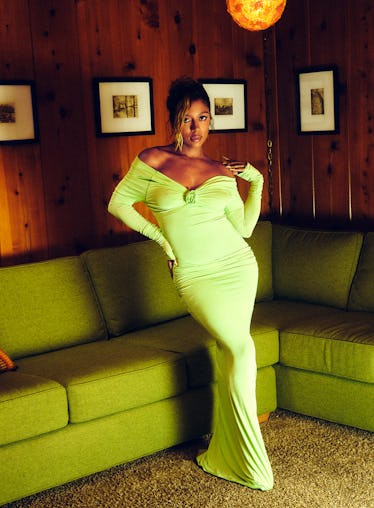 Blumarine dress.
There's a stark contrast between Victoria Monét's onstage persona and her everyday self. Performing, she erupts with hair-flipping, track-belting energy, her glittering presence aided by the crystal-embellished looks she favors. Chatting casually, she's sweet and unassuming—so much so that I have to ask her to speak up. "Growing up, when I sang for someone, I would always make them turn around so they couldn't look at me," she said.
Days after our conversation, Monét had her first-ever headlining show, a sold-out performance at the El Rey Theatre in Los Angeles, where all eyes were most definitely on her. Afterward, Twitter was abuzz with clips of Monét's razor-sharp choreography paired with her fans' usual commentary—that the singer isn't getting the attention she deserves. Monét has come to appreciate the sentiment. "The fact that fans say I'm underrated just means they see a lot more for me," she said in her delicate purr.
That's not to say Monét isn't already accomplished. She's been making her mark on the music industry for years. In 2008, a producer at Motown Records invited her to join a girl group after hearing her music on Myspace. The band never materialized, but Monét, then 15, used the connections she formed during that brief venture to get into songwriting. By 2010, she had her first placement, on Diddy and Dirty Money's song "I Hate That You Love Me." "I was like, Wow, this feels really awesome to spread my legacy around and contribute to someone else's life," she said.
From there, things started to take off. She met Ariana Grande in 2013, when Grande was still a fairly unknown, redheaded Nickelodeon star. Monét helped her write her debut album, Yours Truly, and a bond formed outside of the recording studio. They continued to work together on Grande's subsequent albums, and two of their collaborations, "7 Rings" and "Thank U, Next," hit No. 1 on the Billboard charts.
"That felt like a moment of freedom," Monét said. The accomplishment gave her financial stability, and she funneled every dollar into her solo work. Between 2014 and 2018, she released four EPs as she began to develop her sound, inspired by the music she heard at home as a child in Sacramento. In 2020 came the disco-funk Jaguar, a nine-track "project" that was supposed to be the first of three parts in quick succession, which together would form Monét's first album. The pandemic forced her to revise her original timeline; the second and final iteration will drop this summer.
Jaguar II will live on its own as Monét's first true album. It continues the singer's exploration of '70s themes that have always been a major source of inspiration. A retro feel is enhanced by blaring horns and classic funk guitar riffs, but there's an infusion of hip-hop, as well. "I'm hoping that people just hear the growth and the maturity," she said of the new project.
Monét gave birth to her daughter, Hazel, in February 2021. The event changed her outlook on life, but it also had a more concrete effect on her as an artist. "My voice has changed a lot," she said. "I think pregnancy kind of rounded out my tone." She has also gained a new duet partner. That cooing at the end of "Hollywood"? It's Hazel's first feature.
"I thought my grandma would be really proud to hear her great-granddaughter and Earth, Wind & Fire on a song together," she said of "Hollywood," which she recorded with the legendary group. Hazel was only four months old at the time, so all she could offer was "joy and laughter," but the singer sees a bright future for her daughter. "Now she's singing, so I think there will probably be more music from her to come," she said. "If I can make songs for her, I would really love that. I'll be her writer."
Hair by Davontae Washington for Oribe at OPUS Beauty; Makeup by Grace Pae for The Wall Group; photo assistant: Skye Anderson; Fashion assistant: Nicole Grasty; tailor: Irina Tshartaryan.