W TV Portfolio: Who's Watching Who?
Ahead of Sunday's Emmy Awards, 21 sought-after actors embody characters from their favorite TV shows.
---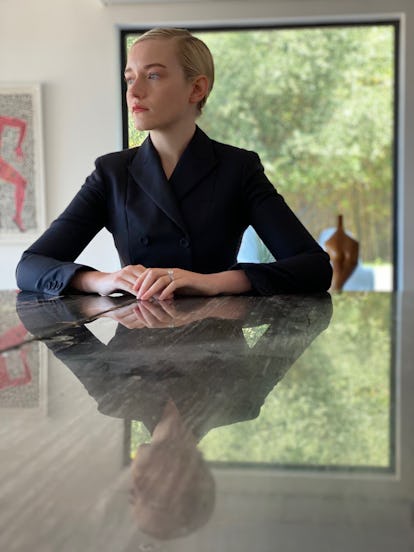 Ozark's Julia Garner dresses as Shiv Roy from Succession. Photograph by her husband, Mark Foster, for W magazine's 2020 TV Portfolio. Julia wears jacket by Dior.
Introducing W magazine's 2020 TV Portfolio.
If you've been feeling guilty about the amount of time you've spent watching television over the past few months, don't. We've all had plenty of good reasons to seek out a bit of escapism. But aside from the obvious, the fact is that right now, TV feels more creative and exciting than ever—whether it's because of documentaries like The Last Dance, about Michael Jordan's mythical career in the NBA; series that perfectly capture the moment, like Schitt's Creek and Normal People; or shows that push boundaries, like Euphoria. Many of us have also revisited classics such as The Sopranos and Curb Your Enthusiasm. And relax—no one will judge you if you've devoted hours and hours to Love Is Blind or Too Hot to Handle. We've all been there.
For W's 2020 Television Portfolio, we asked the most sought-after and influential stars of the moment to embody characters from their favorite shows of the past few months. Most of the actors featured here are Emmy-nominated, and could win big this Sunday. They give us 21 great reasons to ask, "What are you watching this weekend?"
Ramy's Ramy Youssef
Favorite Quarantine Show: Curb Your Enthusiasm
Why did you choose Curb Your Enthusiasm as the show that helped you through quarantine?
A lot of times, it's hard to watch comedies while you're making a comedy. So I'll sometimes watch dramas while I'm making the show—not that our show is a traditional comedy, but I tend to find myself watching more drama stuff. And then this pandemic's going on, and you kind of don't want to be watching a drama. I love Larry David, obviously, and so for me, Curb hit that sweet spot this year. As a show, they were really in their stride this season, and it was so fun to watch. I had such a blast unwinding, watching that season. And it's really cool to see them at top form, even after all these years. What's great about Larry is that he has a quarantine attitude of, "Leave me alone. I'm going to stay inside." I'm trying to capture that energy.
How did Larry David influence your approach to comedy?
Anyone who's in comedy has been influenced by Larry David—there's baseline influence in the storytelling structure and the emphasis on character. It's like when you talk about sports: Even if your favorite player isn't Michael Jordan, the game is influenced by Michael Jordan. He's one of those guys whose touch is just there.
Where were you when you received word that you had been nominated for two Emmy Awards?
I was home, watching the stream. It was early in the morning. I saw that I'd been nominated as an actor. I was very excited. I saw that Mahershala [Ali] had been nominated. That was really cool. And then I saw that the show hadn't been nominated—I really had hoped that it would, but you know, I was still happy. So I turned the stream off, because, selfishly, I was just watching for the categories that I thought we would be up for. Then I got a bunch of texts from people being like, "You got nominated as a director!" I was like, "What? That's crazy!" It wasn't even on my radar.
Schitt's Creek's Dan Levy
Favorite Quarantine Show: The Great
What was it about The Great that got you through lockdown?
I've always been a longtime subscriber to anything that Tony McNamara was writing. I loved The Favourite. I loved his ability to write about the frivolity and the ridiculousness of power, and satirizing it in such a fun and funny and ridiculous way. For me, it was a level of escape. There was an ability to kind of escape into this bizarre world that he created, while at the same time getting the satire that I needed. Because in so many ways, I feel like The Great is essentially mocking power-hungry politics. I was able to sort of get away from what was going on in my own backyard but still feel like there were some jabs at what was going on in government. Not to mention the fact that I thought the performances were gorgeous, and it was just so beautifully shot, and the scope of it—it was just such a beautiful series to watch. At its heart, very few people have the ability to do what he does in terms of just the sharpest, funniest plays on period politics.
What do you think it is about television specifically that continues to bring people a lot of comfort and pleasure and joy and optimism in a time when that is such a rare feeling to access?
I think because we can't get to movie theaters, because we can't go out and distract ourselves in other ways, we are in some capacity kind of bound to the television as a means of transporting us. In addition to kind of watching everything that's ever been released over the past 90 years since quarantine, I have noticed that so much of the content that I've been watching has been escapist, has been travel-related, has taken place in new and exciting locations. I think for the most part, we're looking to distract as best we can. I think that's why we've seen such a rise in unscripted television.
What unscripted television do you watch?
I started watching unscripted television this year for the first time. I never watched a Real Housewives franchise. I never watched dating shows. And yet, now I can't name one that I haven't watched. I think just the priorities, in terms of wanting to sit down in front of something that is so mindlessly distracting that you don't have to think, is either a sad indication of where I'm at or just the reality that I'm listening to my heart and my brain at this point and saying, Okay, pick what you want, and let's do what we can to try and make the most out of a pretty trying time.
Watchmen's Yahya Abdul-Mateen II
Favorite Quarantine Show: Little Fires Everywhere
Do you have a favorite performance from Little Fires Everywhere, an actor that you particularly loved?
I think it may be a tie between Kerry and Reese. I really liked the place that Kerry was working from—that natural, grounded place. And I've seen that in other parts of her work before, but her character was so patient. She was so, so patient, and that was nice to watch. I was very drawn to her. And then with Reese's character, she was sharp. She cared a lot for her family, and it was important for her to keep up appearances and to do things correctly. She had a good heart, but she didn't always operate, or her intentions didn't always come off as good. She was a complex character as well, and I think she did not hold back on the acting at all. It was a very complementary energy between those two actors.
What can you tell me about filming The Matrix 4 in Germany?
I can't say anything. It's one of those things where I haven't been given license to mention anything about The Matrix yet. But I think it's going to be really, really cool. I'm excited for it. I already want to see it.
What are you most excited about regarding TV right now?
With as much content as there is out there—on Amazon, Hulu, HBO Max, Netflix—that means that more actors are going to be working. And it gives me a chance to discover a lot of actors for the first time. Actors who we are used to watching in film, they're also doing television—myself included. There's a lot of work out there, which makes for a wide variety of creativity and conversation. And most of all, employment, for a lot of really, really good actors.
Killing Eve's Jodie Comer
Favorite Quarantine Show: I Hate Suzie
You've been watching I Hate Suzie, which unfortunately isn't available yet in the U.S.
It's a real trip. I think what Billie Piper and Lucy Prebble have done is brilliant. The series is very, very immersive. In the first episode, you meet an actress who's having a photo shoot in her house, doing some sort of publicity for a role. And in the midst of all that, there's a notification on the news that a group of celebrities' and public figures' phones and accounts have been hacked. Compromising, private images have been released, and the images are of her. I don't really want to give you any spoilers, but the series follows how she deals with it and goes through it. Each episode follows a certain emotion—I guess the kind of journey you go on when something catastrophic like that happens in your life. But it's really funny. It's got a lot of comedy, and Billie Piper is just incredible. And I think the way they portray people in the industry is so spot-on. It's so fun to watch when you've been on sets before, when you've been on photo shoots, and all those clichés.
But I think ultimately what really fascinated me is how she explores handling something like this, having your privacy invaded and put out there for all the world to see and what that does to a person. And also the expectations we have of people, whether they're in the public eye or not. You know, it seems like now people can't afford to make mistakes or slip up or seem to have been doing wrong, even within their own lives. It's something that everybody takes part of in one way or another, the ridicule. Everyone jumps on top of it. I think sometimes in society now, it's like this mob mentality, isn't it? I really admired the way she explored that, and once I started, I just couldn't stop. Like Michaela Coel and I May Destroy You, this show has this very particular tone, and it's very fresh. And I just feel like it's women who are doing this. I'm like, please give me the name of a man who is doing this! It's just women, like, of course, Phoebe [Waller-Bridge]. It's so inspiring.
Do you miss red carpets and getting dressed up?
Yeah, I do. You know, I think actually what I miss more about that whole experience is the team of people I'm always around, like the hair and makeup team. My stylist, Elizabeth Saltzman, is just one of the best human beings ever. She's so much fun. I think what I miss most is being around like-minded people like that, who really celebrate those moments and make them fun. They're always such a good energy to be around. So I look forward to the day when, when we can all do that again in person.
Ozark's Julia Garner
Favorite Quarantine Show: Succession
You have a naturally angelic face, yet Ruth, the character you play on Ozark, has done terrible things. Why do you think audiences love Ruth?
Ruth is probably the most sensitive character on the show. She grew up with men, so she's like a little boy—childlike and a little scary. The way I look sets up a contradiction with the character: Ruth seems unthreatening, but she's capable of all kinds of surprising behavior.
You chose to portray Siobhan "Shiv" Roy on Succession for this portfolio. She's also a character who's darker than she appears.
Like Ozark, Succession is the story of an intense family. I could have put on a wig and played Shiv's brother, Roman Roy, who is more of a sarcastic, smart-talking misfit with a questionable past, but Shiv is the character I root for on the show.
Succession's Jeremy Strong
Favorite Quarantine Show: Chef's Table
Did you watch Chef's Table during your time in Denmark?
Yes. Here's what I love about the show: They seek out the greats. They visit these amazingly unique chefs who have freed themselves from the granite of the established food culture. The show is not about a particular dish or a meal—all these chefs have a sense of wonder. And I relate to the chefs. The silence you hear in their kitchens is the same kind of quiet you hear in the theater.
Can you cook?
I'm a terrible cook. I've always had a dearth of hobbies in my life. But I love food, and I love restaurants. I miss the aliveness of restaurants terribly. And I love [on another Netflix documentary] when the Scandinavian chef of Noma, René Redzepi, reportedly decides, after winning every prize and being named the best restaurant in the world, to throw out his entire menu. He's been known to say, "If I try and repeat my success, I'll never achieve it again." I love that appetite for risk.
Hollywood's Jeremy Pope
Favorite Quarantine Show: Martin
What is it about Martin that you've enjoyed most during this quarantine rewatch?
I feel like most of us have our own quarantine journey that we've been on, and we're still in the thick of it all. I was filming something right when quarantine happened, so I felt like a lot of my life had been put on pause for a little bit—which was fine and necessary, and I was able to take time away that I needed. But Martin has always been a source of joy for me. It's a show I grew up watching with my dad. To have time to purchase all seasons of it and watch it top to bottom—episodes I had seen before somehow got funnier. I was very grateful to have his show during this time of uncertainty and unrest in the world. I think it is a journey of highs and lows, but whenever I'm watching a 30-minute episode of Martin, it's a moment of stillness, it's a moment of happiness. Martin Lawrence is one of my favorite actors and comedians, and I hope someday to work with him on something. I think I've said this before—I would love to do a movie with him and Meryl Streep. I don't know how that would work, but I want to be in that film! [Laughs] He's just brought me so much joy and laughter. I needed those moments crucially during this season of my own personal growth and journey.
It seems like there's a Black '90s sitcom resurgence happening, with Netflix recently adding Sister, Sister and now Girlfriends. Have you been rewatching any other '90s sitcoms during this time?
I think a big one in the past couple of weeks was Moesha. I didn't watch that show a lot when I was growing up. I remember it existing, but now being a fan of Brandy and her music, and after watching the Brandy vs. Monica Verzuz battle—that was a big thing that a lot of my friends were watching—I went down the rabbit hole of watching Brandy and how much of a star she has been. That's been my vibe. When it came to this W shoot, I wanted to play in some '90s clothing—some big jeans, bright patterns and colors—and just have a good time. We turned on '90s music and vibed out. [In] a lot of the takes I'm smiling heavily and I'm laughing too loud, but I think ultimately, that is what these shows have brought me during this time.
In Hollywood, your character, Archie Coleman, is a gay screenwriter who gets Oscar buzz for his work. We know that this never happened, but it's an optimistic way of imagining the past and how it might have affected the future.
Our series ends in a hopeful manner. I think if we look at it in real time, we didn't see the [Academy Award for Best Original Screenplay] win happen for a Black man until 2018, with Jordan Peele. The conversation that I am open to having is, had we seen it in the '40s with someone like Archie Coleman, would we have had to wait so many years to see it [again] in 2018 with Jordan Peele? I think those are the things we're seeing the world ask of the industry, of systems and institutions, because it's not a full representation of the people that lived in those communities. Ultimately, that is a conversation that we really wanted to have with Hollywood. It was a period piece, but there were certain things that felt very now, very 2020. Whether people loved it or felt hopeful or not, if anything, I think it did spark those conversations at home and the idea of what it could have been like, and I think that is important.
Little Fires Everywhere's Lexi Underwood
Favorite Quarantine Show: Hollywood
Both Little Fires Everywhere and Hollywood tackle intricate problems based on the intersections of race, class, gender, sexuality, and other identities. Do you see any other connections between those two shows?
Between the two projects, I think definitely the microaggressions. And the fact that both shows are set in different time periods but they're so timely for everything happening now. Obviously Hollywood has gotten better for minorities and Black creatives, and LGBTQ creatives and Asian creators. Even in Little Fires Everywhere, just seeing what Pearl and Mia had to go through, I'm interested in the parallel in the fact that even though they are set in two different time periods people can still relate to both stories now. Whether it's microaggressions or blatant racism, it's always been a fight. We've been fighting oppression for 400 years and it will continue to be a fight. And so I think that stories like Little Fires Everywhere and Hollywood are so important and timely to everything happening right now in this moment.
Little Fires Everywhere takes place during the '90s. Was there any cultural phenomenon specific to the '90s era that you learned about from starring in the show?
Oh my gosh, there are so many things that we honestly did not know going into filming. We learned about The Real World. None of the kids had watched or heard about that before. Before Sunrise is a big thing that Gavin Lewis, who plays Moody, and I talk about within the first three episodes. Our homework was to go back home and watch all the Before Sunrise movies, which we had never watched before. I think that was probably like one of the biggest things or cultural phenomenons that took place back in the '90s that we learned about while filming.
Were there any particular styles or fashion trends from the '90s that you were really into, or that you've gotten into since starting the show?
Yeah! For me, growing up, one of my biggest fashion inspirations was Aaliyah. Just that effortlessly cool style that she had—the baggy jeans, tight crop tops, or even just what we got to do with Little Fires Everywhere: the mom jeans and the bell bottoms and the chokers. It was all so incredibly cool and I'm starting to see a lot of those trends coming back now, so that makes me happy.
Normal People's Paul Mescal
Favorite Quarantine Show: True Detective, Season One
What was it about True Detective that made you want to watch it during quarantine?
I've watched that show definitely three, maybe four times. I'm obsessed with that piece of television. I think it's just nearly perfect. I just love that show so much. I think Matthew McConaughey and Woody Harrelson are pretty close to perfect. You can go back and watch it three or four times and not get bored.
On True Detective, there are differing expressions of masculinity. Maybe the True Detective characters exhibit a harsher, more traditional form of masculinity, whereas in Normal People, Connell exhibits something a bit softer and more introspective?
Yeah. I think you get the trope of hypermasculine detectives, but also I think Matthew McConaughey's character, Rust, in particular, is more introspective, which I always find more interesting to watch. With Woody Harrelson's character, Marty, you feel like he's more hypermasculine, but as the show goes on, the more you see he's wrestling with that and it makes him uncomfortable and he's trying to step into a role, similar to Connell, and it just doesn't fit right with anybody.
When Normal People premiered on Hulu, the Internet fawned over one accessory worn by your character throughout the series: a chain. Why do you think people obsessed over that, and whose idea was it to give Connell the chain in the first place?
The chain is actually from the book. It wasn't my idea or the costume designer's idea. I remember going to a fitting, and the chain was there, and I was like, Oh, it's a reference to the book. I also think it's right for the character. I don't know why it's garnered the attention that it did. I'm slightly confused by it. That's my honest answer. I see tons of people walking around with chains on, and yeah, I'm slightly confused.
Euphoria's Hunter Schafer
Favorite Quarantine Show: Neon Genesis Evangelion
I know you wanted to illustrate comic books before you got into modeling and acting. So is it safe to say that you're a big manga and anime fan?
Absolutely. I grew up reading comic books, ever since I could remember, because my dad was really into them. He was an Aquaman fanatic, so I grew up largely on the DC comic books. My favorite characters were Hawkwoman—yeah, she was definitely my favorite character—and then Green Lantern, too. I just loved those worlds. And then that evolved into an interest in anime, then manga, when I was in middle school. And then I started finding these sites that played the anime for free.
Do you have a favorite anime?
I do, this one [Neon Genesis Evangelion]. It's a classic—if I had to say one, this would be it. But anime is a vast world, there are so many different genres. There are, like, a million other masterpieces.
I feel like anime is kind of having a moment right now. So many people are talking openly about nerding out on cartoons. Megan Thee Stallion loves anime.
I got Megan Thee Stallion's anime merch. She had this shirt of her and two other girls in anime form, with swords and shit. It was sickening. It's one of my favorite shirts right now. I saw the release on Instagram, and I was like, I can't not have that.
PEN15's Maya Erskine and Anna Konkle
Favorite Quarantine Shows: The Sopranos and Love Island
Anna, you chose to embody Hannah Elizabeth from Love Island (U.K.). What drew you to this show?
Anna Konkle: The question of who's showing themselves the most and who's the realest is always up for debate, which is really fun. And then in terms of this character, Hannah Elizabeth—if someone wrote her, she'd be a brilliantly written character. You watch these people really show who they are.
Maya, you chose The Sopranos. Was this your first time getting into it, or was it a rewatch?
Maya Erskine: I had [watched it], but I hadn't seen it all the way through. It came out when we were in middle school. My brother was obsessed with it and had Sunday-night Sopranos parties where he'd watch it with all his friends, and they'd cook pasta, and it'd be a big thing. This is so embarrassing, but when I was that age watching it, I didn't understand how awful the crimes were. I didn't really understand the consequences of it, and I would watch that and Goodfellas and Casino, and in my mind, I always saw the glorified part of it and the "good old times" of it. I wanted to be Italian and be married to a Mafia man. And I would say that to my parents. And they're like, "You understand that's an awful life? You don't want that. They're awful. It's awful."
In the first season of PEN15, you guys were very viscerally honest and vulnerable about what it felt like to be a teenager in 2000. What are some of the themes you're going to be exploring in this next season?
Maya: We pick up right where we left off. So, right after the dance. And we get slut-shamed, which sets off a chain of events that causes Maya and Anna to search for different identities to take on. Last season, it was about them almost losing their friendship but then coming back together, and a lot of firsts. This season, they are solidly together but going through becoming more of outcasts than they were, compared to last season.
Anna: We are also playing with talking more about sexuality in terms of how it relates to other people. This season is a little bit more about emotional firsts.
Stranger Things' Millie Bobby Brown
Favorite Quarantine Show: Friends
You chose to portray Rachel, Jennifer Aniston's character, for this portfolio.
An icon! Rachel is my favorite. After all, she has a hairstyle named after her. I dream of people saying, "I want the Eleven! Or the Enola!" I want my own hairstyle.
The Enola would be a Victorian hairstyle—you play Enola Holmes, the spirited teenage sister of Sherlock and Mycroft Holmes, in a Netflix film. You get to speak in your own English accent, solve crimes, and wear a corset.
Yes, and that was the first corset I ever had to wear. I had a 20-inch waist in the corset. I thought, Wow! This is a fashion moment! But then I had to wear it while doing stunts, and I'd ask my costar Helena Bonham Carter, who has worn many corsets, "Why can't I breathe?" I hope corsets never come back in style, but after wearing one for four months, I had an hourglass figure. Afterwards, I went to the beach, and for a solid month or two, I was curvy. Then quarantine happened and my hourglass died off. Very sad.
Unorthodox's Shira Haas
Favorite Quarantine Show: I May Destroy You
How did you first get into I May Destroy You?
I got a recommendation before it exploded, before everyone was talking about it. I just started watching it and was so fascinated. I mean, it's such a brave TV series. I think it brought something very, very different to television. It brought up [familiar] situations from our lives, maybe stuff we've seen before in films and television, but it took so many complex approaches to it. You don't just see black and white—you see all the gray in the middle. I felt so many mixed emotions, toward the situations, toward the lead character. And I love TV series that actually make me think about what I watched after I watch them. After seeing an episode, I found myself talking about it with people or thinking about myself. It really stayed with me. It was really powerful.
John Mulaney & the Sack Lunch Bunch's John Mulaney
Favorite Quarantine Show: Floor Is Lava
Okay, how did you ever find Floor Is Lava?
A friend sent me a cell phone photo of a person trying to avoid a viscous red fluid, and I immediately said, "What is that wonderful-looking show?" I really like that there's no article in the name—Floor Is Lava. Shorthand we should all use. Like: Door's Broken. Floor Is Lava. So, I went straight to my iPad and watched the show. It was so good that I immediately felt terrible that I had not waited to watch it with my wife. We usually watch great shows together from the beginning. I went hat in hand, and she forgave me.
Would you want to be a contestant?
I'm of two minds on this. I might wipe out right away, and then I'm gone. I would ask, "Hey—could I do it again?" Or, if I fell in the lava, would that be the end? I also have a fear of wearing shorts on television. The contestants all wear shorts.
Do you watch reality shows?
I watch The Real Housewives of Beverly Hills, Orange County, and New York City. I watched something called Too Hot to Handle. I became addicted to a show called Polyamory: Married & Dating on Showtime. For two seasons, we would follow the pitfalls and triumphs of polyamorous people. Inevitably, somebody gets jealous. Their biggest criticism would be, "You're very mono," meaning monogamous. "It's poly, man, not mono," they would retort. I wouldn't do well in the polyamorous life. There's too much extra dialogue. Everybody would love group sex on a U-shaped couch, but having twice as many marital conversations kind of takes away from the extra sex.
Vida's Melissa Barrera
Favorite Quarantine Show: Dark
I want to talk to you about your upcoming film, Scream 5. When was the first time you watched Scream?
When I was young, I guess in between 10 and 15 years old. I was obsessed with scary movies, and I watched all of them. The first Scream came out in 1996, and I was way too young to watch it then. So I think the first time that I watched it, I was probably 10 or 11. I just loved getting scared and then not being able to sleep in my room and having to sleep in my sister's bedroom on the floor. Because I'm a masochist in that sense—I love watching scary movies, but I cannot sleep for two weeks afterward. It's insane.
Have you been doing anything ahead of time to get into character?
I've been doing a lot of research on my character specifically, because she has lived through certain things that make her a very complicated human being that I personally have not lived through. So that's what I've been doing—just writing down memories and creating her life, basically her childhood, so that I'm informed in the way that she acts and why she is the way that she is. I've just been reading the script over and over again, finding different things in it, reading in between the lines and discovering new things every time I read it. And also trying not to be nervous that I'm going to meet Courteney Cox, honestly, because that's one of the most exciting things. You have no idea how many times I've played in my head the scene where I'm meeting her for the first time. And I'm like, What am I going to say to her?
What are you going to say?
I honestly have no idea. And because of the safety protocols, I don't even know if I'm going to be able to spend much time with her. I'm not going to be able to hug her, for sure. I love hugging people, and I'm not going to be able to do that. So that sucks. But I do have some scenes with her, so I'm excited to work with her and tell her how much I love her. And tell her how much of an influence she's been in my life, because I'm a huge Friends fan.
I Know This Much Is True's Kathryn Hahn
Favorite Quarantine Show: Broadchurch
How quickly did you watch Broadchurch?
When I realized there were only three seasons, I started to move slowly. I mean, in my humble opinion, nothing could compare to that first season, but I still just treasured it. The relationship between the two of them… I felt like my mother; like I was so invested in these people in a way I have not felt about [characters in] a television show. And also because it was just, like, me. My husband, my family wasn't in on it. Like I said, because I was so many steps behind everybody on the planet, it was just mine. It was just this little beautiful relationship I had. I felt like it was my secret with these people. I loved it so much. It was nourishment. She's such a goddess, Olivia Colman.
Was your family not interested in watching it?
It was just timing. All of a sudden, I started watching it on some afternoon, and then I was just a bit too far ahead for my hubby to join me. It was the same thing with Breaking Bad. He's watched all of them, and I'm just screwed because I have to start from the beginning, and there's so much. I'm waiting for my son to get a little bit older so I have somebody to watch it with. [Laughs] But with Broadchurch, I'm telling you, I loved watching it alone. It was like I was reading my little afternoon novel, which happened to be starring the amazing Olivia Colman and that sexy, sick man David Tennant.
What was the last show that got you this much?
In a completely different way, another British show. I'm also beyond, beyond can't stop thinking about it, mouth on the ground with I May Destroy You. I cannot wait to watch it from the beginning again, knowing what we know now. [Michaela Coel] is another wonder. A wonder, a wonder, a wonder.
The Marvelous Mrs. Maisel's Rachel Brosnahan
Favorite Quarantine Show: Survivor
Where on earth did you get "The Tribe Has Spoken" socks?
This has now become my full brand and I'm really gonna need to find something else to watch in addition to Survivor, which I love. I celebrated my 30th birthday recently and absolutely every single one of my gifts was Survivor-themed. So the socks were a very thoughtful birthday gift.
So your love for Survivor is well-known in your friend group?
Well, yes, there's been four of us in our little—I don't know what you call it—quaran-pod, or quaran-family since the beginning of March, since essentially the day that New York shut down. So that has been our family show—that's essentially how we got so deep into it. So it's a shared passion.
And was it a rewatch for all of you?
Embarrassingly. It's a rewatch for my husband and I, but first time for the rest of the family. So that was very fun for us. And there were so many seasons that I'd honestly forgotten who won a lot of them.
Westworld's Thandie Newton
Favorite Quarantine Show: The Last Dance
How did you discover Michael Jordan and The Last Dance during lockdown?
I'm grievously uneducated when it comes to sports. I am a dance fanatic rather than a sports fanatic. And I had never watched Michael Jordan play. Never watched a game, never knew he had won the Olympics, never really knew what he did. So we settled in, and because my husband [director Ol Parker] loves sports, we watched The Last Dance. I was overwhelmed. I could not get over how this individual rose to such a high level of excellence. Yes, he tested people, and yes, he was demanding. But he never fell foul to all the pressures of being a famous Black person in the United States. I understand why people in his position go crazy, but there he was, decades later, with his cigar and his whiskey, able to see his life clearly from the other side. When he said, "I just needed people to be the best," and started to cry, I was deeply moved. His life as a basketball player was a spiritual quest. And then, in quarantine, my husband and I celebrated our 22nd wedding anniversary, and he gave me a framed photo of Michael Jordan. I'm not a Christian, but Michael Jordan is here to remind us that life is magical, unknown, and beautiful. He's a god—I can't put it any other way.
The World According to Jeff Goldblum's Jeff Goldblum
Favorite Quarantine Show: Babylon Berlin
Why did you choose to watch Babylon Berlin during lockdown?
I keep watching different things. Now that I'm here, we're pretty immersed in the work around here [in England]. Of course, I've been taking off a moment or two and playing music with Sam Neill. We were all bubbled up before then, being very, very careful and not going out at all. We were watching television, and one of the things that Emilie and I watched every night—when we could after we put the kids to bed—we watched passionately, obsessively Babylon Berlin.
What was it about that show that kept you hooked?
We were kind of on the edges of our seats the whole time. It was a bunch of episodes; it's many hours. We went through three seasons, but it kept compelling our interest. It's really well done. It's about the period before World War II. This is 1929, before everything shattered in the culture over in Germany and around the world—there was the [stock market] crash, of course—and it sort of suggests what elements might have been there that led to all the future events, disastrous events. We focus on these very compelling few characters. There's a noir detective story at the center of it with this great actor, Volker Bruch, whom I think I'll dress up a little like in this picture that we're planning on, and get my trenchcoat and a fedora. Maybe even Emilie could be part of it, because his costar Liv Lisa Fries plays Charlotte Ritter. It's very romantic, and you keep wanting them to get together. In the meantime, they're in this city where democracy is teetering on its foundations, and the whole culture is volatile with many awful types already emerging. It's really, really something. We tuned in night after night for that.
Now that you're caught up on Babylon Berlin, has there been anything else that you've been watching in lockdown—maybe with your kids or with Emilie, or even just alone—that you've really enjoyed lately?
She and I have been going crazy over that Michael Jordan documentary. And during this period, I watched some more Ken Burns. I watched all of the Vietnam War documentary that he did and the Country Music documentary, which I loved. I've been obsessed recently with some [Stanley] Kubrick movies and all of his work—2001: A Space Odyssey and Barry Lyndon. Something that just came out that I really enjoyed is the Charlie Kaufman movie called I'm Thinking of Ending Things. I just saw it yesterday for the first time and then started to play it again immediately. It wants you to look at it immediately again, from the perspective of the end. It's fascinating. I really love it, and I loved his movies Anomalisa and Synecdoche, New York.
Unbelievable's Kaitlyn Dever
Favorite Quarantine Show: Schitt's Creek
Did you cook a lot during quarantine?
I made cookies! I love cookies—they are my favorite food. I would bake a lot of them and then put them in mason jars and deliver them to my friends. I'd drop them off and wave from a distance. My younger sister, who is 16, also taught me a lot of TikTok dances. I'm not on TikTok, but I can now do many of the dances.
Did you watch a lot of television?
I felt really grateful for Schitt's Creek. My entire family was hooked. It was dark and scary at the beginning of quarantine, and we all wanted something funny to watch. All the characters are icons, but I was particularly drawn to Dan Levy. I started following him on Instagram, and then we were both cast in Coastal Elites. Dan and I bonded over our nerves—it's scary to do a long speech straight to camera. I also rewatched any rom-com I could find. Anything with my crush, Chad Michael Murray! I began to realize that good romantic comedies are hard to make. My post-quarantine goal is to be in a great rom-com.