W TV Club: On Frasier, Roz and Daphne Carried the Team
Editor Maridelis Morales Rosado explains why Frasier and Niles Crane are not the most lovable characters in the '90s sitcom—their women counterparts are.
---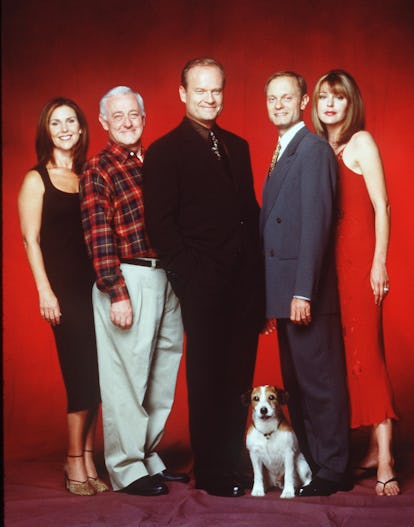 Cast of Frasier. Photo courtesy of NBC/Getty Images.
Welcome to the W TV Club, a spin-off series of W Movie Club, in which W magazine's editors pick a season of a television show they'd recommend you binge-watch while in quarantine. This week, visuals editor Maridelis Morales Rosado reflects on Frasier and Niles Crane—and why their women counterpart characters are actually the more lovable characters on the 1990s sitcom.
I'm not sure why I feel comfort while watching fully grown, adult men sabotaging their lives while only looking out for their own interests, but Frasier really does scratch that itch for me. It's probably why I've returned to the series four or five times. Frasier Crane and his brother Niles Crane are both psychiatrists in Seattle—Frasier is a local celebrity through his self-help radio show and Niles, through his private practice. But I'd like to delve into the real heroes of this story: Roz Doyle, Frasier's producer, and Daphne Moon, Frasier's father's caretaker—the two strong female presences throughout the series. They are the ones that keep the Crane family afloat and humble.
Roz is the antithesis of Frasier—free-spirited, going along with life as it happens, all while making fun of Frasier in attempts to bring him down from his ego cloud. The opposing personalities balance their friendship out; Frasier's expertise can come in handy when others around him are hurting, but usually, she is carrying the team. Meanwhile, Daphne comes into their lives in a professional manner but soon after becomes a part of the family, (and is probably the sole instance in which Niles makes a good choice when it comes to the women he dates.) Her charming Manchester accent makes her the center of attention as soon as she speaks. She's witty and is never afraid to call things out as she sees them.
In the seventh out of 11 total seasons, Frasier and Niles are peak Frasier and Niles, constantly competing for women, insignificant titles, and superficial recognition. At the same time, Roz is navigating her dating life, career, and being a single mother, while Daphne is preparing for her wedding to Niles's divorce lawyer. Seeing them both lead semi-normal lives and being comfortable in an imperfect existence is a relief—in contrast to the Crane siblings' uptight and overwrought demeanors.
This is the season when the plot thickens. Frasier comes to the conclusion that Daphne and Roz are the only women in his life, while wallowing in his typical self-pity, which then creates a chain reaction. In true Frasier fashion, (spoiler alert here,) he accidentally reveals Niles's crush of years to Daphne during a massage, making her the last person to find out about it. Roz and Daphne once again have to work around the men's lack of social skills while relying on their own friendship and make a plan of action to fix the mistake Frasier made.
Related: W TV Club: Watching The West Wing to Escape From 2020 Politics