Moesha's Impact
If you're still looking for quarantine outfit inspiration, look no further than Moesha—all six seasons of which are now streaming on Netflix.
---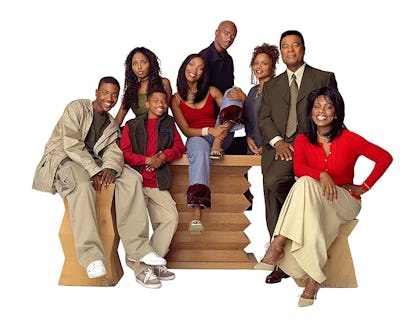 Image courtesy of IMDb.
Welcome to the W TV Club, a spin-off series of W Movie Club, in which W magazine's editors pick a season of a television show they'd recommend you binge-watch while in quarantine. This week, associate digital editor Brooke Marine shares her go-to season of television to watch when you're in the mood for peak '90s style.
There are so many reasons to love Moesha: the iconic theme song sung by Brandy herself, the dialogue's pop culture references and jokes, the dynamic of an average, middle-class Black family getting some screen time in a sitcom. But perhaps one of the most urgent reasons you should dip back into the first season of Moesha now that Netflix has made it available as part of their Strong Black Lead lineup is to see the peak '90s style on parade.
When we hear "'90s fashion," sometimes the first pop culture reference that comes to mind is Clueless protagonist Cher Horowitz. While it's true that most would agree Cher's plaid blazer-and-skirt sets and her unwavering respect for Alaïa and Calvin Klein are unequivocally '90s fashion moments, you should also know that Moesha was just as much of a trendsetter, if not even more ahead of her time when it came to style. (That, and Moesha also had a deep, burning desire to drive a Jeep Wrangler, but her ideal set of wheels was red, instead of white like Cher's.) As Garage's Brooklyn White pointed out, late '90s television style icon Carrie Bradshaw may have popularized the idea of obsessing over a pair of Christian Louboutin heels, but Moesha wore them first. Today, you can't talk about tiny shirt, big pants culture without mentioning Moesha's impact.
Moesha had vests for days, braids worn in nearly every kind of style imaginable, earth tone baby tees, and she still wasn't the only one pulling looks on her own show. Her best friend, the sometimes dimwitted but always down for a fun time Kim (played by Countess Vaughn) was chic, too. Check her Jean-Paul Gaultier spring 1996 look if you need proof—she served in nearly every episode, and so did Moesha's stepmom Dee (Sheryl Lee Ralph), who embodied a sort of '90s sitcom mom with elevated taste.
The boys of Moesha can't be ignored, either, when it comes to their style—Hakeem, in his overalls and oversized striped tees, carries the same energy as every outfit that Urban Outfitters has been trying to sell for the past few years. Just about everyone on the show was effortlessly fly, and Black designers like FUBU and Enyce were given shine on a big platform: the UPN sitcom lineup.
There's an Instagram archive for every outfit worn by the characters of Sex and the City, and respects have been paid to The Nanny's Fran Fine (Fran Drescher). Now, it's time we give Moesha the credit where it's due for leaving behind a sizable '90s style legacy.
So, if you're still looking for quarantine outfit inspiration, look no further than Moesha—all six seasons of which are now streaming on Netflix.
Related: The Best Art World Films to Watch Now, From Arthur Jafa to Cindy Sherman