W TV Club: The Queen's Gambit, as Told Through Anya Taylor-Joy's Costumes
Looking back at the outfits Beth Harmon wore on Netflix's runaway hit, the nods to a chess board via fashion looks are a brilliant touch.
---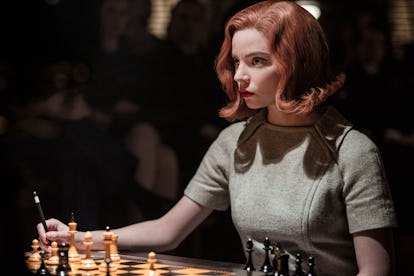 PHIL BRAY/NETFLIX © 2020
Welcome to W TV Club, a spin-off series of W Movie Club, in which W magazine's editors pick a season of a television show they'd recommend you binge-watch while in quarantine. This week, social media manager Jenny Oliver goes deep on the latest must-see Netflix original, The Queen's Gambit.
If you don't already own a chess board, you're going to want to add one to your holiday wish list after watching The Queen's Gambit. Set in the 1960s, Netflix's newest hit will have you on the edge of your seat. It's filled with drama, competition, fashion, sex, drugs, and rock and roll. (Okay, not so much rock and roll, but the soundtrack is a crucial part of the limited series.)
The show features Beth Harmon, played by Anya-Taylor Joy: a nine-year-old orphan who arrives at an orphanage in Kentucky wearing a dress with her name sewn on by her recently deceased mother. Once there, Beth learns to play chess thanks to the orphanage's janitor, Mr. Shaibel (Bill Camp). While learning how to play the game that will make her famous, Beth becomes addicted to tranquilizers, which are provided by the orphanage. Beth believes the pills allow her to see the chess pieces on the ceiling as she falls asleep, which therefore allows her to be a better player. After Beth is forced to stop playing chess with Mr. Shaibel and has an incident with an accidental overdose, she's weaned off the pills, for now.
Beth is adopted by husband and wife Allston (played by Patrick Kennedy) and Alma Wheatley (played by Marielle Heller) as a teen. She leaves her friend Jolene at the orphanage and gains something unfamiliar: two parents, a house, and a bedroom with plaid wallpaper, just for her. Beth's blunt red bangs and hand-me-down clothes cause her to stick out among her classmates once she starts school, but she only has one thing on her mind—playing chess.
After winning her first tournament, Beth buys herself a chess set, books on chess, and a plaid dress with the $100 prize money she receives. This frock is the first hint at Beth's chess board-themed wardrobe that continues throughout the season, while each new ensemble symbolizes Beth's growth as a chess player.
Once Beth lands in Las Vegas for the U.S. Open, she's in another board-reminiscent frock. The black-and-white dress is worn in multiple scenes during the series, and it marks Beth going from a child prodigy to an adult player who must hold her own among the best of the best. (Another black-and-white power look was Beth's gingham print one-piece, which she wears while in Mexico City. If any single item of clothing was made for this show, it's this bathing suit.)
While Beth is in Paris, the audience sees another change in her style. The chess player indulges in her own growing taste and treats herself to new outfits by French designers. She becomes enthralled with Parisian life, and it agrees with her. From a tan-and-black colorblocked dress paired with low-heeled slingbacks to a simple white turtleneck sweater and black pants (which she wears while studying in her stunning Paris hotel room), Beth appears right at home. There can be no mention of this episode without detailing the mini dress she wears for her final competition of the trip, which is light green with black details and a bow at the center of the collar.
In the final episode of the series, Beth's chess game—and style—are at their most poised. She goes all out for the prestigious Moscow Invitational match in Russia, with two looks being the most powerful. One is a tan checker-patterned coat, and the other is arguably the most important look of the series: a head-to-toe white ensemble, featuring a white hat, jacket, pants, boots, and gloves, with a pop of black from her top peeking out underneath. This outfit represents the white Queen chess piece.
Throughout seven episodes of the limited series, we see Beth's style shift; from hand-me-downs at the orphanage to frocks bought in Europe, Beth goes from an awkward pre-teen to a striking young woman. She also ditches the bangs for a chic side-parted lob. Looking back at her outfits, the parallel between the chess board and Beth's style is brilliant. Checkmate.
Related: Marielle Heller Sees Acting and Directing as "Parts of the Same Whole"