Wendy Williams Is the Captain of Her Own Ship
The talk show host on sneakerheads, becoming a cat mom, and keeping a quiet home.
---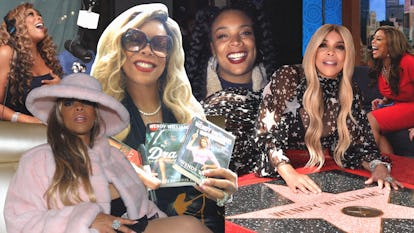 Photos courtesy of Getty Images. Collage by Maridelis Morales Rosado.
When New York City's stay-at-home order was just underway, talk show hosts and crews packed up their work supplies, and brought their studios home with them.
Wendy Williams was one of those hosts, who began broadcasting 15-minute livestreams on YouTube in place of her daily pop culture digest that she typically records at a studio in Chelsea.
Anyone who has been to a taping of The Wendy Williams Show knows that it is an experience like none other. The energy—which is fortified by the ear-splitting sounds bumping from the show's house disc jockey, DJ Boof, and the show's hype man Marco Glorious—is thrilling, chaotic, and colorful. So when The Wendy Williams Show: At Home Edition premiered in March, longtime Wendy Watchers wondered how an at-home version of the talk show would work.
At home, the show's live studio audience (or "co-hosts" as Williams lovingly calls them) was no longer a major presence to be felt in the background of any episode of the show. Instead of "Live from New York City," it was "Live from Wendy's apartment in New York City." It was a revealing peek into the host's home life—her Betty Boop sculpture, champagne glass filled with Orangina, and decadent meals all on display. As any fan would probably admit, it was sublime.
But according Williams, it was maybe a little bit too revealing. Just a week before returning to the studio for the 12th season of her daily talk show, Williams admitted that she did not enjoy recording from home so much, as it gave people license to comment on her personal life. To put it simply, the longtime radio host and television personality doesn't want anybody in her house right now, not even virtual guests (and in the middle of a global pandemic, could you blame her?). She'd rather get back into the studio, talk directly to a camera sans audience (which is not unlike the work setup she had back in her radio days), and go home to a quiet house with her two cats when it's all done.
How excited are you to return to the studio after recording episodes from home earlier this spring?
Everybody is on board. You know, we're going into our 12th season and a lot of the people on my staff right now and with the crew have worked with me all 12 years. So we're like, you know, it's not even a conversation. Just, let's go.
What did you miss the most about the studio when you were filming at home?
Everything. I miss the crew, and just walking around. I miss everything about it. I miss leaving the house.
Do you think you'll have co-hosts again in the studio?
Not in the beginning. No, there'll be nobody there. It'll just be me talking to a camera and that'll be that, but I'm used to that, based on me coming from radio. Radio does not have an audience, radio is only you and the microphone.
So it wasn't too much of an adjustment then, when you started recording from home?
Yeah [it was], only because of the intrusiveness of people looking at my house and criticizing, or saying they love what I do. Like, I don't want people in my home. The one place you have to be private, you know, Brooke, is your home. Once you start inviting people into your home, then you have no privacy.
I noticed in the comments during the at-home recording and on Instagram, everyone has a lot to say about your drinks and snacks, or your decorations. It seems like you've been sharing more than usual on Instagram, especially your meals. What's the best meal you've had in quarantine?
Egg foo young is one of my favorites. It's very rare to find. It's not an expensive dish, but it's very tasty to me. And I grew up with that. Me and my father, that's our passion. We love egg foo young. Chicken egg foo young, shrimp egg foo young, whatever. We love it all.
Did you watch the Patti LaBelle vs. Gladys Knight Verzuz battle on Instagram Live?
No, I did not see that.
Oh no! I wanted to know who you thought won the battle.
No, I did not see that. I was actually on a phone conference because L.A. is earlier than New York. So I was on phone conference and then I watched some murderous movie on Lifetime. [I went] back and forth with that and something that Nick Cannon was on. I don't even know exactly what that was. It wasn't The Masked Singer, it was something else.
Are you planning to watch it later?
No! I don't know how to do that with my TV. Brooke, listen to me. I am on TV. I don't know how to work TV. [Laughs.] When I watch, I watch. When it's off, it's off. That's it.
Getting into the Culture Diet questions—what else have you been watching? Have you been binge watching any TV shows this quarantine that you've really liked?
Yeah. The usual ones. Frasier. Endless hours of Frasier. He comes on like two o'clock in the morning, one o'clock in the morning and I'll watch that for a few hours, if I happen to have slept earlier in the day. You know, sleep hours are weird when you're in the house by yourself. I like to be up during the day. I prefer to sleep at night. Unfortunately, sometimes it doesn't go that way. But I've watched a lot of court shows, a lot of Seinfeld, a lot of Martin, a lot of Living Single, a lot of Lifetime. I mean, I've seen some of the same movies over and over again, but I dissect them a different way each time I watch. I've got my two cats and me. That's it.
How long have you had your cats Chitchat and Myway?
About a year and a half. They were approximately six months when I got them and they're sisters from the same mother, like, literally sisters. They were born at the same time. They were part of a litter of eight and the other six ran away when they were born. And Chitchat and Myway chose to stay in the alley with their mother together, and then the rescue [group] rescued them. Then there was a Wendy Watcher who saw me say, "I want sister cats." Next thing you know—I'm talking within 48 hours—Chitchat and Myway were delivered to my home.
I didn't know that!
Yeah! I talked about it on TV, 'cause it was so crazy. And the same lady who brought them over is involved with the rescue place who rescued Chitchat and Myway. She has come to watch them every time I've had to do something or go away where, you know, I can't be here and I'm nervous—leaving them food for 24 hours is fine, but 48 hours, how are they going to be? You know, one loved me immediately. The other one was like, "Bitch, who are you?" [Laughs.] Now the one who said that is the very one who sleeps right next to me, every night in the bed.
Which one is that?
Chitchat. My black cat. She's got a tuxedo. But both girls are so good. I grew up with animals. I had a rabbit, I had dogs. We didn't have cats, but I had turtles, I had hamsters. Being busy in my line of work as an adult, I never had time for any of that. I mean, we had a dog. Living in Jersey, we got a dog for our son. He wanted one for his birthday, but once he went away to college, the dog was gigantic. I had to say to my ex-husband, "Okay, um, you've got to do something because you're not walking him and I'm not touching him and he's too much for the house." But I always knew I'd come back to cats. My family never liked cats. They're like, "Ew, cats. They're sneaky, they're scary." I always knew I wanted not one but two, because I always knew that somehow I'd be busy for just one. You know, I raised one son. And when you have an only child, you realize it's better to have two.
What about books? Have you read anything good lately?
I thought I would, but no. I thought that this would be a book-reading time—and I'm an author of seven books myself; I'm a New York Times best selling author, I might add. But what I've found is I don't want to read. I just want to watch TV. As a matter of fact, let me just clean my shower with the TV turned up loud so I don't even have to watch the TV, I just hear it. You know?
What was the last movie you saw in theaters?
The one with Nicole Kidman. Bombshell.
Did you like it?
I did like it. I didn't watch it all the way to the end because it was more than two hours. I don't have that kind of time. I don't have that attention span. But I did end up seeing the last part, thanks to quarantine. It's been on TV and I've seen it. Really good movie.
What's the last song that you've had on repeat?
None.
You've not been listening to anything in quarantine at all? No albums?
No, I don't listen to music in my house. I listen to music in the car. If by chance I want to hear music, then I turn on my alarm clock, which is also a radio. And I know what stations to put on and whatnot. Most of the music is horrible to me. [Laughs.] I'm stuck in the 1980s, the 1970s, the 1990s. This stuff today is just a copy on the worst form of all that stuff. I mean, not to be a cornball, but when I come in the house, I like quiet. Even before TV, quiet, quiet.
I went to your show one time and it was so loud and I really enjoyed it, but is that why you need quiet in the home? Because your studio is so loud and energetic?
Exactly. Exactly! My whole life is energized by the show, which I love. I love it. I love going in there. I love the loud music. I tell the DJ—he knows when I wink my eye to change the song or put this on or whatnot. I'm literally my own DJ while I'm still hosting the show. He'll put on Taylor Dayne and we'll dance to that for a moment. And then I'll wink my eye and give him the flip and he'll know to put on Lil' Kim. Let's go! He knows. And I love that, but the show is so loud. It's loud even before our cohosts come in, because he warms up the stage.
Do you remember the last concert that you went to?
No! I was supposed to go, however, to see Guns 'n Roses on July 18th, my birthday. But, eh. Thanks, corona! Thank you very much for canceling that too. I was supposed to be going there and I was going to take a bunch of my crew, who also love Guns 'N Roses, but I also loved them, my crew, you know. We were going to go to Jersey and have food and just rock out. Rock out! But that was canceled. So I don't remember my last concert. I'm not a concert person.
Are you into astrology at all?
Only for July.
Only for cancer season?
Well, because people have forced me to be into it! People have forced things upon me. Like, "Okay, Wendy, we know what you're like. This is what you're like. Read this." But no, people are people and you can't brush everybody with the same stroke. But I am a real cancer! When I read about it. Emotional, moody, crybaby, all that stuff. But will get you when you least expect it. Mmhmm. I'm a cancer!
Your stylist Willie Sinclair has been dressing you in some new looks from popular Black designers like Telfar, Pyer Moss, and Cushnie. Which of those looks you wore in the past season of your show were your favorites?
I don't have a favorite. When Willie puts me in something, first of all, we go into a fight in the morning because the looks are hanging on a hanger. He gives me choices, but they're all on a hanger. But I put them on and they become magical! My thing is, if I keep my weight within its proper perspective, then he's able to just put me in anything. I've never felt more shapely and beautiful in my life than I do now. I know there are girls that are better, but for me, at this point, I feel wonderful. And corona has not led me to gain weight. I've lost weight, as a matter of fact, during corona, but not so much weight that I don't look good in my clothes. Willie is such a masterful man that he will push a cart full of dresses and pants and things in, and he'll say, "Madam, just try on." And I do.
You don't have any favorite designs, but is there a certain color that you prefer to wear on camera?
Black. But more than that, there's a particular cut I like: I like a deep v-neck. I have a very nice area with my collarbones and I've got very nice necklaces—I've got a very nice neck. A lot of women, as they get older, their necks start to wrinkle; I've got very good skin, even before [my makeup artist] Merrell puts the makeup on. So, like skin: I like it short, I like it tight, I like a deep v, and let's go!
Sneakers or heels?
Well, I can't wear heels anymore because I have lymphedema and my feet are in a particular situation where they just don't work for me anymore. So that's why I wear sneakers. I can't even wear flats. I've talked about lymphedema on the show. It's not a popular disease that most people know about, but it's something that I do have, and I've had it for about two years and it doesn't go away. It just sits there.
Do you have a favorite type of sneaker?
Yeah—free. [Laughs.] You know what? Sneakers are very expensive, and Willie, fortunately, puts me on. Thank goodness for my son because my son really puts me on the game. He's like, "Look, mom, Jordan's about to leave, it's going to be such and such tomorrow. Call Willie and get it." According to the young people that come over—and there are none [right now]—I've got a good sneaker collection at my home and at the studio. Willie keeps me in line and my son will definitely not make a fool of me.
I did not know you were such a sneakerhead.
My ex-husband was a sneakerhead, my son is a sneakerhead. I became a sneakerhead because I wanted to be down with the clique, and the clique was them! That was before I stopped wearing heels. But then, when lymphedema came along, this became the situation.
What's the one thing that you wish you could have known all the way back at the beginning of your career, in your radio days?
That I'd be on TV for 12 years, that I'd be divorced, and that I'd be extremely happy in this particular life that I'm living.
You mentioned that you like to stick to a normal bedtime. What's the last thing you do before you go to bed?
Turn over on my right side because there's the TV. I mean, I don't have to do anything. I'm the captain of my own ship. And so there's nothing I have to do.