Meet Weruche Opia, the Other Half to Michaela Coel in I May Destroy You
The I May Destroy You actress opens up about searching for truth in creative expression and uniting the African Diaspora.
---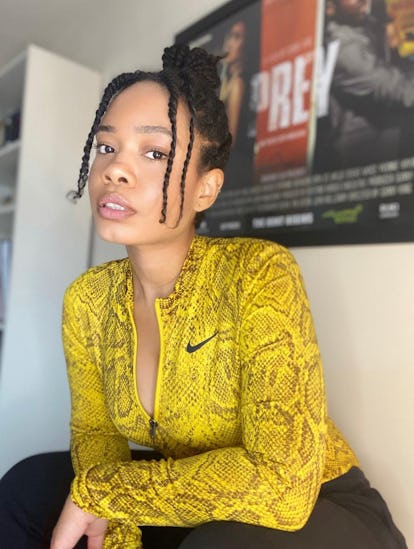 Weruche Opia photographed and styled by herself for W magazine.
By now, you might have already caught wind that if you watch just one new television series this summer, it should be I May Destroy You, Michaela Coel's dark drama inspired by her own real-life experience with sexual assault.
I May Destroy You is a nuanced portrayal of the ways in which people choose sides when intersections of race, ethnicity, and class are tossed into the mix of understanding trauma and assault. The series focuses on a young writer named Arabella who, while working on the draft of her second book, takes a break to hit the pubs one night and wakes up with a cracked phone, a cut on her head, and a vague memory of an ATM. It's not until the end of the first episode, when she wakes up in front of her computer, that she realizes she also has a memory of being sexually assaulted the night before.
With the help of her two best friends, Kwame (Paapa Essiedu) and Terry (Weruche Opia), Arabella spends the remaining 11 episodes piecing together the details of the night she was raped. As Arabella's best friend, Terry seeks to "affirm" her, as she says to their other best friend Kwame, a gay fitness instructor with a penchant for swiping through Grindr throughout the day. She believes that in order to help Arabella cope with the trauma of her rape, she needs a supportive team by her side.
The palpable chemistry between Arabella and Terry, two best friends who seem destined to be in each other's lives forever ("Your birth is my birth, your death is my death" is a common refrain uttered between the two throughout the series) is just as real off-camera between Coel and Opia. They had only briefly met once before auditioning for I May Destroy You, when they both appeared in the same episode of season two of Top Boy, the popular East London-based crime series on Netflix and Channel 4. It wasn't until Opia's third audition for I May Destroy You that the two met again. "I remember her staring at me, and I was like, 'Okay…'," she laughed. "We did the scene and there was this electricity. It was this chemistry. I remember leaving and I was like, what the hell was that? It felt like an amazing date that I'd just been on."
Terry, an aspiring actress with a keen sense of style, brings levity to a story that, at times, might otherwise feel too heavy to digest. On a phone call from London, Opia reflected that exuberance, punctuating our conversation about her experience on I May Destroy You with genuine laughter.
Opia was born in Nigeria, to a news broadcaster mother ("She actually started off as an actor, and then journalism stole her away," the actress joked) and a professor father ("I know he lowkey wishes he was an actor. He gets so excited when I talk to him about my stuff, I'm like, 'Alright, you gotta live through me, bruh!'" she laughed). She attended an international school there until she moved to London at the age of 13.
Having traveled to London nearly every summer for vacation, Opia thought she knew what life would be like. But she was in for a bit of a culture shock. "It was bizarre for me," she said. "I didn't really understand the concept of being a Black person, coming from Nigeria where the majority are Black. When I moved to the U.K. I found that people tended to stay in communities. When I lived in Nigeria, I had friends from all over the world. After moving to the U.K., I got to learn this notion of being a Black person in the Diaspora. I was at an impressionable age at 13, so I forced myself to make the transition."
Opia's first memory of performing was when she was five or six years old—she recruited her cousin and sister to perform "Humpty Dumpty" for her mom. "All through my childhood, teenage, university years, I studied drama and sociology. I wasn't sure I was going to [pursue acting] until I had graduated from university and found a part-time drama school in London," she said.
While she's appeared on a couple of British series that are available to stream all over the world, like Top Boy and Bad Education, I May Destroy You is likely going to the show that introduces Opia to American audiences. "I'm glad this show is coming on in the States, so that people can see Black people all over the world experience a lot of the same things. A lot of the themes are fairly global. It just happens to be set in London. But it could be three best friends in the States in the same situation," she said. "It's exciting in that sense where it unifies us."
But as exciting as it is for Opia to be part of a groundbreaking project like I May Destroy You, she has also found it important to separate herself from her character and the sensitive content that's unpacked on the show. "I've come to a point where I'm able to switch off and also be in the moment. As an actor, that's kind of the skill you need in order to keep sane," Opia said. The actress also explained the production team made sure a counselor was available to anyone who needed to process the subject matter. "I found I was able to tune in and out, so when I'm on set, I'm completely in the moment. But I also have a thing with my hair. When I take off my wig, it ends there, and I'm able to be Weruche and switch off from my character," she went on. "I had to make sure I was being respectful and trying to portray the truth of it because it's so sensitive, and I would hate to misrepresent or take lightly these issues that affect people."
Though the show begins with a focus on Arabella and continues with the throughline of her attempt to remember the details of her rape, Terry's narrative fully develops as well, with each main character going through their own experience with a gray-area sexual encounter. Opia said her understanding of consent and processing trauma grew stronger after working on the show. "I didn't know about some of the different kinds of sexual assault that were addressed, like stealthing [non-consensual condom removal]. I'd never heard of that before," she said. "I was educated in the different ways trauma can be reacted to by people."
"What I take away is that we have to make the best decisions for ourselves," she continued. "Even when the decisions may not have been the right one, it's about taking it, addressing it, and moving on with it, which all the characters do. Life never goes smooth sailing, but what do you do? You have to grow from every situation."
When I May Destroy You premiered on HBO on June 7, and as each episode drops weekly until the end of August, there is an ongoing global reckoning occurring. The Black Lives Matter movement is gaining more support all over the world, and people are talking about not just overt, obvious forms of racism, but also the systemic and institutionalized forms of racism that oppress and kill Black people. The revolution doesn't end at simply representing Black life on screen, but Opia agrees that it's definitely a start to have a show on a network like HBO with three Black leads of African descent. "It's bizarre how everything has panned out, but I'm also grateful. It's the beginning of this revolution," she said. "This is a second wave of a civil rights movement—so to be in something like this show at this time is definitely [meaningful]. And Michaela being a Black woman who's written this, co-directed, executive produced—it's so inspiring. I hope everyone feels the inspiration, because I'm really digging it right now."
In the U.K., I May Destroy You is available on BBC One, a channel which Opia said she can only remember airing two other shows with all Black leads in the past. "There's a whole juxtaposition of what's going on in the world, and having this to celebrate at the same time," she said. "I really hope that this will be, not a stencil, but a starting point for change, especially in my industry and in the media. I hope this is going to be a change to see different voices and stories told on this platform. I think it's time."
Because of the coronavirus pandemic, Opia paused season two of another series she stars in called Sliced, written by the BAFTA-nominated Samson Kayo, but hopes to start up filming again at the end of the summer. "I don't write, but I have ambitions to produce," she explained, adding that she's in talks with some of her writer friends, like Bola Agbaje, to work on a play. But ultimately, what she looks for within any expression of creativity is truth. "If there's truth in it, you'll feel it," Opia said. "Coming from genuine places, telling genuine stories. They don't have to be nonfiction or biographical, but you know when it's coming from a real place. Those are the kinds of projects that I want to be involved in."
Related: Michaela Coel's New Series Is Nothing Like Chewing Gum—But That's a Good Thing