Which CBD Gummies Actually Work?
Four W editors tried CBD gummies from Martha Stewart, Lord Jones, Gossamer, and Molly Jones, and gave their honest opinions and rankings.
---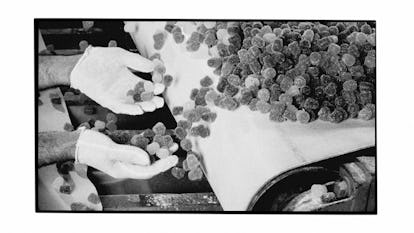 Getty Images
Say what you want about CBD, but it's safe to say it's here to stay—and with stress levels reaching new heights this year, it's no surprise more people are eyeing the buzzy cannabis derivative for a little extra rest and relaxation. While some claims are still unsubstantiated, CBD, also known as cannabidiol, is thought to improve a variety of conditions including anxiety, insomnia, and chronic pain—though as always you should check with your doctor before you start taking anything new. With thousands of CBD products on the market, it can be hard to figure out what's just hype vs. the real deal. This past week, four W editors tried four of the best premium gummies out there and gave you their honest opinions on texture, flavor, packaging, and effectiveness.
The Contenders
The Go-To: Lord Jones Grapefruit Hemp-Derived CBD Gumdrops & Lord Jones Prickly Pear Hemp-Derived CBD Gumdrops, 20mg for 9 pack, lordjones.com
Perhaps the most established of the brands, Lord Jones has been around since 2017 and is one of the best-known purveyors of fancy CBD edibles on the market. Their broad spectrum hemp-derived CBD gummies come in limited edition and rotating seasonal flavors such as blood orange, prickly pear and grapefruit, plus their classic berry and citrus sampler.
The Celebrity-Cosign: Martha Stewart CBD Wellness Gummies, 10mg for 30 gummies, shopcanopy.com
Martha Stewart's history with all things cannabis-related has long been documented, so her foray in her own CBD brand earlier this year makes perfect sense. Her new partnership with Shop Canopy offers pâte de fruit-style confections from CBD isolate, derived from 100% natural U.S. hemp, in mixed berry and citrus flavors, as well as softgels and oil drops for consumers without a sweet tooth.
The Wild Card: Gossamer x Rose Delights Watermelon, Tomato and Green Tea, 10mg for 20 pieces, shop.gossamer.co
Described as "a premium edibles brand combining creative culture, sustainable agriculture and award-winning chefs," Rose collaborated with Gossamer, a magazine "for people who also smoke weed" and Brooklyn-based Chef Tara Thomas to create a limited-edition full-spectrum CBD edible inspired by Turkish delight that launched this past Thursday—plus a THC version for their California friends.
The High Dose: Molly Jones Signature Sampler, 50mg for 9 pack, mollyjones.com
Posited for the "modern mom," (which for full disclosure, no one in this trial is), Molly Jones is a small-batch, broad spectrum CBD gummy out of California that focuses on pain and stress relief. They offer a variety of flavors as well as a "low dose" version, which is 20mg per gummy, and "high dose" version, which is 50mg per gummy, for each product and a percentage of their proceeds also goes to the Last Prisoner Project and Norml.org.
The Participants and Their Rankings
Oona Wally, Senior Visuals Editor
How often do you consume CBD gummies in your everyday life?
I love CBD products, and have been using them regularly for the past year—they're a helpful, side effect-free alternative to any Western pharmaceuticals for stress and anxiety management. I experience differing levels of anxiety daily, and whether it's a placebo effect or not, I feel CBD helps me manage any uncomfortable symptoms. I've tried many different types of CBD products: capsules, drops, topical creams, gummies, and fizzy drinks. My favorites are the drops and gummies.
In the past, I've also used CBD for period cramps and muscle pains (topical), and that has been helpful in minimizing discomfort. I like to pair my CBD use for anxiety with talk therapy, meditation, and diaphragmatic breathing—it's a multi-faceted, holistic approach to battle.
What are your current stress/body pain levels? How's your sleep? Do you anticipate CBD gummies helping with these ailments?
I currently am on the back-end of a high-stress time at work, so I've been taking CBD less out of necessity these past few days and more so to enjoy myself for this story. I sleep fairly well in general; sometimes I'm up in the middle of the night with anxiety if it's a higher-stress time in my life, but I'm currently sleeping through the night well.
The Go-To: Lord Jones
This was my #1 favorite gummy of the bunch for taste and texture. The Prickly Pear is delicious, and has such a bright flavor and smooth texture (it was hard not to eat the entire package in one sitting). I felt these gummies had the most noticeable effect on me, I took one during the day and then one at night and was blissed TF out. The gold foil against the green and pink shades of the packaging, coupled with the regal logo, felt luxe. I definitely will continue to use these gummies regularly.
The Wild Card: Gossamer x Rose Delights
I like the design and look of the packaging on these gummies. The color combo and watermelon seed graphics are super cute, and I like the sliding packaging. Upon the first chews, you get the Green Tea flavor, and a bit of hemp in there as well, and then the watermelon and tomato round out the sweetness after a few bites. I appreciate that these are made with potato starch, thus being gluten free and vegan friendly. I don't know if I felt a noticeable effect from these, but perhaps I should've eaten a couple as they are each 10mg. This brand wins for best packaging design, hands down, and is second in my overall ranking.
The Celebrity-Cosign: Martha Stewart CBD Wellness Gummies
I love the fact that Martha is super into cannabis and CBD (plus, it gives her street cred being bffs with Snoop). This is the only brand which didn't package their gummies in a box, and instead, a plastic jar. The jar felt familiar, as the packaging reminded me of regular vitamins, but I don't love that it's plastic (even if it is recyclable). Because the gummies aren't displayed in a box, they might've gone quicker than the rest—I just kept reaching in for more! The cube-shaped gummies are coated with sugar and remind me of Jujubees. The texture is midway between a gummy bear and a jelly gummy, with granular sugar to add texture. I found the berry flavor to be a favorite, (so I now am left with all the lemons, which is not a reason for complaint). There is a bit of a bitter aftertaste in the throat, but that is pretty standard with CBD gummies.
The High Dose: Molly Jones Signature Sampler 50MG
Because I take CBD regularly, I have built a tolerance and was looking forward to trying these High Dose gummies to see if the dosage would really noticeably hit. The look of the packaging is simple, straightforward, and elevated. I also appreciated the info cards that were included—it would definitely be helpful to a new CBD user.
I don't know if I received a batch that might've gone bad, but the taste and smell of these was a bit mildew-y and also had a strong chemical/bitter aftertaste. Did that deter me? Nope! Gotta forge on for the story! I felt very relaxed the entire night, so I'm glad I didn't stop at the first couple of chews.
Brooke Marine, Associate Digital Editor
How often do you consume CBD gummies in your everyday life?
I think I've had CBD gummies once or twice, and honestly have never really felt much of a difference in my body or brain. But I also wouldn't crush an entire bag of CBD gummies the same way I would with a bag of Haribo.
What are your current stress/body pain levels? How's your sleep? Do you anticipate CBD gummies helping with these ailments?
My current stress levels are probably medium-high. I do make myself get eight hours of sleep every night, but I don't sleep that well. I toss and turn, but occasionally—maybe once a week—I'll sleep almost all the way through the night. In terms of pain, my neck and back are killing me because all day I rotate between working at my kitchen table to the couch to my bed. I need a proper chair and desk like the ones we would have at the office, so I'm sure that's contributing to the discomfort, but I hope the CBD gummies at least minimize that physical pain until I can remedy that with a better WFH set up. Also I know I need to chill more in general (sorry, I'm a Virgo) so hopefully they will help with that too, but I am a skeptic (again, Virgo tendencies).
The Go-To: Lord Jones
The first thing I noticed about the Lord Jones gummies was the packaging. How luxe! I tried the prickly pear flavor first and didn't love the taste. It didn't necessarily taste bad, I just expected it to taste fruitier or sweeter. The grapefruit flavor was much better. The texture was a little too soft/gelatinous for my taste—I anticipated something a little bit harder and chewier. After a couple hours, I didn't feel a difference. Although I was trying to get some work done and I procrastinated a bit, so maybe it did work?
The Wild Card: Gossamer x Rose Delights
I love a little package that basically looks like a pack of gum you could fit in a small Telfar bag without taking up too much space. Texture-wise, this is more what I expected from a gummy. It's smaller than the Lord Jones variety—about the size of one of the squares on a Rubik's cube. The flavor is…interesting. It's not bad, but it's a little earthier than expected. There is the tiniest bit of zing to it, which I'm assuming comes from the watermelon in the recipe. But after the taste wore off, I did find myself craving another one, (which might not be a bad idea, since these only have 10mg of CBD in each piece). I slept pretty well after this one, however I did have a very strange dream that involved a talking cat, which I am choosing to attribute to the CBD.
The High Dose: Molly Jones Signature Sampler
I don't know how to describe the flavor of this CBD gummy (I tried the berry one) besides "medicinal." It had a weird after-taste, too. Basically, it just tasted like chemicals and I had to chug water afterward to get rid of the flavor on my tongue. The texture was not as tough as the Gossamer CBD gummies, but wasn't quite gummy texture either. It felt closer to jello. I took this about 30 minutes before bed, and I'm not sure it helped me sleep any better than I would have had I not taken it; I was already tired that day from running errands and doing a bunch of work. But I will say that I had what usually would be a stressful, long conversation a few minutes after taking this gummy, and I realized that by the time the conversation was over, I actually wasn't stressed out. I really appreciated the info card that came with this brand, and the instructions to keep the gummies refrigerated so that they don't lose potency—something I hadn't realized with any of the other brands I tried.
The Celebrity-Cosign: Martha Stewart CBD Wellness Gummies
For me, this one had the best marriage of flavor and texture. It just tasted like a regular gummy. No CBD flavor, either, just berry, which I enjoyed. The bottle looked like a regular bottle of vitamins; nothing too fancy as far as packaging is concerned. As far as the efficacy of the CBD, I'm not quite sure it did anything. I didn't necessarily sleep any better than I usually do, and my neck and back pain didn't miraculously disappear. I guess it can't hurt to take a couple of these now and then, but I would rather have regular gummy bears if that's the case.
Tilden Bissell, Digital Designer
How often do you consume CBD gummies in your everyday life?
I'm a casual enjoyer—with a couple caveats. I personally would never rely on CBD to treat my acute anxiety or a panic attack, but I do like popping a gummy and taking a bath after a long day. I've definitely been more interested in it recently and even let my mom try a gummy when I was home during quarantine ("I don't feel it," she remarked). A few of my friends swear by the stuff. While I don't think CBD can replace effective coping mechanisms or a really great therapist, if you're looking for a way to get a little extra relaxation or a good night's sleep, it can't hurt to add it to your routine.
What are your current stress/body pain levels? How's your sleep? Do you anticipate CBD gummies helping with these ailments?
For someone who lives with pretty much constant anxiety, it hasn't been quite as bad as I've expected lately. I'm managing my symptoms through CBT, yoga, deep breathing, and taking lots of walks. However, I've been finding it difficult to unwind when the day ends and I was hoping CBD might help me sleep through the night. I'm also hoping it relieves some of the "tech neck" aches I've been getting after hours hunched over my monitor for work.
The Go-To: Lord Jones
Lord Jones was my first introduction to CBD gummies so I always have thought of it as a great "starter" gummy for the CBD curious, and this trial definitely cemented its place. The flavors were awesome—I've never fully recovered from when Bolthouse Farms discontinued their Prickly Pear Lemonade—so the grapefruit and prickly pear flavors were right up my alley. I do think these are the closest to candy you will get of the bunch, so much that you do have to be careful you don't take too many by accident because after two I was very chill. The packaging definitely feels luxurious and a little indulgent, so I think these would make a great gift to anyone you're looking to impress.
The Celebrity-Cosign: Martha Stewart CBD Wellness Gummies
My roommate sent me the iconic Martha Stewart New York Times article when her CBD brand launched, so I think this was definitely the most hyped of the group. The gummies were teeny cubes pâte de fruit, similar in shape and size to the Gossamer ones, so I took three. They came in a plastic jar which made me think they were perfect for a frequent consumer—say someone who takes a few before work instead of their usual cup of coffee—but felt a little underwhelming. I wasn't a huge fan of the berry flavors and the citrus were fine. As far as efficacy, I had to take a few more before I felt any significant effect. While this isn't something I necessarily would repurchase, it was enjoyable and I was happy to live my little Martha Stewart moment.
The Wild Card: Gossamer x Rose Delights
First off, I'm a sucker for aesthetics and this had the chicest packaging by far—a collaboration between Gossamer's creative director Verena Michelitsch and Scott Barry. The outer green box was dotted with little watermelon seeds and emblazoned with Tara Thomas' name on the top, while the interior red carton offered more information on the product and flipped open to reveal the itty bitty watermelon-tomato-sencha delights. This was also the product I was the most intrigued by—the combo sounded really unique and I've heard amazing things about Rose Delights flavors in the past. I took these after a very long day, and I'm happy to say they delivered: a little sweet, yet acidic, and the green tea provided a nice earthy note. I also think the fact they used rosin which allegedly "almost doubles the effective dose and the bioavailability of full spectrum CBD in each piece" made a difference—I definitely felt nice and relaxed before I drifted off to sleep for a full 8 hours, despite only taking two 10mg squares.
The High Dose: Molly Jones Signature Sampler
I'm pretty modest with my CBD consumption so I was really curious about the high-dose version from Molly Jones. From a brand standpoint, I liked how informative their packaging was and the fact they are involved with the Last Prisoner Project and Norml, plus I appreciated the gummies themselves weren't overly sweet or dipped in extra sugar. I took one while I was winding down for the night and I woke up at 7:30 the next morning energized and ready to take on the day, so a huge check in their favor. My only critique was that a few had a bit of a strange aftertaste for me—however my friend, who is notably more of a CBD connoisseur, said they think they tasted fine, so it may just depend on your palate.
Stephanie Eckardt, Staff Writer
How often do you consume CBD gummies in your everyday life?
My only previous experience was actually on a normal, pre-pandemic office day. I took seven of my coworker's rejects and completely forgot about it, only realizing I felt a bit off when another coworker informed me they were each 10 mg. I've never been opposed to CBD—just skeptical that it's actually effective, which is why I've never felt I could justify the price.
What are your current stress/body pain levels? How's your sleep? Do you anticipate CBD gummies helping with these ailments?
Ha! I am definitely stressed and definitely not getting enough sleep. (Even less, unfortunately, than before the pandemic.) Having tried melatonin, trazodone, and magnesium powder, I was cautiously hopeful that CBD would be the one to at least help me go to bed before 1 a.m. And while I still don't buy that CBD directly helps with stress and depression, I know that sleep definitely does.
The Wild Card: Gossamer x Rose Delights
The arrival of a teeny package from Gossamer was the first—and only—time I considered becoming a CBD convert. Unlike the rest, there was no plastic or giant refrigerator pack. (Nor a strange name with a gold crest reading "for your royal highness," like the below.) By the time I found the paper, also pocket-sized, about Gossamer's collaboration with Tara Thomas, a plant-based chef dedicated to "decolonizing food systems," I was sold. The flavor—watermelon, tomato, sencha green tea—was exactly my speed, and not too sweet. They were also solid enough to suck on like a mint, which I did quite a few times over the course of an afternoon, thoroughly enjoying myself despite not feeling any effects. Ideally, I'd always have one of these cute mini packs in my bag; they reminded me of those gummy Ricola lozenges, but chic.
The Go-To: Lord Jones
Since my prior gummy experience came from a tiny tin, I was surprised when a gigantic box arrived. It turned out to be almost entirely packaging, though the gumdrops were still quite sizable. I got the grapefruit kind, and they were fine! I appreciated the higher dosage, and was happy to have them. But I couldn't get it out of my head that such a teeny box of sugar would normally cost $50—especially when I've had yet to notice any effects both before bed and during the day. If they didn't have gelatin, as I later realized, I would have gladly accepted them as a gift. And while I remain jealous I didn't get to try the prickly pear, I was pleasantly surprised to find a box of espresso chews. The aftertaste is a bit strange, but I'd be lying if I said I wasn't craving one right now.
The Celebrity-Cosign: Martha Stewart CBD
I am a longtime Martha Stewart stan. I've wanted to try her gummies since the moment I heard of them—and really wanted to try them when I read that she pops 10 a day. At least, that's what I'd remembered; the actual number turns out to be 20, which I'm glad to have only realized just now. Between Martha's laxity and my apparent imperviousness to CBD, I approached them casually—like a snack to tide me over when I realize I've barely eaten at 5 p.m. Just like with normal candy, I loved the lemon ones and hated the grapes. And for all intents and purposes, they were candy; I had five and continued about my workday.
The High Dose: Molly Jones Signature Sampler
By the time I received the final gummies, I was resigned to the fact that for me, CBD has only one psychoactive effect: anxiety about whether I am a real human who can actually feel things. I'd noticed zero benefits, but I'd also noticed zero detriments, which is why I was happy to add a bit more to my slightly dwindling supply. My only disappointment with Molly Jones is that I didn't receive it first. The sampler came with what I had expected each to include: a "handy guide" to CBD, with brief answers to questions like "how much should I take?" Of course, most customers know what they're getting into. But the reason I started out so laissez-faire with the other large dose, Lord Jones, was because I couldn't find a definitive answer on their site or others, and I was desperate to get to sleep. Like Lord Jones, these arrived in entirely too much packaging—completely with a cube of styrofoam—but had much better design. I didn't like the aftertaste, but I'm still holding out a bit of hope they'll help me sleep-wise.
Related: The Highest-Quality CBD Products For Bath, Body, and Mind