A Wicked Movie Musical Is Coming: Everything You Need to Know
The two-part film adaptation of the hit Broadway show stars Ariana Grande and Cynthia Erivo.
---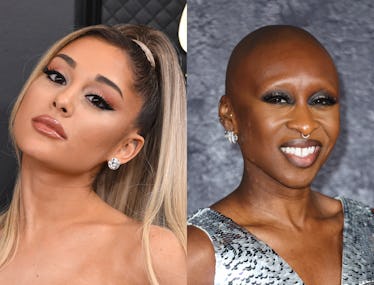 Getty
As Broadway's fifth-longest running show, Wicked has nearly two-decades worth of fans who can recite every word of the musical. When it debuted in 2003 with Idina Menzel and Kristen Chenoweth as the original Elphaba and Glinda, respectfully, it was an overnight sensation. So naturally, when it was announced that director Jon M. Chu would be adapting the Tony-award winning musical for the big screen with not one, but two films, there was a collective rush of excitement among both theater and movie buffs alike. The Hollywood version will see Ariana Grande stepping into the part of the "good witch" while Cynthia Erivo will presumably go fully green as Elphaba. The vocals will no doubt be stellar and the production value—after nearly a decade of planning—top notch. Here, everything you need to know about the upcoming movie musical.
Will the plot of the Wicked movie be different from the Broadway musical?
Wicked is expected to follow more or less the plot as the original show, which is based on Gregory Maguire's bestselling novel of the same name. The story is a prequel of sorts to the Wizard of Oz, and tells the story of how Glinda the Good Witch (Galinda) and the Wicked Witch of the West (Elphaba) became unlikely friends at Shiz University. It also includes origin stories for other Oz characters, and spawned the famous hit "Defying Gravity."
Who is directing Wicked?
In The Heights director Jon M. Chu is helming the project.
Who is in the Wicked movie cast?
The already highly-anticipated Wicked movie garnered even more hype with the announcement of its two major cast members: Cynthia Erivo and Ariana Grande. Erivo will portray Elphaba (the Wicked Witch), a role originally and famously played by Idina Menzel on Broadway, while Grande will star opposite her as Glinda (the Good Witch), which was originally played by Kristin Chenoweth.
A true vocal powerhouse, Erivo has won a Grammy, Emmy, and Tony for her role as Celie in the Broadway revival of The Color Purple. She also received an Oscar-nomination for her role in the film Harriet.
Grande is of course a world famous pop star and child actress, but she also has musical theater roots; she got her start in the 2008 Broadway musical 13. Grande is an avowed theater lover, and performed "The Wizard and I" from Wicked during an NBC live special in 2018, foreshadowing her casting.
In addition, Bridgerton star Jonathan Bailey will play Fiyero, Oscar-winner Michelle Yeoh will portray Madame Morrible, SNL's Bowen Yang will play Glinda's good friend Pfannee, and Jeff Goldblum is reportedly in final talks to the play the Wizard of Oz. Other cast members include Marissa Bode, Bronwyn James, Keala Settle, Aaron Teoh and Colin Michael Carmichael.
Why are there two Wicked parts?
In April 2022, Chu announced on Instagram that instead of cutting down all the material Wicked has to work with into one film, he'd simply be making two Wicked movies:
"Here's what happened: as we prepared this production over the last year, it became increasingly clear that it would be impossible to wrestle the story of WICKED into a single film without doing some real damage to it," he shared on Instagram. "As we tried to cut songs or trim characters, those decisions began to feel like fatal compromises to the source material that has entertained us all for so many years. So we decided to give ourselves a bigger canvas and make not just one WICKED movie but TWO!!!! With more space, we can tell the story of WICKED as it was meant to be told while bringing even more depth and surprises to the journeys of these beloved characters."
When will the Wicked movie be released?
The first Wicked movie will be released on November 27, 2024. Chu made the announcement on Instagram on March 14, 2023, writing: "We are deep into shooting WICKED here in London and we've received an overwhelming amount of messages asking us to release the movie earlier than planned and trust me, we want it too…so we now have a BRAND NEW RELESE DATE!! NOVEMBER 27th 2024!!!Bring the family, bring your friends…it's going to be a ride!!! ❤️❤️❤️ appreciate all your support through this long production process. Shooting two movies at once is no small feat. Cannot wait to share more…"
Part two doesn't have an official release date yet, but previous reports indicated the films would be released a year apart, on "successive Christmas holidays beginning December 2024."
Is there a Wicked movie trailer yet?
There's no trailer for the Wicked movie yet; stay tuned for updates.
Will the Wicked movie be released on streaming or in theaters?
Given the anticipation for the film, it's likely it will follow the model of recent streaming-era blockbusters, which will be a theatrical release followed by a move to streaming.