Reese Witherspoon and Ashton Kutcher Revive the Rom-Com in Your Place or Mine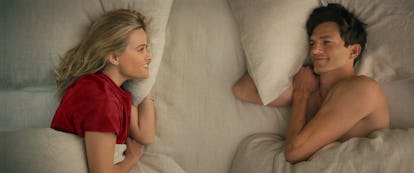 Courtesy of Netflix
Reese Witherspoon and Ashton Kutcher are bringing back the house-swapping rom-com—a classic of the genre that calls to mind beloved movies like 2006's The Holiday. In the new trailer for Witherspoon and Kutcher's latest project, Your Place or Mine, the two play best friends of 20 years with an unexplored romantic spark.
Witherspoon plays Debbie, an overworked single mom living in Los Angeles who agrees to take a week off while her longtime pal, Peter (Kutcher), watches her son. Debbie crashes at Peter's swanky DUMBO apartment in Brooklyn, where she tries to get her groove back on a date with a handsome stranger (Jesse Williams). Peter, meanwhile, realizes his affection for Debbie may be more than friendship, as he reflects on the one-night stand that started their relationship. Will they get together before it's too late?
The house-swap plot is made even more appealing by the star power of its two leads—along with a cast rounded out by Zoë Chao, Wesley Kimmel, Griffin Matthews, Rachel Bloom, Shiri Appleby, Vella Lovell, Tig Notaro, and Steve Zahn.
Your Place or Mine is written and directed by Aline Brosh McKenna, who wrote The Devil Wears Prada and 27 Dresses. The Crazy Ex-Girlfriend series creator also founded the social media movement #FemaleFilmmakerFriday in 2018, which aimed to challenge the perceptions of women directors in the movie industry.
Your Place or Mine premieres on Netflix on February 10, just in time for Valentine's Day. Watch the trailer below: