Gigi Hadid Celebrated 'Zaddy Baba' Zayn's Birthday with an At-Home Arcade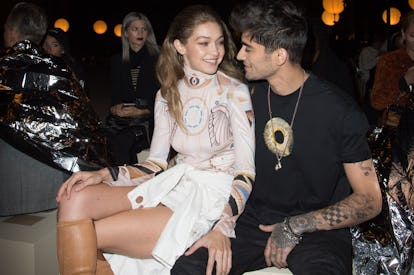 Photo by Stephane Cardinale/Corbis via Getty Images
In between pushing her newborn daughter around SoHo and palling around with her sister, Gigi Hadid took a moment to celebrate her man's birthday.
On Instagram, the supermodel shared a photo in which she announced that she was celebrating the 28th birthday of Zayn, which, thankfully to this very same Instagram post, we now know is referred to in the home as 'Zaddy baba.'
On her Instagram Stories, she shared images of what appear to be either a rented out or at-home pop-up arcade, complete with The Simpsons, Donkey Kong, and other old-school arcade games. She even had a Super Mario cake made with his face on it. The party also likely doubled as a pre-album release party, as Zayn's third studio album Nobody Is Listening is set to drop on January 15.
But the most striking component of this birthday celebration were the outfits of the celebrity parental unit. The mononymous singer wore tan overalls over a dark green knit ribbed sweater. He paired the look with some Nike sneakers and accessorized with a joint. The supermodel wore a long trench coat and some unicorn slippers. She accessorized with a patterned scarf and a pink fur-trimmed Prada bucket hat.
The image was captioned "Team No Sleep" on Instagram. "Happiest birthday to our Zaddy baba. So special. Love you long time, thank you for makin me a mamma to the best girl ever ☺️ Wish you the best every single day," Hadid continued.
If there is one thing to glean from this entire thing, it's that while we may not know the name of fashion's most anticipated supermodel baby of the last year, we at least know they call Zayn 'Zaddy baba.'
Related: Bella Hadid Joined Gigi Hadid and Her Daughter on a Chic Stroll