Zendaya Will Follow Up Her Historic Emmys Win with a Special Euphoria Bonus Episode
HBO says they're going to start filming season two with Zendaya in early 2021, but a "special Covid episode" before the second season premiere.
---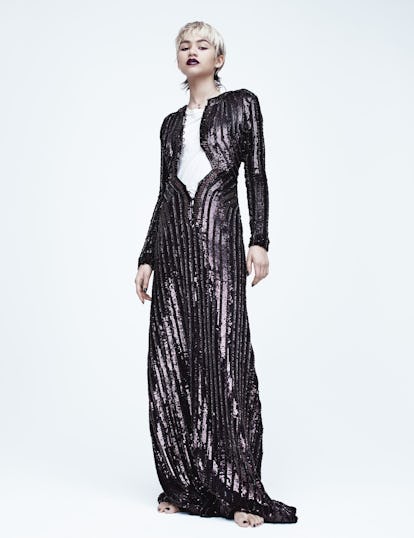 Photograph by Willy Vanderperre
In 72 years of Emmys history, only two Black women have won the award for Outstanding Lead Actress in a Drama Series: Viola Davis in 2015 for her performance in How to Get Away with Murder, and this year, Zendaya, for her performance in Euphoria.
And who couldn't be happy for the 24-year-old actress, who also made history with her Emmys win as the youngest actress ever to have won the award? Certainly her Euphoria collaborator had glowing praise to bestow upon her via Twitter and Instagram, as did her co-stars, like Sydney Sweeney, and fellow Oakland natives, like Kehlani.
Her stylist, Law Roach, also captured the moment Zendaya won her award, and expressed her genuine shock in front of family and friends.
Of course, all of the excitement led everyone to wonder, when will we get to see Zendaya return to the role of Rue on Euphoria? Well, HBO president Casey Bloys has an answer for that.
According to news Bloys gave to Deadline, the HBO drama won't start production until early 2021. Starting production early next year, it might be much later in the year before we can see an episode from season two, but HBO does promise "a special Covid episode" of the three-time Emmy winning series. Zendaya herself mentioned something about filming an episode in between seasons one and two if possible to produce it safely.
"We might end up doing a little bridge episode," the actress told Jimmy Kimmel Live! guest host Ben Platt about a month ago. "I don't really know how to describe it, but an episode that we can do with a limited amount of people in a safer environment… so we have something to live on until we are able to go into season two."
Knowing Zendaya, an actress who filmed an entire movie in quarantine with Euphoria creator Sam Levinson, pulling off a Covid episode of Euphoria shouldn't be too much of a task.
Related: Emmys 2020 Best Dressed: The Select Few Who Stole the Show