Zoë Kravitz Remembers Everything
Interview by Lynn Hirschberg
Photographs by Jamie Hawkesworth
---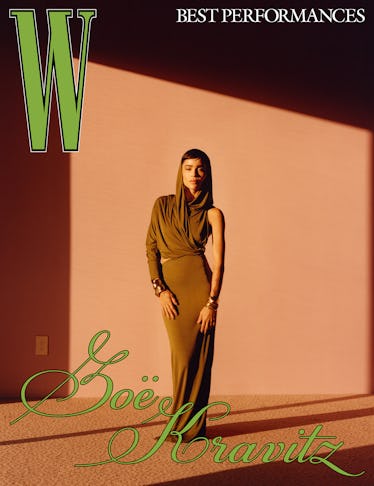 Zoë Kravitz wears a Saint Laurent by Anthony Vaccarello dress; Elsa Peretti for Tiffany & Co. bracelets.
The role of Catwoman in the decades-long Batman franchise has been taken on by a laundry list of professionals: Halle Berry, Michelle Pfeiffer, and Eartha Kitt among them. But when actress, musician, and model Zoë Kravitz transformed into the alter ego of Selina Kyle for Matt Reeves's 2022 film The Batman, she brought her own flavor to it. The actress—who has also had starring roles on High Fidelity and Big Little Lies—added a sense of modernity to the character, which shined alongside costars Robert Pattinson, who played Bruce Wayne/Batman, and Paul Dano, who played the Riddler. Below, Kravitz details her Catwoman research process (which involved studying the way big cats move) and her very first kiss inside a fuzzy room at her dad, Lenny Kravitz's house.
How did this project come into your life?
I was approached to play Selina. My agent called me and said that they were casting this role and I was on a list of actors they were looking at to play her. I flew to L.A. to meet Matt Reeves, the director, who pitched me the film before I had read anything. Immediately, I fell in love with Matt—I felt his deep love and enthusiasm for this world. We had a wonderful conversation about the character, and I told him my thoughts on how I would approach her. I did a screen test with Rob [Pattinson] where he was wearing George Clooney's batsuit on the top and sweatpants on the bottom. [Laughs]
Did you study dance to play Catwoman?
I'm actually a really bad dancer. I'm not being cute: I'm truly an awkward dancer. I did watch a lot of videos of large cats and thought it was really interesting that they move their hips but not their face or their eyes. They're very hard to read because of that.
What was your worst style moment?
In my early 20s, I was very into vests, and I would wear them with leggings and boots. I was very confused. Recently, I saw some old photos and I said, "Who let me do this?" I looked like Peter Pan's psychotic cousin.
What was your best birthday?
I think I was turning 10, and we were in the Bahamas with my dad's part of the family and my mother couldn't make it. When we arrived at the birthday party, there was a big box in the middle of the room. I opened the box, and my mom came out!
How long was she in the box?
That's a good question. I don't know. [Laughs]
I thought you were going to say it was a puppy in the box.
No. My dad got me a puppy once. It wasn't in a box and it also wasn't the puppy I wanted, which sounds like a bratty thing to say, but he got me one of those hairless dogs—the Chinese crested [hairless kind] because he was afraid about shedding. I actually grew to love it. His name was Ramone. I was like "He's kind of funny looking, like Johnny Ramone from The Ramones."
Where was your first kiss?
My first kiss was in my father's house in Miami. My dad had a very psychedelic house—it looked like Austin Powers's house. There was this cubby-sized room that was furry. And this kid, I don't remember his name, but we kissed. And I remember, whenever I would go back in that little cubby room, I would replay [the kiss] in my head over and over again.
What's your go-to karaoke song?
Natalie Imbruglia, "Torn." It's belty and emotional, and reminds me of my childhood.
You have $20 in your pocket. What do you spend it on?
I would probably spend it on pizza and a bottle of wine—but, like, you know, enough for me and some friends.
Have you done a dance on TikTok?
No. I'm an adult woman! And I'm not cool enough to do that.
Hair by Nikki Nelms for Maui Moisture at Ice Studios; makeup by Nina Park for YSL Beauty at Kalpana; manicure by Betina Goldstein at the Wall Group. Senior style editor Allia Alliata di Montereale; senior fashion market editor Jenna Wojciechowski.
Produced by Connect the Dots; executive producer: Wes Olson; producer: Zack Higginbottom; production manager: Nicole Morra; photo assistants: Cecilia Byrne, Jack Buster, David Gurzhiev; retouching: Simon Thistle; fashion assistants: Julia McClatchy, Tori López, Jacqueline Chen, India Reed, Nycole Sariol, Derek Ezra Brown, Karla Garcia, Rosa Schorr; production assistants: Khari Cousins, Tchad Cousins, Kelsey Swope Romero, Mateo Calvo, Juan Calvo, Rayon Pollard, Gina York, Peter Ditzler, Nico Robledo; hair assistants: John Allan, Dylan Michael, Ramdasha Bikceem, Malika Palmer; makeup assistants: Kate O'Reilly, Lilly Pollan, Bailee Wolfson; manicure assistants: Pilar Lafargue and Victoria Valenzuela, Jolene Brodeur; set assistants: Cory Bailey, Dirk Knibbe, Joel Garcia, Matt Day; tailors: Irina Tshartaryan, Ripsime Vartanyan at Susie's Custom Designs, Inc.