Zosia Mamet on the Joys of Creative Camaraderie
The "Flight Attendant" actress discusses picking roles with depth, and working on the HBO Max show with Kaley Cuoco during Covid-19.
---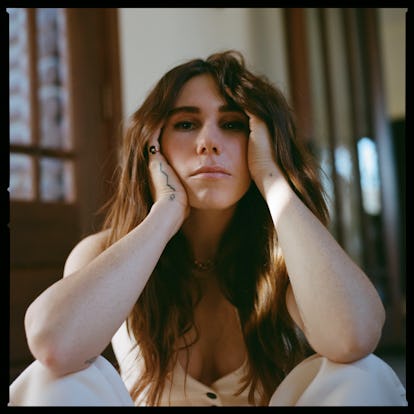 The budding friendship between Zosia Mamet and Kaley Cuoco has been well-documented in the run-up to the release of their new HBO series The Flight Attendant: paparazzi photos of the two on set in New York City have been snapped and widely distributed, and countless articles were published after the actresses got matching tattoos to commemorate their time filming the thriller. While on set, Mamet and Cuoco overheard that members of the show's wardrobe department planned to get matching tattoos as a tribute to having previously worked together on Mr. Robot. (Their ink: a small robot with the words "Hello, Friend.")
"Kaley and I were like, 'We want to come!'" Mamet recalls during a video call from her home in upstate New York. They settled upon a tiny paper airplane with a squiggly line behind it, which their costume designer Catherine Thomas drew. Mamet's mainstay tattoo artist, Evan Tattoo, did the art on the 32-year-old's ankle.
On Zoom, some of Mamet's other tattoos show as she gesticulates, cracking jokes and using funny, Vaudeville-esque voices when she does. Especially visible is a thickly drawn heart on the palm of her hand, which looks like someone took to her with a Sharpie.
"As someone who has, probably, too many tattoos for what I do, I find that initially, they start out with a lot of meaning," she says. It's fitting, then, that she memorialized her time on The Flight Attendant with one, even if it was a spontaneous decision—working on this project, Mamet explains, produced an effect that only comes around a few times in an actor's career.
The show, which premieres on HBO Max November 26, follows Cuoco's character Cassie Bowden, a flight attendant who awakes one morning with a killer hangover and a dead body lying next to her. As FBI agents question her, she starts to think she might be responsible for the murder. Mamet plays Cassie's best friend Annie, a pragmatic and gritty lawyer born and raised in New York who gets roped into helping her evade the authorities.
Annie is not too far off, personality-wise, from the character that first put Mamet in the spotlight, the neurotic Shoshanna Shapiro on Girls. Mamet, a Vermont native, had a fairly long-standing acting career before the Lena Dunham-led production (you might remember her as Peggy's photo editor friend Joyce in Mad Men), and her family members are involved in the industry as well—her father is the playwright and director David Mamet, and her mother is actress Lindsay Crouse. But Girls is where, Mamet explains, she found a pocket of comfort and stability. And she hadn't felt that way since, despite working on a multitude of projects including Tales of the City. Then the opportunity for The Flight Attendant came along.
"It felt like the first thing that I had embarked on since Girls that felt like this could be potentially my next home," Mamet says. "I've loved so much working in television and Girls was such an insane gift in that regard. I obviously love making movies, but there's something about shooting a show when you get to come back, not only to the same character, but to the same group of people year after year."
Shooting for The Flight Attendant began in winter 2019, and the team successfully finished five full episodes before the pandemic shut down production in mid-March. Mamet, like the rest of the world, had her life thrown into a tailspin—she was floating, untethered. She and her husband, the actor Evan Jonigkeit, had plans to move out of New York City sometime in the future, and the pandemic pushed that move forward significantly. In their new house—a cabin built in the 1920s that was originally sold via a Sears catalog—the couple engaged in the typical quarantine activities: cooking, reading, watching movies, taking their dog Moose for walks. Jonigkeit, whom Mamet describes as "crazy handy," tinkered with the interior, converting their dining room into a home gym and refurbishing the walls. Mamet, who describes herself as a certified "horse girl," would go to the barn every day and ride. "That was basically our Groundhog Day," she says laughing. They found they did not miss the hustle and bustle of the city, even after having lived there for over 10 years. ("I'm secretly 90 years old inside of this meat suit," Mamet adds. "The turtle life is really doing great by me.")
In September 2020, the cast and crew were called back to set. They were, Mamet says, the "guinea pigs," the very first production back up in New York.
"I was scared that I was going to go back and it was going to feel clinical, with all these precautions in place. That's one of the things I love most about what I do is this intimate, creative, hands-on atmosphere. I wondered if I was going to go back and, like, no, one's going to be allowed to talk to each other."
The precautions were firmly in place—the costume department was in full PPE, wearing masks, face shields, goggles, and hospital aprons. A Covid-19 assistant director team was on-site, distributing hand sanitizer and masks. But within five minutes of returning to work, Mamet says any notions of discomfort vanished, and they were "hysterically laughing," as though they'd never left.
"Then we had this really magical thing that happens very rarely in our industry, which is that everyone involved creatively clicked in this way that felt really powerful," Mamet says. "So much of it has to do with chemistry; every puzzle piece fit perfectly together, every human on the show—from our grips to Kaley—gave 150 percent every day."
The connection was especially strong between Cuoco and Mamet, who had never met prior to this production. During their first table read, the two actresses were encouraged to improvise if they wanted to. Cuoco approached Mamet and immediately "booped" Mamet by tapping her on the nose.
"Immediately I was like, 'Don't do that.' Annie and Cassie were born in that moment," Mamet says. She adds that Cuoco is also a "horse girl" and they have big plans to, once "this is all over," visit Ireland for a riding trip. In fact, one of the paparazzi photos snapped of the two actresses, in which they are crying and hugging one another on the last day of filming, was when Cuoco gifted Mamet an equestrian helmet.
Although The Flight Attendant may seem like a run of the mill comedy-slash-murder-mystery on paper, Mamet regards it as a story that shows humanity. And indeed, the characters—especially the women featured—are layered and complicated; more so than in your standard thriller fare. The characters were partly what drew Mamet to the project in the first place. She, like many other actresses in the industry today, are avoiding taking on roles that she's called in the past "furniture characters": a nice-looking chair that serves no purpose, or, in other words, a person in a film who doesn't hold any substance.
"All of the characters have a real end, and all of their storylines are so integral to them," Mamet says. "We learn so much about why they're doing what they're doing, what motivates them. Being alive is not simple. It's super complicated. And we, as viewers, want to see people who reflect that."
"To me, obviously, a special, entertaining, hopefully enjoyable finished product is so important," she adds. "But because I'm the one who's making it, the journey of making it is the most important part."
Related: Michaela Coel Is Not Afraid of Making You Uncomfortable