And Just Like That... Season 2 Episode 4 Fashion Recap: All Substance, No Style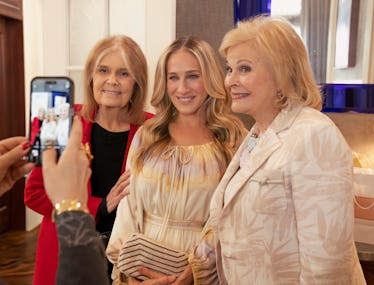 Photograph by Craig Blakenhorn/Max
We may receive a portion of sales if you purchase a product through a link in this article.
And Just Like That... may finally be finding its footing. I don't want to be presumptuous, but episode four provided us with 45 minutes that felt more akin to its Sex and the City sister than any of the others that have come before. Carrie spirals about her age after her 70+ former editor, Enid (Candice Bergen) alludes to them being in the same bracket. Charlotte, meanwhile, investigates the case of the missing spunk after Harry's seems to disappear. And Miranda attempts to engage in a threesome with Che and their ex-husband before remembering that no matter how many tattoos she gets, she's still Miranda. AJLT was never going to be a direct continuation of SATC, especially since these women have aged up—they have new problems, new priorities, new net worths. But finally, it seems like we're landing somewhere that feels familiar.
While the storylines seem more akin to SATC than ever before, the clothing is still leaving a bit to be desired. There aren't many wow moments in "ALIVE!" In fact, in one scene, Carrie wears a simple men's polo while out to lunch— and not even in a cute, wear-it-as-a-dress way; no brooch, nary a flower adornment. It's almost sacrilegious. The most fun fashion moments are provided by the secondary players—and what could have been Carrie's biggest look of the hour (when she heads to the Vivante start-up party) results in a pretty silk peasant dress. And when has anyone ever described Carrie Bradshaw's style as "pretty"? That being said, there are intriguing pieces throughout episode four, from Seema's animal print jacket to Lisa's anniversary party moment. And while the latter's guests may never get to see her in the dress, we can still enjoy it (and shop it) for ourselves.