The Original
In the realm of fashion exotics, Anna Piaggi was the rarest of them all.
---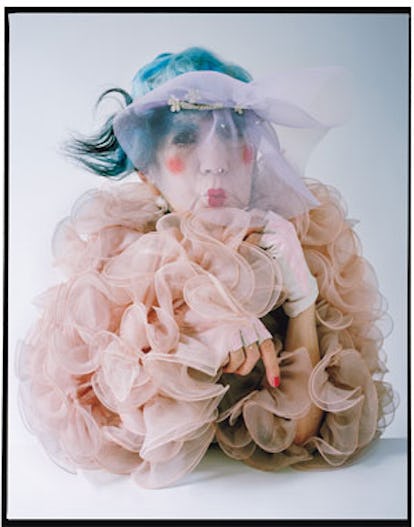 When we began planning a tribute to fashion's originals for W's 40th anniversary, our starting point was Anna Piaggi, the legendary magazine editor known for her amalgam of riotous sartorial mashups, extreme makeup, and quirky headgear. Photographer Tim Walker had long been obsessed with this haute eccentric, so we conceived the portfolio around Piaggi and the constellation of fellow mad hatters she has inspired. Just as we were going into production on this issue, however, we were saddened to learn that the Italian style icon had died, at the age of 81, one month after we photographed her in Milan wearing—what else?—ensembles forged from her singular imagination and wardrobe. Piaggi could never be imitated, because she channeled only her ineffable self through the eye-popping choices she made each and every day when she got dressed. Sometimes that meant cocooning herself in a swirl of pink chiffon ruffles, decades-old Fortuny dresses, or thermal mountain-rescue coats. On other occasions, she might have opted for mismatched boots, a blue hat, a red fur stole, and a Missoni T-shirt—not to mention the kind of maquillage an 18th-century courtesan or perhaps an errant clown might have favored: white foundation for the face, Clara Bow lips, and brightly rouged cheeks. Her theatrical getups worked because she believed in them, regardless of the impact they made on anyone else. Which is, of course, precisely why they resonated with other like-minded exotics. "Anna invents fashion," Karl Lagerfeld wrote of Piaggi, his muse throughout the seventies, in the book he published in 1986 of his sketches of the creations she wore. (He drew her for more than a decade: "If he liked how I looked, he took out his pencils," Piaggi recalled in a 2009 interview. "If not, he said nothing.") To stylist and jewelry designer Catherine Baba (see our profile on page 312), who was a kid when she first set eyes on Piaggi, the then 56-year-old editrix appeared as a kind of rare jewel in a fashion desert when she showed up in Sydney during Australia's bicentenary celebration. "She was amazing to see on Bondi Beach, with the lifeguards and surfers," Baba recalls. "She was wearing an ensemble made of fabric printed with the covers of magazines, and it was a whole extravaganza of fashion. There was a headpiece, a parasol, and gloves—and she had blue hair. It was belle epoque meets punk rock. And for me, she was the epitome of existing in a fabulous way."
The Milan-born Piaggi found her way to that fabulous existence by editing Arianna, one of Italy's first women's magazines, and then by working with the illustrator Antonio Lopez at the avant-garde publication Vanity in the eighties. For the past 24 years at Italian Vogue, she created her "double pages" (doppie pagine)—collages of photos and text pinpointing the cultural references behind current trends. She could riff on her sources as nimbly as a jazz musician and took bold risks on big occasions, becoming a darling of the front row and the fashion bloggers. Among her friends were numerous designers, including Stephen Jones, who made custom hats for her, and Manolo Blahnik, who once dubbed her "the only authority on frocks left in the world." (Once, when spending a weekend with Lagerfeld, she brought trunks filled with everything from antique jodhpurs to Edwardian-style bloomers she'd dyed black.) In fact, such was her astonishing vintage collection that London's Victoria and Albert Museum put it on display in its 2006 "Anna Piaggi, Fashion-ology" exhibition. (It included, at the time, 932 hats, 24 aprons, 31 feather boas, and 2,865 dresses.) But, of course, it was in her daily life that Piaggi grandly curated it all, reminding the rest of us to welcome the unexpected. "She was a volcano of ideas," says Rosita Missoni, an intimate of 50-plus years, who snapped pictures of Piaggi whenever they met for Sunday lunch in the country. "She was always such a surprise." Indeed, Piaggi's sense of occasion and novelty never failed her; even on holiday with the Missoni clan in the late sixties on a rustic island off the coast of what was then Yugoslavia, she dressed for dinner each night. "My children would wait with their torch lights for her to appear so they could accompany her to our home," adds Missoni, recalling the long break-of-dawn boat trip to Split that Piaggi had insisted they make so she could visit the local market. Finding an embroidered Dalmatian wedding dress there, Piaggi promptly wore it the next night. "That made her holiday," Missoni says.
Originals, as Amanda Harlech (see our profile here), who followed in Piaggi's pioneering steps, observes, "are people who dress instinctively with something absolute. There's that conviction in their sense of self. Their spirit stands tall."
Runway: Alexander McQueen Spring 2013
Anna Piaggi, photographed in Milan on July 5, wears her own clothing and accessories. Hair and makeup by Roberto Pagnini.

Photographer: Tim Walker
Piaggi wears her own clothing, accessories, and jewelry.

Photographer: Tim Walker
Piaggi wears her own clothing, accessories, and jewelry.

Photographer: Tim Walker
Anna Piaggi in her own clothing, accessories, and jewelry.

Photographer: Tim Walker
Hair and makeup by Roberto Pagnini.