Meet ASHYA, the Accessories Brand Infused With West African & Caribbean Culture
Designers Ashley Cimone and Moya Annece are taking travel-focused accessories to new heights—and carrying their stories with them along the way.
---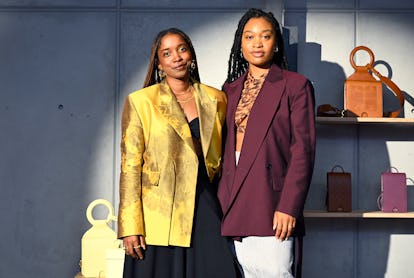 Roy Rochlin/Getty Images Entertainment/Getty Images
The magic behind the New York-based accessories brand ASHYA must be attributed to the two powerful women at the helm. American and Jamaican natives Ashley Cimone and Moya Annece created the label in 2017, when they envisioned an elevated travel lifestyle company focusing on producing high-quality, luxe goods that bridge fashion, design, and using suitcase space efficiently. Their clear vision and won't-quit, relentless determination has finally paid off, not only in their impressive products, but with their very first New York Fashion Week presentation, which took place on Sunday, September 11th.
For their first show, titled Origins, the two designers put on a performance directed by artist Nana Yaa Asare Boadu and featuring Moses Sumney and Naima Ramos-Chapman that introduced—and for some guests, reintroduced—aspects of African and Caribbean culture that are key pillars to their brand ethos. Members of the audience were enchanted by the inspiring interpretive dance and crowd engagement that ensued. Viewers could, additionally, shop the products in real time via Instagram from the Drop III release of the Heritage Collection. It was also an opportunity for Cimone and Annece to unveil their new emblem: four interlocking A's facing inward, which represent communication, community, cultural preservation, and storytelling.
"We wanted the people to experience ASHYA in such a way that is enriched by storytelling," Annece tells W days after the show via Zoom from their Brooklyn office. The experimental performance, they explain, was an interpretation of the story of Ananse, a traditional West African folklore that centers a wise and mischievous spider who overcomes his larger enemies with cunning and resourcefulness.
"Storytelling adds color around why our emblem looks the way it does, and the meaning behind the emblem," Ashley adds. "Storytelling has really been the root of what has been driving us lately."
Annece, who first moved to the United States from Jamaica in 2001, recalled her introduction to fashion being the first time she visited New York City. "Visually, I just felt so inspired and intrigued," she says. "I grew up in uniforms, and I loved them. When I got to America, I was like, 'I'm free, I can express myself.' I was going to school in Brooklyn with predominantly Caribbean and African kids. I would have to say that my touchpoint is definitely 'urban,' and I'll put that in quotation marks: The Baby Phat, the Phat Farm."
Cimone says her love for fashion and the catalyst for her desire to be a part of the industry began with magazines. "I grew up in Wisconsin, and we would go to a Barnes & Noble in the mall," she recalls. "They had a very big and well-curated magazine section. As a child, I loved fiction, but once I was introduced to fashion magazines—that's what really started to pique my interest around being a designer or working in the fashion industry at all."
In conversation, the bond between Cimone and Annece is incredibly apparent—from the way they complete each other's thoughts to the respect they share for each other's cultures. At one point, both ladies share a memory from their days at FIT. While working on a school project, they shared goals they hoped to accomplish in the fashion industry—dreams that have now been realized.
Origins represents the achievement of their goals, and acts as a symbol of lineage and community: another two core aspects of ASHYA's brand foundation. "We do a lot of research around our own history and the histories of communities of color and thinking about what materials we want to play around with, what designs we want to play around with, what functionalities do we want to explore, and what stories do we want to tell in the work that we are creating," Annece says.