Balmain's 1945 Bags Pay Homage To The Brand's Rich History Through Archival Motifs
An essential spring accessory inspired by post-war optimism
---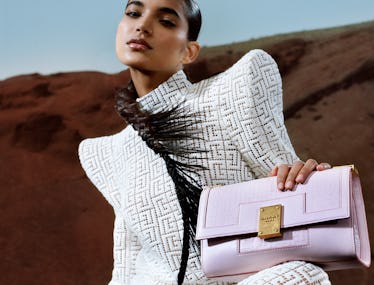 50 years ago, at his American design house located in New York City, Pierre Balmain introduced his iconic PB pattern. Inspired by the intricate labyrinths found in French Renaissance gardens, the graphic design reflected his fascination with the past along with a desire to adapt it for modern times. It's with that spirit in mind that the current Creative Director, Olivier Rousteing, decided to adapt the house's PB pattern and incorporate it into his Spring 2021 collection, especially in their latest bag: The 1945.
The name, a nod to when Monsieur Balmain founded his house, embodies the spirit of that time in history. He was creating for a post-war generation — a moment of great upheaval that led to equally as great hope. There was a sense of optimism, audaciousness, and fearlessness. And given 2020, the same sense of renewal and fresh beginnings also infuses the Spring 2021 collection. Rousteing saw how the world united in the face of adversity, coming together to march in the streets. He took that solidarity and the hope it gave him to inspire the latest collection.
But to find inspiration doesn't mean to copy it exactly. The idea is to adapt it, so better to reflect the needs and tastes of the generation. In this case, the PB motif finds its way not only onto the 1945 bag but also repeated in the clothes as well, a nod to the resurgence of monograms and logos. You'll see the labyrinth pattern, albeit tweaked to play up Rousteing's love of black-and-white graphics. It's modern, sharp, with a point of view that's cross generational and cross culture — a piece recalls 1970s in Paris' Saint Germain, 1990s in Brooklyn, and 2021, wherever you are currently.
The 1945 bag can be found as a small pouch, medium sized crossbody, and large tote depending on your needs. In pink, it's a playful and sophisticated carryall that hints at the PB motif through a delicate stitch around the flap. For those who love a classic black handbag with a twist, they feature an embossed monogram. Should you prefer a more graphic look, the black-and-white style speaks more to Rousteing's appreciation of an eye-catching contrast. And if you're looking to fully embrace the logo revival, the patterned jacquard is the most striking of all — a piece that brings to mind the vintage-meets-modern Parisian spirit of Monsieur Balmain.
This article was originally published on