Five Crowd-Pleasing Stocking Stuffers You Can Find on Amazon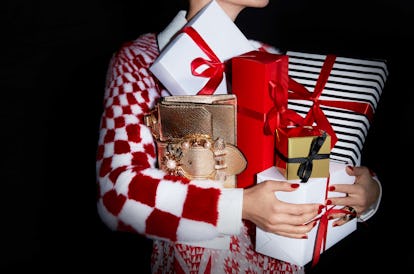 Photo by E and Roso, styled by Caroline Grosso. Produced by Biel Parklee. Manicure by Ada Yeung for CHANEL Le Vernis. Set Design by Daniel Sean Murphy at Jed Root. Model: Robyn Williamson at Parts Models. Fashion Assistant: Nada Abouarrage.
We're getting down to the wire in terms of gift-shopping season, but it's not too late to stock up on a few extra little things that will make your loved ones smile. Stocking stuffers, while generally considered a bit of an afterthought, often end up being the most appreciated, most used gifts of the lot. Who doesn't need a bit of extra hydration added to their winter skincare routine? Or a fabulous lip balm to stash in their coat pocket? Or a charger to keep handy in their home office? And then, of course, there are socks—the most disappointing thing to receive as a child, and the most gratifying and satisfying as an adult. You can't go wrong with the simple stuff. Here, the W editor's guide to "little extra somethings" that will make everyone in your life happy, all available on Amazon.