Channeling Goddess Energy With Ziwe & Loewe
Featuring a truly iconic guest: the 2021 reissue of the Loewe Amazona bag.
Photographs by Leeor Wild
---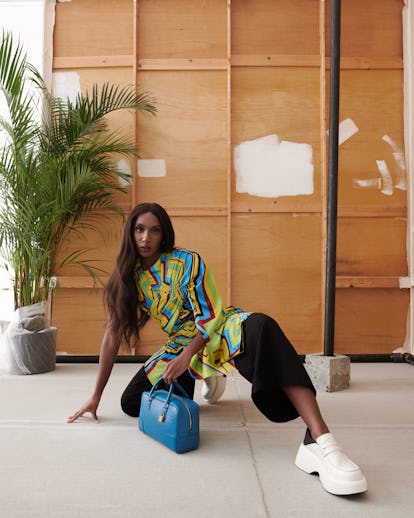 Any attempt to box Ziwe in with labels is futile, for here is a talent that contains multitudes: she's on your phone, she's on your TV, she's in your headphones. To experience Ziwe Fumudoh in whatever medium is like chewing on a piece of sour candy — her squirm-inducing tartness is balanced by sweetness, and, because bright colors are so essential to her aesthetic, you can truly taste the rainbow.
All of this made Ziwe a dream to dress. Decked out in Loewe's Fall 2021 collection, she swapped her go-to shade of bubblegum pink for lime yellows, avocado greens, and lagoon blues. Complementing each look was Loewe's Amazona bag, reissued from its original form with modern hues and elevated leather craftsmanship. Named after the female characters of Greek mythology, the Amazona made its debut in 1975 in celebration of women claiming independence in the workplace. Now — over 45 years later — Ziwe is challenging America's discomfort with race and politics in the public sphere, using her platform and singular aesthetic to satirize and directly confront inequality.
Below, a conversation with the comedian/singer/talk show host.
Take us back. How did teenage Ziwe dress?
As a teen, I probably would have worn a pink fur hat with sparkly pink pants and matching top. Very much Y2K teen vibes. As a college student, I was more into that hipster cotton bodycon dress that everyone had.
Where do you seek inspiration when it comes to dressing up?
Basically any show or movie that centers a feminine aesthetic and feels a little camp.
How does your sense of humor play into your fashion sense?
I would describe my personal style as a toddler with a credit card. I love to wear clothes that have a personality of their own: Marabou feathers. Faux fur. Velvet. Latex. Silk. Sequins. The more tactile the piece, the more in love with it I am.
Your show, Ziwe, is notable for — among other things — its colorful sets. How do you incorporate color into your personal style?
Honestly, I never noticed I wore a lot of color until I saw myself on screen. The way I dress is so attached to my mood. There's something about a colorful piece that really energizes my day.
Do you have any rituals or routines you go through before stepping on stage and into character?
It depends on the show. If I am about to interview someone, I spend a full week reading their book and listening to countless podcasts that they've been a guest on. I love to research. Otherwise, I usually drink water and mind my business.
Does your off-duty style differ from how you dress for the camera?
No, I love to dress flamboyantly all the time.
Named after the female characters of Greek mythology, the Amazona bag was designed in 1975, a time when women were gaining their equality and independence in the workplace. How does it feel to wear the modern iteration of this bag now in 2021?
It feels empowering — like a Greek goddess is coursing through my veins.
What are you most looking forward to in the near future?
All the looks for my upcoming show. Hopefully, Loewe is one of them!
Any advice for readers looking to step into their own, stylistically?
Life is short. Wear whatever makes you feel iconic.