Christopher John Rogers "Eliminates the Expected" for Resort 2024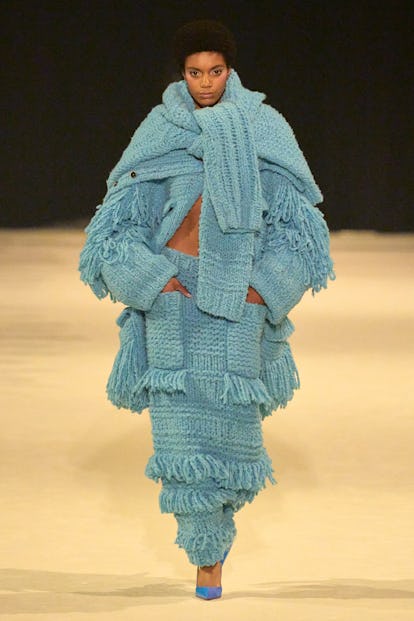 Photograph by Fillipo Fior
A parade of shaggy, sculptural knits; blossoming, balloon-like silhouettes, and a rainbow of super-oversize sweater dresses, all striding down the runway on a Saturday night in Brooklyn? Sounds like a Christopher John Rogers show.
For the label's resort 2024 collection, Rogers brought the industry together just days before the 2023 Met Gala to showcase the strong shapes that have given the brand its signature wit and personality. "Our show has always felt celebratory, and there's a lot of energy there from both a logistical and an emotional standpoint," Rogers told me from his Uber ride to the venue in the lead-up to the show—the label's first live runway presentation since showing in the same venue last June. "I was trying to be as honest as possible this season," Rogers said. "I didn't feel any pressure from outside sources, the industry, customers or even myself, to prove anything. I was just like, 'How am I feeling now?' Honesty, authenticity, and sincerity are my key themes, if anything."
That ethos is part of what has made Christopher John Rogers's body of work so exciting ever since he started the brand in 2016, then released his debut collection in fall 2018. For the past few seasons, Rogers has showed off schedule; he frequently eschews trends in favor of the household codes he's built and expanded upon—a real rarity for such a young New York brand. His presentation never feel tired, nor typical. One thing is clear: Rogers has a voice, and he does things his own way.
Resort 2024 dived deeper into some of the fantastical, playful elements we've seen in the designer's past collections—this time, expanding on them to evoke the masterful feeling of joy that's practically a Rogers signature at this point. Take the trash bag motif, for example, which served as inspiration for puffy, high-lacquered, twisted, black skirts and tops finished with a smattering of rainbow buttons. "I have always referenced those things, but this season was much more apparent. I've been afraid to do it in the past, but I just went for it this season," Rogers said. Ballskirts, cargo pants, and dynamic buttoned-up dresses floated through the white-carpeted venue. A chunky sweater was tied around the neck here, a massive fabric gift bow plopped on the waist there—and models held plenty of pretty bouquets in their hands, or had them placed on the tops of their heads. Metallic trench coats, chubby knitted skirts with pockets, and big sequined flowers were all standouts.
Since Rogers paints his vision in vivid colors each season, it was surprising to see 14 of 50 nearly all-black looks in the collection, as well as the four monochromatic white outfits that opened the show. "As much as it is about newness, there's also a little bit of elimination of the expected," Rogers said.
When asked what message he wanted people to take away from this collection, Rogers said: "You can be whoever you want to be." Immediately after the final walk, the designer took his own turn on the runway, sashaying and twirling for the cameras as the audience roared with a standing ovation. Any other ending to a Christopher John Rogers show would have felt out of place.