How Coperni Doubled Down on Tech and Fashion for Fall 2023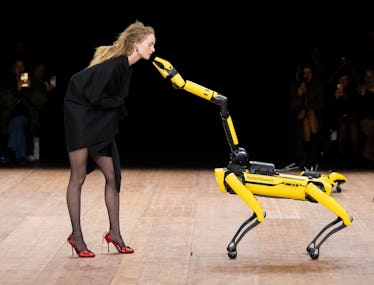 Coperni fall 2023. Photo by Francois Durand/Getty Images
When Coperni employed technicians to spray a fabric dress onto Bella Hadid for its spring 2023 show at Paris Fashion Week back in September 2022, the stunt was truly unlike anything the fashion world had seen before. For days afterward, it was impossible to scroll through any social media platform without seeing videos and commentary on the viral moment. Even the negative criticism spawned millions of views.
And so, for fall 2023, Coperni doubled down on fusing performance, technology, and fashion by incorporating Spot robots from the American company Boston Dynamics to walk the runway alongside the models. (The show notes alluded to the concept of man and machine working together.) Rianne Van Rompaey opened the show by approaching one of the bots as though she intended to kiss it; the robot snatched her jacket and then handed it back to her. Elsewhere, models were handed the Coperni's classic Swipe bags by various Spots.
On the runway, the clothing was a mash-up of French heritage staples. Men's suiting, dome-like cape blazers, cocooned blanket coats, and button-down shirt dresses layered with lightweight sweaters made up the core of this collection. And it's no wonder—the duo's deep heritage with French brands is expansive. Creative director Sébastien Meyer and CEO Arnaud Vaillant met while studying at Mod'Art in 2009. They founded Coperni ten years ago, in 2013, while Vaillant was working at Balenciaga. In 2015, they were appointed artistic directors of Courrèges. "We are very French, very tailored, very wearable, and very accessible as well," Vaillant told W.
According to Vaillant, Coperni's sales are split between 50 percent accessories and 50 percent ready-to-wear. The pièce de résistance of the current Coperni moment: the swipe bag, an oval-shaped handbag that is flat and sculptural, and comes in a bevy of hues and finishes, which was again reinvented for the fall 2023 show.
"Most of our inspiration comes from French culture," Vaillant added. "We're very lucky to live in Paris and to have access to so much culture in general—especially in fashion. The rest of our inspiration mainly comes from Apple, Tesla—American tech companies."
Coperni has certainly mastered the art of French style, providing a clean slate for the future of minimal, effortless looks. "There is a big part of Coperni that is minimalist," Vaillant said. "[We're not making] a lot of prints or a lot of big volumes."
The show closed with a series of tailored trousers and textural tops as the robots stretched, marched, and danced. Since the brand had its show last season, its Instagram following has doubled. "It's beautiful to see how such a small structure like Coperni can create so much magic," Vaillant said. "People think it's a big company, but we are very, very small."