Dancer Calvin Royal III Is Bringing Optimism And Elegance To The Streets & Stages Of New York
Photography by Justin French
---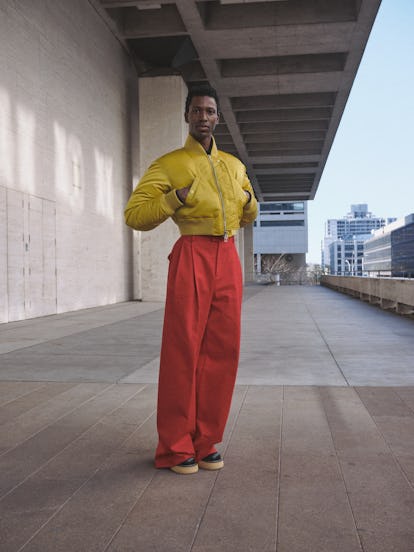 Calvin Royal III photographed by Justin French and styled by Allia Alliata Di Montereale. Hair by Akihisa Yamaguchi. Makeup by Shayna Goldberg. Jacket, pants, and boots by Bottega Veneta.
Throughout it all, New York is impossible not to love. Its irrepressible energy contains multitudes, and the instinctual pull within New Yorkers to show up and dress up for their city endures ever still. The postponement of galas and parties left a brief sartorial gap filled quickly by a resilient approach to personal style: a collective redefining of elegance, a cool optimism, a sense of utility. We spoke with Calvin Royal III, principal dancer with the American Ballet Theatre (ABT), who seems to embody the essence and spirit of New York style right now.
This fall, he co-starred in ABT's first-ever all-male pas de deux Touché, which explores themes of male love and lust. He continues to train and condition at home, seizing any opportunity to perform.
We photographed him in Bottega Veneta's Wardrobe 01 and spoke about how he's managed to stay in motion, creating and expressing himself through that which gives his life purpose.
Royal's optimism is inspiring. Against a backdrop that can at times feel so still, he intentionally channels life's bright moments into a momentum to be reckoned with.
Growing up in Florida, was New York always a place you wanted to end up?
Whenever I heard about New York or saw it in movies, it was always such a magical place in my mind. And it's really the center of it all for the performing arts. Dance brought me to New York 14 years ago, when I joined the American Ballet Theatre. It's the place where my dream of becoming a performing artist came true.
Lincoln Center is ABT's home for the typical fall/spring season, and being able to dance there for the past 10 seasons – that's where I discovered the magic of performing for 4,000 people, night after night.
How does the city inform your personal sense of style?
New York, as we all know, is such an eclectic place – it's very unique and, in many ways, straightforward. I think that thread is woven through me and my personal style.
How would you define 'elegance' today?
Elegance is about ownership, really – of one's own self, one's culture and background… without being extra about it. I think it really comes down to how we carry ourselves and how we communicate. It's simplicity and quality and artistry over excess.
And how does color play into your art?
Color is everything to me, honestly. You know, I feel like it brings such vibrancy and life to any situation. I've been reflecting on my position in ABT, and being a man of color in the traditionally non-colorful world of classical ballet is really important for me. To be a part of this, to open up the door and bridge those gaps to hopefully have more color and representation on our stages. I believe that our stages should reflect the city and the people in it. Be the mirror.
In September 2020, Royal became the first Black man in over two decades to be appointed principal dancer at ABT. This holiday season, he will be dancing Christopher Wheeldon's After the Rain alongside New York City Ballet's Unity Phelan. This performance is a part of Live Arts Global's "Night at the Ballet" series and will be available to stream on YouTube.
Photographer: Justin French/ Creative Director: Bry Crasch-Kolberg/ Branded Fashion Lead: Jenna Wexler/ Stylist: Allia Alliata Di Montereale/ Hair: Akihisa Yamaguchi/ Makeup: Shayna Goldberg/ Production: Lucy Haller and Nancy Valev/ Fashion Assistant: Amir La Sure