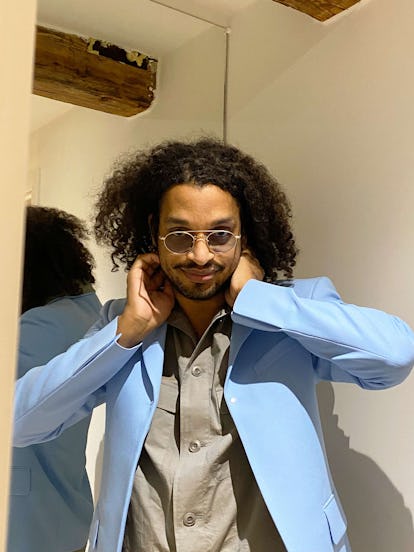 Selfie by David Zilber for W magazine.
In the past, chef David Zilber has said that what fascinates him about fermentation is the process of seeing something transform. The Toronto native has become widely acclaimed for this approach to experimentation in the kitchen—in the fermentation lab at Noma, the Copenhagen-based restaurant, then through The Noma Guide to Fermentation, and now as a food scientist at the Denmark-based bioscience company Chr. Hansen. This ethos spills over into an experimentation in his approach to clothing, too. It doesn't necessarily translate to impracticality (when it comes to fermentation or getting dressed), and more often than not, Zilber, who is an avid consumer of fashion, is simply clothed in looks that set him apart from the masses with some detail a lucky observer might pick up on: a flared pant, a Raf Simons shoe, or a coat in a material so reflective it seems made for outer space (or, the internet).
As Zilber leads research into food's environmental impacts and global systems, he insists that the most sustainable and equitable paths forward must also taste good—which points to another overlap between his work and his closet. His approach encourages lessening our impact on the world around us while still delighting in what we put on (and in) our bodies every day.
Over Zoom this week—nearing dinnertime in Copenhagen, where he lives, and lunchtime in New York—he spoke about the importance of dressing up (in Issey Miyake, Sies Marjan, and Henrik Vibskov) now more than ever; why he looks to Harry Styles as a fashion icon, and self-expression, even in the kitchen.
What were you wearing yesterday?
What was I wearing yesterday? I wish I were messier, because then it would be in a pile somewhere beside me right now.Yesterday, I think I was wearing black Henrik Vibskov pants and a black, long-sleeve Lemaire polo—a fairly Scandanavian look. But I also didn't do much yesterday, because 2020. I've been working from home.
Would you say that spending more of life at home—and more virtually—has changed the way you get dressed these days?
I find myself dressing up more—even to do very simple things—because I'm like, "It's my only chance to look good!" Even if it's just for the grocery store. It feels like a desperate attempt at self-expression any chance you actually get to be in the world, in any faculty of normalcy. But at home, I've been reaching for comfortable things: I actually bought a full sweatsuit recently. Most often, though, I'm in one of my two Issey Miyake Homme Plissé suits.
Pleats Please is the perfect mid-point between those sartorial impulses.
They are so smart. Issey Miyake is actually a genius. You can honestly travel in them, roll around in them, sleep in them, and come out looking incredibly fresh. I got to see the process of making them in Japan last year, super cool.
What were you wearing as a teenager? As a fellow Canadian I hope we have some shared references here.
I was completely dorky [laughs]. I was probably wearing jeans that were baggy but not baggy enough—somewhere in that awkward range—and then maybe one of my dad's old t-shirts. He used to be an airline mechanic so he had all these old Boeing and de Havilland t-shirts that I would wear. At some point I shaved myself a bad mohawk, like a short one. And then probably skate shoes. So awkward. Honestly if you look at the embarrassing Drake-as-a-teenager photos it's not far off from that—we have the Black, Jewish, Toronto upbringing in common.
Do you think your approach to style has evolved based on the various places you've lived? I'm always curious how different cities might rub off on the way we present ourselves.
I think I lived in Toronto too young. I came out of my shell there in my early 20s, but was wearing what was trendy at the time—Cheap Monday jeans, that sort of thing. When I moved to Vancouver I leaned into "fashion" more, really as a means of differentiating myself from the Vancouver-ness of Vancouver (my girlfriend at the time even worked for Lululemon).
In Copenhagen, where I live now, I think people just give a little more of a shit about everyday appearances—if I'm comparing a European sensibility to where I've lived before in Canada. And I've realized there are so many Scandinavian-isms that play into that: it's not really a superficial impulse, but more so part of a culture of being "proper" in public life.
I think the biggest influence on me, though, is my girlfriend. She is a designer and has a very particular look, so it's fun to keep up with her.
How would you describe her style?
I would say scary corporate. Like scary but hot CEO style—extremely well put together. Lots of sharp angles.
In that case, I already know one answer to this, but I'll ask anyway. Whose style do you admire?
It's not my style, but I think Harry Styles's eccentricity is fantastic. You can tell he's paying attention to who's making what. I find when you actually get into clothing and fashion—watching the documentaries, seeing how designers work in response to the world around them—it's really cool, and I think he supports designers that are representative of that ethos and of those histories. I am also obsessed with the artist Terence Koh because he always dresses in white.
What would you say is the most prized possession in your closet?
I'm going to have to say it's my shiny coat. I have a Sies Marjan overcoat that's made of this reflective material. It's funny because it really is clothing made for the internet: it looks its most impressive in a phone photo.
Your work has so much to do with food systems, food accessibility, and the environmental impacts of those questions. Fashion and design are entangled in those same issues of material and scale—do you think about that overlap? Does it inform how you dress, and how you might support different designers?
Definitely. Primarily, I try to buy expensive things, and buy less often. I try to even buy underwear and socks that last as long as possible. And when it comes to fashion-fashion, I think you are always going to be able to find some sort of injustice in the way any company operates: whether it's where they are sourcing the cotton for one piece in their collection or what shipping company they use. We're all complicit in the destruction of the planet, just to varying degrees. But I think new materials are where things have the most impact. So I could buy my whole wardrobe vintage and say I've opted out, but when I do buy new clothing I try to buy from designers who design with longevity in mind. I'm a huge fan of Lemaire, for example, and it's because his shit is so solidly built.
Has your work influenced the way you dress in other ways?No [laugs], because when I'm at work I change into black pants, Birkenstocks, and a t-shirt. It's not chef whites and checked pants anymore, but if you're working in a kitchen you're in a uniform that looks like everyone around you. Even then, I push it a little, though. I think most people would be in black Levi's 501s and I would wear Libertine pants with the tiniest poof in the leg, or something like that. I'm always making the push for self-expression—in whatever increment I can.
Related: Stylist Reva Bhatt, aka @hybridhues, Draws Inspiration From Her Motherland