At Dior, a Reinterpretation of "French Girl Style"
The fall 2023 collection felt like Maria Grazia Chiuri was giving decades of Parisian dressing her own touch.
---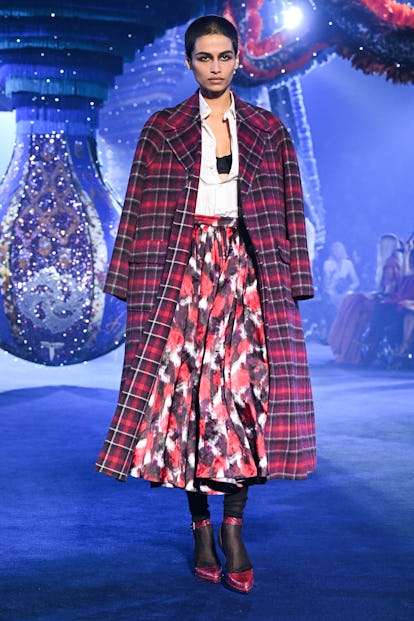 Photo by Stephane Cardinale - Corbis/Corbis via Getty Images
Ever since taking the helm at Dior, creative director Maria Grazia Chiuri has defined the brand by taking inspiration from iconic women throughout history (Josephine Baker served as muse as recently as January, when the maison showed its spring 2023 couture collection). And so, for the fall 2023 collection, she pushed that concept even further—with a spectacular set and collection that took influence from Catherine Dior, the founding designer's brave sister who is perhaps most remembered for being a French resistance fighter.
The show opened with an immersive, colorful, undulating set by the Portuguese artist Joana Vasconcelos. As the lights dimmed, massive flowers that reached the ceiling of the venue inside Place de la Concorde bloomed with light and color. Made with floral textiles inspired by the label's archives, models wove in and out of the set, which was enough to entice even the industry's most seasoned veterans who'd seen it all.
Chiuri seemed to be looking to the pivotal point of Dior's history—the New Look—which defined the brand and had a strong connection with Catherine Dior herself. (Take, for example, the fact that Christian Dior debuted the New Look collection in February 1947, in a room scented with Miss Dior, the fragrance inspired by Catherine.) The collection offered a modernized New Look in the form of white button-downs paired with black bell-shaped midi skirts—then opened up with undone blazers and visible bras, the looks topped by sturdy berets.
Drawing influence from iconic women carried throughout the show, right down to the makeup, which resembled a lived-in, inverted smokey eye that looked straight out of the French New Wave era. "I wanted to do a look where the girls don't disappear," Peter Philips, creative and image director of Christian Dior makeup told W backstage. "It became very sober, but strong. Another inspiration was famous French women, like Juliette Gréco. She's a singer and actress from the high days in the '50s and '60s. She was known for this moody, nostalgic singing tone; very underground."
So, what does a French girl dress like today? Dior's fall 2023 collection put forth a very good indication. The icon of the French woman and how she dresses has been a curious fascination for decades. Chiuri's easy skirt-and-sweater pairings looked like something you'd see an extremely chic Parisian wearing—but much more elevated. All the icons of French dressing were there, too; from the simple black headband to the little black strapless dresses. As a whole, the collection felt like Chiuri was honing in on the DNA of decades of French girl style—and giving it her own touch.
There's been a lot of talk about the return of stealth wealth and the rise of classics in fashion lately—and here, Chiuri doubled down on all that. Yes, we know her for her work that verges on classic season after season, but here, it was even more literal. Take, for instance, the fact that the majority of the 96-look collection was done in black, white, and gray save for brilliant blues, rebellious reds, and a trio of leopard prints. But you only had to look twice to see how majestic the details were: like leather skirts covered in realistic flowers, skirts and matching jackets studded with crystal beads, and white skirts with skinny ties that were ever-so wrinkled. The midi skirt anchored the collection with other wardrobe basics, like argyle sweaters, little leather gloves, strapless dresses, and oversize wool coats. As the sounds of Edith Piaf and Björk played through the venue, a model wore a T-shirt with Piaf's most famous and powerful song, "Non, je ne regrette rien."