Emma Stone's Matching Set Signals That Knitwear Is Back (in Pairs)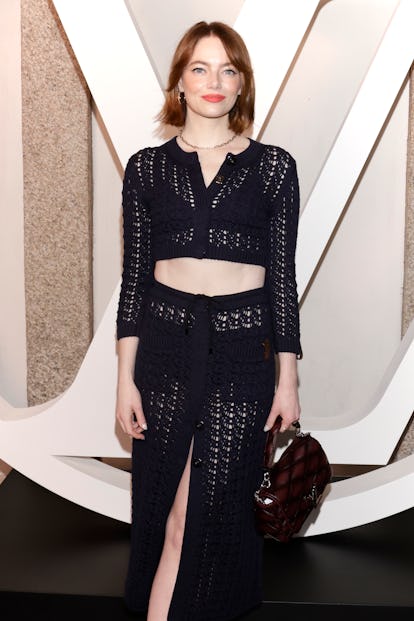 Lorenzo Palizzolo/Getty Images Entertainment/Getty Images
The past two summers of knit bucket hats and slinky crochet bralettes have met their match (literally). On Wednesday, Emma Stone's coordinated ensemble ushered in the latest iteration of knitwear: matching sets. Attending the Louis Vuitton cruise show in Isola Bella (an island off the coast of Italy) Stone sported a black knit two-piece set.
The breathable nature of the coordinating pieces, which featured patterned eyelet detailing, were ideal for the show's island setting. Stone layered the cropped sweater and slitted skirt over her similarly colored undergarments (at Cannes, exposed bras were another skin-revealing trend that has seen a resurgence of late).
While knitwear or matching sets aren't necessarily groundbreaking in and of themselves, the recent shift from separate pieces to full ensembles is noteworthy. There's a certain ease that comes with a matching set, and like Stone showcased, they're easy to build an outfit around—she accessorized the look with white platforms, a simple Louis Vuitton bag, and a dainty necklace.
While Stone kept her color palette fairly lowkey, Iris Law turned things up a notch. Only a short flight away, Law tried her hand at the matching set discourse while out and about in Cannes. The model and daughter of Sadie Frost and Jude Law wore a bright green Simon Miller x Mango polo and palazzo pants.
She sported the loosely fitted top, which had an elongated collar, over her wide legged pants (that seemed to be, unfortunately, dragging underneath her shoes). A green crossbody, in a slightly lighter lime hue, was the accessory of choice for Law as well as a simple pair of black sunglasses.
While Stone and Law are some of the most recent purveyors of the matching set craze, they've been making their rounds on the spring/summer 2023 runways, too, at brands like Blumarine, Acne Studios, and Bottega Veneta. While the runway versions may be a touch experimental, they're certainly signaling that knits are back in a big way. And more specifically, in pairs.