Every Karl Lagerfeld Reference and Archival Look at the Met Gala 2023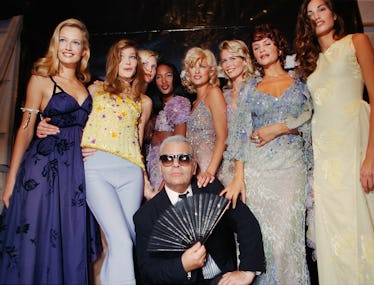 Photo by Stephane Cardinale/Sygma via Getty Images
Celebrities largely fell into one of two camps when it came to following the "In Honor of Karl" dress code at last night's Met Gala: either they went into the vault and plucked one of the designer's many archival creations from the houses where he worked—among them Patou, Chloé, Fendi, Balmain, and of course, Chanel—or they leaned into full Karl cosplay. (A small subset decided to go the Choupette route and meowed their way up the steps.)
With so many Karl-isms to choose from—fingerless gloves, white pointy collars, black sunglasses—guests paid tribute to him via some or a combination of his different style cues. While there was a ton of Chanel on the carpet, there were a few other brands that have no association with Lagerfeld but nonetheless created looks that reference his body of work in one way or another (see: Loewe, Tory Burch, Miu Miu).
The references abounded, whether it was from a seminal early '80s collection for Chloé or something the designer himself once wore. Below, the complete rundown of every Karl Lagerfeld reference and archival look from the 2023 Met Gala.
Dua Lipa in Vintage 1992 Chanel
As one of the co-chairs of this year's Met Gala, Dua Lipa was one of the first big names to arrive and she quickly set the tone for the night in a Chanel fall 1992 Haute Couture dress originally modeled by Lagerfeld's muse Claudia Schiffer.
Photo by Christopher Polk/WWD via Getty Images
Photo by Pool ARNAL-PICOT/Gamma-Rapho via Getty Images
Emma Chamberlain in Chanel-Inspired Miu Miu
Emma Chamberlain paid homage to Karl Lagerfeld with a custom Miu Miu ensemble inspired by the optical illusion dresses from his spring 2014 haute couture show. Chamberlain's icy blue version featured a rhinestone midriff similar to a look from that collection.
Photo by Sean Zanni/Patrick McMullan via Getty Images
Photo by Catwalking/Getty Images
Lizzo Referenced Linda Evangelista in Chanel
Lizzo nodded to the ultimate Chanel girl, Linda Evangelista, with a waterfall of pearls dripping down her black dress and on her wrists. The supermodel first debuted the original look from Lagerfeld's fall 1991 show for the brand.
Photo by Taylor Hill/Getty Images
Photo by Victor VIRGILE/Gamma-Rapho via Getty Images
Jennie Made Met Gala Debut in Chanel
Blackpink's Jennie was the last Chanel ambassador to be handpicked by Lagerfeld before his passing. For her first-ever Met Gala, the K-pop star wore a white minidress with a black sash and white camelia flower, a reinterpretation of a Chanel fall 1990 look.
Penelope Cruz in Vintage 1988 Chanel
One of the other Met Gala co-chairs and longtime Chanel ambassador, Penélope Cruz also went the vintage route with a Chanel spring 1988 haute couture bridal gown first worn by Lagerfeld's close friend and muse Inés de la Fressange.
Photo by Taylor Hill/Getty Images
CAMERA PRESS / Anthea Simms
Gisele Bündchen Rewore a Classic Chanel Dress
First worn by the model Freja Beha Erichsen for Chanel's spring 2007 haute couture show, this dress was also photographed on Gisele Bündchen for a memorable Harper's Bazaar editorial. She re-wore the white dress and feather cape for this year's Met Gala, her first since announcing her divorce from Tom Brady.
Photo by Michael Buckner/Variety via Getty Images
Photo by Fairchild Archive/Penske Media via Getty Images
Margot Robbie Channeled Cindy Crawford in Chanel
Chanel ambassador Margot Robbie gave her best Cindy Crawford in this corseted black dress, a custom rendition of a look Crawford debuted on the Chanel spring 1993 haute couture runway. Andrew Mukamal, who first started working with Robbie at this year's Oscars, styled the look.
Photo by John Shearer/WireImage
Photo by Victor VIRGILE/Gamma-Rapho via Getty Images
Olivia Wilde Brought Back the Chloé Violin Dress
Often overshadowed by Lagerfeld's Chanel era, his Chloé days were deeply significant in their own right (he had two stints there, actually). His most celebrated looks from this period were those which reflected his surrealist streak at that time, chief among them a robe violin look from spring 1983 which Chloé recreated for Olivia Wilde. The original version of the dress is on view in the "Karl Lagerfeld: A Line of Beauty" exhibition at the Met's Costume Institute.
Photo by Sean Zanni/Patrick McMullan via Getty Images
Photo by Fairchild Archive/WWD/Penske Media via Getty Images
Vanessa Kirby in Chloé's Shower Dress
Another one of Chloé's greatest Lagerfeld hits was a 1983 trompe l'oeil shower dress, seen on actress Vanessa Kirby, which will is also displayed inside the exhibit.
Photo by Jamie McCarthy/Getty Images
Photo by Guy Marineau/WWD/Penske Media via Getty Images
Naomi Campbell in 2010 Chanel
One of Lagerfeld's closest collaborators, Naomi Cambell also went the archival route in this Chanel spring 2010 haute couture dress: a pink one-shouldered gown draped over a silver dress.
Photo by John Shearer/WireImage
Photo by Antonio de Moraes Barros Filho/WireImage
Nicole Kidman Revived the Iconic Chanel No. 5 Dress
Tthe 2004 Chanel No. 5 commercial starring Nicole Kidman and directed by Baz Luhrmann is largely accepted as one of the most iconic (and expensive) fashion adverts of all time. It was only fitting that she re-wear one of the dresses from that film—a blush pink feather confection—to this year's Met Gala in honor of Lagerfeld.
Kristen Stewart in a Vintage Chanel Tuxedo
As a longtime ambassador for the brand, Kristen Stewart has had more Chanel red carpet moments than most people will ever dream of. Her latest look was one straight from the archives: a black and white tuxedo outfit from Chanel's 2017 cruise collection.
Photo by Michael Buckner/Variety via Getty Images
Photo by Thomas Concordia/WireImage
Carla Bruni in 2001 Karl Lagerfeld
Carla Bruni has been one of Lagerfeld's longtime confidants and friends for three decades. The supermodel paid tribute to his legacy with a spring 2001 look from the designer's namesake brand in his signature black and white.
Karlie Kloss Honored Karl Lagerfeld's First Chanel Collection
The patron saint of "looking camp in the eye" returned to the Met steps this time in a long black Loewe column dress with pearl necklaces and belts. The Loewe moment was a reference to a look from Lagerfeld's first-ever collection for Chanel with trompe-l'œil-embroidered jewelry.
Photo by John Shearer/WireImage
Photo by Fairchild Archive/WWD/Penske Media via Getty Images
ASAP Rocky Embodied Karl Lagerfeld in Tartan Skirt
ASAP Rocky's red tartan kilt referenced a similar outfit worn by Lagerfeld in Tokyo in 2004 for the opening of a new store in the city's Ginza district.
Photo by Jeff Kravitz/FilmMagic
TORU YAMANAKA/AFP via Getty Images
Olivier Rousteing Carried the Famous "Karl Who?" Bag
In 2006, Lagerfeld was spotted holding a "Karl Who?" canvas bag that quickly became one of the buzzy accessories of the season. Olivier Rousteing, creative director of Balmain (where Lagerfeld also once worked), referenced the iconic bag with his own quilted tote.
Photo by Kevin Mazur/MG23/Getty Images for The Met Museum/Vogue
Cara Delevingne Transformed Into Karl Lagerfeld
Another one of Lagerfeld's favorites, Cara Delevingne channeled the designer's essence with her platinum gray hair, white band shirt and Chrome Hearts jewelry—a staple in Lagerfeld's uniform. She also released a collection with the Karl Lagerfeld brand last fall called "Cara Loves Karl."
Jeremy Pope Wore Karl Lagerfeld on His Train
One of the more dramatic looks of the night, Jeremy Pope took over the entire space of the carpet thanks to the oversized train of his featuring Lagerfeld's visage, designed by Balmain.
Lily Collins Spelled It Out
Similarly, Lily Collins wore a very Emily in Paris-appropriate Vera Wang ball gown embroidered with Karl's name in silver sequins.
Teyana Taylor Channeled Karl Lagerfeld in Neck Tie and Shades
Teyana Taylor's Thom Browne tweed set included a black necktie and black sunglasses in a subtle nod to the designer.
Kendall Jenner Donned Karl's Big White Collar
Kendall Jenner's interpretation of "In Honor of Karl" saw her in a custom Marc Jacobs sequin look with a big pointy white collar that was one of Lagerfeld's most visible signatures.
Phoebe Bridgers' Tory Burch Look Referenced Chanel and Naomi Campbell
Phoebe Bridgers worked with Tory Burch to create a look that captured not only the singer's personal style (the skeleton motif has been a big part of her performance look) but also referenced a key look from Chanel's fall 1996 haute couture show. The spaghetti strap with pearl detailing channeled the original look worn by Naomi Campbell.
Photo by John Shearer/WireImage
PIERRE VERDY/AFP via Getty Images
The Karl Lagerfeld Fan
Fans were a popular accessory of the night, as Jordan Roth, Conan Gray and Carla Bruni demonstrated. The fan was a Lagerfeld signature, of course, as he was photographed with them throughout his career for decades.
Photo by Noam Galai/GA/The Hollywood Reporter via Getty Images
Photo by Noam Galai/GA/The Hollywood Reporter via Getty Images