#FlatGate Takes Over at Cannes
Giovanna Battaglia, Cristina Ehrlich, Leslie Fremar, and Elizabeth Stewart respond to the footwear controversy at the Cannes Film Festival.
---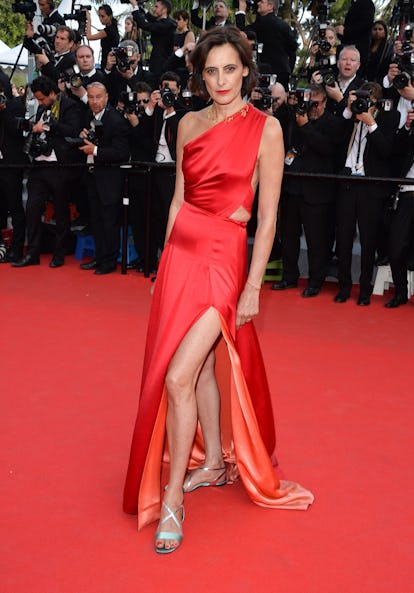 Wednesday night, at the Museum of Art and Design's black tie "An Evening in Monte Carlo" gala, hosted by Valentino, W's contributing editor Giovanna Battaglia thought nothing of showing up in a semi-sheer, black and red guipure lace gown paired with flat black lattice-work Azzedine Alaia sandals. But everyone that night kept asking her if she'd chosen her footwear as some kind of protest against the recent controversy in Cannes. In case you've been living under a fashion rock, over the past couple of days social media and the Internet have been flooded with stories alleging that women—including film producer Valeria Richter, whose left foot is partially amputated—were being turned away from screenings and stopped on the red carpet by security guards who deemed their flat shoes, no matter how sparkly, unacceptable for the film festival's formal dress code. The festival's director Thierry Fremaux has since issued an apology saying, "There was perhaps a small amount of overzealousness."
But Battaglia insists her sandals had no special significance. "I thought they were the best shoes with the dress," she says of her choice, adding that had she been blocked from the red carpet at Cannes in the same outfit, "there would have been a major fashion drama moment."
A self-described heels aficionado ("I was born wearing 12 cm heels"), Battaglia has worn flats to black tie events on many occasions and, upon discovering the brouhaha on Twitter, planned a humorous stunt on the set of a Patrick Demarchelier rooftop shoot earlier this week, posting a sign that read "No High Heels on the Roof."
"Chanel recently put sneakers on the runway with haute couture and they are epitome of French fashion," she notes. "It makes no sense that Cannes, one of the most glamorous events in France, wouldn't allow flat shoes on the carpet."
Battaglia isn't the only fashion expert to scoff at the decree. "I appreciate and respect the 'classic mentality' of women being dressed up," says celebrity stylist Cristina Ehrlich, whose clients include Margot Robbie and Allison Williams. "But, when done with thought and style, I feel flats for the red carpet can work and should not be vetoed… look at Ines de la Fressange last year in Cannes."
Julianne Moore and Charlize Theron's stylist Leslie Fremar somehow made it past the guards sans spikes. "When I went to the 'Mad Max' screening in Cannes, I wore a Lanvin tuxedo with Céline flats and no one said anything to me," she says.
"It's ironic that women are being turned away in flats given that tuxedos are traditionally worn with an Oxford style shoe," points out Elizabeth Stewart, Cate Blanchett's go-to stylist. "Maybe they should replace the guards with fashion editors?" There's always next year.
Photos: #FlatGate Takes Over at Cannes
Inès de la Fressange at the Cannes Film Festival in May. Photograph by George Pimentel/WireImage.
Oxfords at Lanvin fall 2014. Courtesy of Lanvin.
Karlie Kloss wears flat sandals at the Cannes Film Festival on May 14, 2014. Photo by Getty Images.
Cara Delevingne wears sneakers at the Chanel Couture Spring 2014 show. Photo by Getty Images.
Photo by Giovanna Battaglia.
A barefoot Lena Dunham at the Met Costume Institute Gala in May. © Splash News/Splash News/Corbis.