Latex, Leather, and Lingerie: The Williamsburg Shop for All of Your Valentine's Day Needs
The Great Eros offers something for all five senses–toys and jewelry, included.
---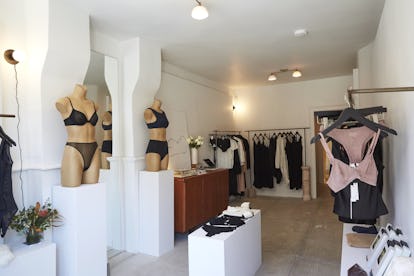 "We decided to open the store over a bottle of wine," says Christina Viviani and Emilio Ramirez, the couple behind The Great Eros, a new concept shop in Williamsburg, Brooklyn devoted to intimate experiences. The shop stocks everything one may need for a sexy night in–lingerie, fragrance, candles, et al. This is a familiar world for Viviani, who is the former designer of a well-loved but short-lived lingerie collection, CV New York/Curriculum Vitae. Her former collection was worn by Cindy Crawford in W's Royals portfolio, and widely beloved by the fashion set. Ramirez is no stranger to the scene, as well–he is the former owner of Personnel of New York, the Greenwich Village boutique that sold easy separates for men and women. "I learned a lot from having Personnel of New York," he says. "You have to believe in the product you make and sell, being authentic in your decisions and partnerships makes doing the work fun."
The couple have obviously had fun curating the shop's space, going out of their way to offer something for all of the five senses. Vintage erotica in the vein of Helmut Newton and specially commissioned nude artwork by Tanya Posternack adorn the store's walls. Among the stores' items for sale are sex toys and latex offerings, for both men and women, as well as specialty chocolate, Cuiro Noir oils, and assorted candles and perfumes.
It is a place dedicated to "celebrating the body, the home, the experiences you create with the ones you love," the couple says. The shop, located at 135 Wythe Avenue in Brooklyn, opens just in time for Valentine's Day.
Tribes: Williamsburg and Greenpoint locals; visitors from other boroughs who trickle in after brunch at Cafe Mogador; tourists staying at The Wythe or the new William Vale Hotel; Scandi models, artists, and fashion folk have all trickled through the shop's doors.
Fans of the Store: Zoe Kravitz, Scarlett Johansson, and Natalie Suarez, among others.
The Mix: Lingerie, latex, fragrance, candles, fine jewelry, sensual objects, vintage erotica, literature, and art.
Best Sellers: Dia silk wrap top and Ereni Karate pants, Curio Noir Opia eau de parfum, Land of Women mock neck bodysuit, and Gabriela Artigas infinite tusk ring.
Price Points: $35 – $1500.
Pièce De Résistance: "Our jewelry room is intimate and ceremonial. Apparatus lighting and a Curio Noir candle light custom jewelry cases which feature a fun assortment of jewelry," the duo says.
For those who prefer to shop from home: TheGreatEros.com