Hoopskirts Come Full Circle
Both revered and reviled throughout history, the centuries-old sartorial trend makes a sweeping comeback.
Photographs by Osma Harvilahti
Styled by Helena Tejedor
---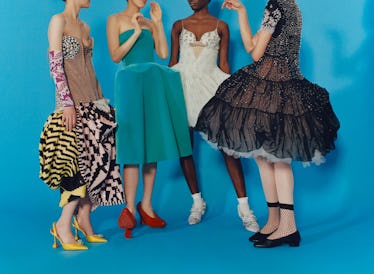 Stordiau wears a Matty Bovan x Dolce & Gabbana corset top, skirt, and sleeves; Amina Muaddi shoes. Liu wears a Loewe dress and shoes. Diène wears a Lanvin dress; Falke socks; Amy Crookes shoes. Alyssa Sardine wears a Paco Rabanne dress, top, and skirt; Tabio socks; Abra shoes.
In the mid–19th century, the expression "fashion victim" took a tragically literal turn. On March 16, 1858, The New York Times reported on a young Boston woman who went up in flames when her capacious frock—stretched to extreme circumference by the then ubiquitous undergarment known as a hoopskirt—came too close to the fireplace in her Beacon Street home. According to the paper, no fewer than 19 ladies had met a similar fate in England between the first of January and the middle of February that year. "Certainly an average of three deaths per week in conflagration ought to startle the most thoughtless of the privileged sex and to make them at least extraordinarily careful in their movements and behavior if it fails (as of course it will) to deter them from adopting a fashion so fraught with peril," the paper railed.
The misogyny and condescension are, of course, enough to make modern ears bleed, but on one point, the writer was correct: The hoopskirt, also known as a caged crinoline, has—despite its almost comical lack of practicality—somehow endured. While tentlike frocks are no longer daily wear, as they were in the 1850s, the hoop still manages to make semi-regular appearances on red carpets, nuptial aisles, and fashion catwalks. This season, there was a particularly notable abundance. At Loewe, Jonathan Anderson sent out bouncy tea-length numbers with squared-off, almost shelflike protrusions at the waist. Rei Kawakubo, perhaps the most consistent purveyor of humpy, bumped-out silhouettes, pushed angular, bulging hips to monumental proportions at Comme des Garçons. Christopher Kane draped sheer lace over a wide, stiff waist ruff for a sexy peekaboo hoop. And at Dior, Maria Grazia Chiuri presented several variations on the belled silhouette, some short and sweet, others regal and floor-sweeping. For her, the inspiration started on top, with Catherine de' Medici–inspired corsets; that meant, she says, that "it was essential that the crinoline also became part of these looks, redefining…the curves of the body."
Alice Stordiau wears a Dior dress, shorts, socks, and shoes.
Jiashan Liu and Marie-Agnès Diène wear Loewe dresses and shoes.
Like de' Medici herself, the hoopskirt first rose to prominence in the royal courts of late Renaissance Europe. By some accounts, the original influencer was Joan of Portugal, during her reign as Queen of Castile in the early 1500s. A woman best remembered for showing an overabundance of cleavage and birthing two children out of wedlock, she's rumored to have adopted the habit of wearing caged underskirts—which were built out of wicker or dried grass—to hide her scandalous pregnancies. In Spain, such contraptions were called verdugados, from the old Spanish word for "green sticks." (Eerily, in modern Spanish, verdugo means "executioner.") It is thought that the style traveled from the Iberian Peninsula to England with Catherine of Aragon, the first wife of Henry VIII, around 1509. There, the garment was known as a farthingale and, says fashion historian Jessica Glasscock—who spent a decade at the Metropolitan Museum of Art's Costume Institute and now teaches fashion history at Parsons School of Design—was worn mostly as a means of displaying wealth in the form of fabric. "The message was: Look how rich and expensive my textile is, and look how much of it I've got!" she says. It's no surprise that the look was particularly popular in royal portraiture of that era.
By the 18th century, the fashion for farthingales had evolved into a passion for panniers, from the French word for basket. As the name suggests, these body shapers were woven from cane or whalebone and—rather than coming full circle like the farthingale—sat on both sides of the hips, stretching skirts into wide, rectangular panels that made waists look impossibly tiny in contrast. Some panniers were relatively modest in size, but others were so large that the women wearing them appeared to be walking around encircled by a dining room table. In some cases, hinges were added so the sides could be let down (à la drop leaf) when the wearer passed through doorways. Like farthingales, panniers were associated with blue bloods, but, says Glasscock, the look soon began to trickle down. "The 18th century is when you're really starting to have fashion, with upper-middle classes imitating and embracing what the rich people wore," she says.
Marie-Agnès Diène wears a Richard Quinn dress; the Attico shoes.
Sardine wears a Giorgio Armani dress and sandals; Falke tights.
Looking rich, though, became less desirable in the 1790s, when Marie-Antoinette—whose pannier-puffed ensembles were legendarily showy—lost her head due, in part, to her "if you've got it, flaunt it" lifestyle. At that point, enormous skirts were traded for more streamlined columnar silhouettes. But by the 1850s, big bottoms were back, thanks to the Austrian socialite Pauline Metternich (full name: Princess Pauline Clémentine Marie Walburga von Metternich-Winneburg zu Beilstein). A famed trendsetter of her day, Metternich came to France when her husband was appointed ambassador to the court of Napoleon III. "She was a classic jolie laide," says Glasscock. "She wasn't real pretty, but she was a lot of fun, and she dressed amazing." Metternich became close with Empress Eugénie and introduced her to the English fashion designer Charles Frederick Worth—known today as the father of haute couture. When Metternich started wearing Worth's dramatically voluminous gowns, Eugénie and the others in her circle followed suit. Soon, massive skirts were back and bigger than ever.
Originally, dresses like the ones Worth made were held out by layers of stiff, corded linen and horsehair petticoats. The weighty, heat-trapping garments were worn four or six at a time, depending on the diameter of the dress, and tended to tangle up around the legs, essentially hobbling the wearer. Eventually, couturiers began to incorporate underskirts with graduated hoops made from whalebone or cane. These garments were cooler and more comfortable, but also extraordinarily expensive. Common folk who wished to imitate the royal styles were stuck with hot, heavy layers.
Sardine wears a Christopher Kane dress; Falke tights; Amina Muaddi shoes.
Liu wears an Undercover dress; Lorette Colé Duprat earrings; Iindaco shoes.
It was hailed as a form of liberation when the Parisian company R.C. Milliet debuted the first metal-framed crinoline in April of 1856. Within months, tens of thousands of the skirts were being produced across Europe and the United States, and their cost quickly plummeted. "Over a decade, the price of a hoopskirt dropped from five dollars to something like 25 cents," says Glasscock. It was then that the trend really exploded. "While the earlier iterations were very upper-class, in the mid–19th century it was all up and down the fashion system," says Glasscock. "You could find women at really almost every level wearing some version of the hoop."
As it was no longer the province of the superelite, the silhouette also became a widespread cultural phenomenon, appearing in satirical cartoons depicting hoopskirts blowing up over women's heads at the beach or crushing suitors with their girth. There were also constant headlines about casualty via crinoline, whether through immolation or being caught up in and crushed by carriage wheels. Glasscock sees these cautionary tales as perhaps exaggerated by a perturbed patriarchy. "There was a concern that, in a sense, the hoopskirt made women take up too much space," she says. "And there was a certain criticism and anxiety about it in the culture that would then play out in what you might call 19th-century concern trolling about things like fire hazard."
The garments also enforced a degree of built-in social distancing that was probably unwelcome by handsy types: Sneaky bum pats and other unwanted caresses were an impossibility. As silly as they might have looked, covered in ruffles and swaying with every step, they were impossible to ignore. That, perhaps, is at the root of why such a seemingly impractical trend has enjoyed such longevity. Walking through the world in a hoopskirt—then, as now—is nothing if not a power pose.
Hair by Yann Turchi at Bryant Artists; makeup by Masaé Ito at MA World Group; manicure by Marie Rosa for Dior. Set design by Cristina Ramos at the Magnet Agency. Casting by Lisa Dymph Megens at Industry Art.
Produced by UN Produced; executive producer: Rosie Donoghue; production manager: Beatrice Lontani; photo assistants: Francois Briens; Valentino Bianchi; fashion assistant: Bianca Diocesano; hair assistants: Mills Mouchopeda, Antsouo Dominique; makeup assistant: Gwendoline Joncour; set assistants: Leo Orinowski, Hamid Shams; models: Alice Stordiau at Bloom Management, Alyssa Sardine at Premier Model Management, Jiashan Liu at Silent Models, Marie-Agnes Diene at The Claw Models