How Jung Ho-yeon Went From Korea's Top Model to Hollywood's Top Style Star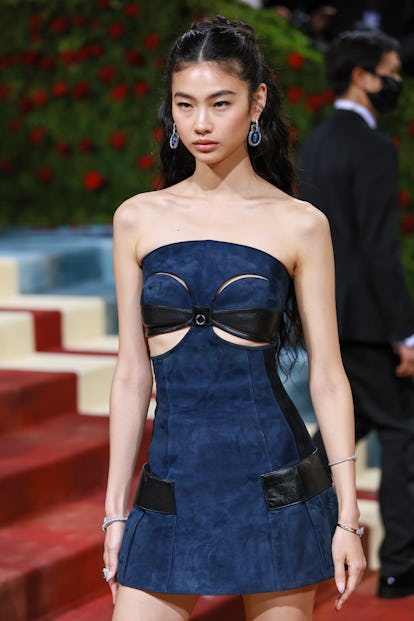 Theo Wargo/WireImage/Getty Images
In the beginning of 2021, most people outside of the fashion community had never even heard of Ho-yeon Jung (also known as Hoyeon Jung). By the end of the year, the Seoul native would have a SAG Award and an Emmy nomination to her name, as well as a spot on every major red carpet.
Ho-yeon began her career in South Korea, participating in Seoul Fashion Week for a few seasons before going on Korea's Next Top Model and placing in second. From there, she broke into the international market and began walking in shows around the world. In 2021, though, Squid Games premiered, and the Netflix show turned Ho-yeon into an international star. By that point, the model-turned-actress already had an exclusive with Louis Vuitton, but that year the brand made her an international ambassador.
Because of that, Ho-yeon is always seen in Vuitton on red carpets, sometimes wearing straight-off-the-runway designs, but more likely custom pieces created by Nicolas Ghesquière himself. Ho-yeon really epitomizes the brand, representing that edge that comes through in many of Vuitton's leather accessories, especially the footwear. Ho-yeon's styling go-to has always been grounding delicate dresses with intense, heavy footwear, and Vuitton is the perfect brand to make that work. Ho-yeon hasn't been around for too long, but she's already made a mark on the worlds of modeling, acting, and red carpets. So, as we wait to see what she does next, let's take a look at all of her red carpet moments up until this point.