Jenna Lyons Lets Her Guard Down For The Real Housewives of New York City
The former J. Crew president and style star was forced to confront her own baggage on the series reboot.
---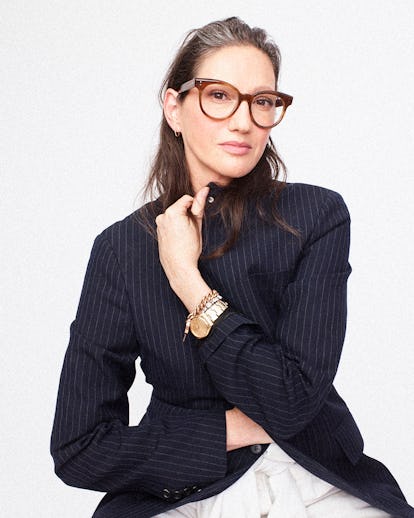 Photo by Mei Tao
Jenna Lyons' lashes may be fake, but she definitely keeps it real. Or at least, that's what the former J.Crew president and current cast member of Bravo's The Real Housewives of New York City's tagline is, and like any great slogan, it neatly encapsulates the fashion icon's personal brand of glam authenticity. After 13 seasons following roughly the same rotating cast of upper Manhattan socialites, the network decided to scrap the faltering series and reboot it with an entirely new lineup of women that better reflects the diversity of New York City.
Of all the cast members, which includes models, publicists, marketers, and other aspirational types, Lyons came onto the show with perhaps the biggest public profile (and, at 55, is also the most senior of the group). But her years of experience in the high-paced world of fashion—she started as an assistant menswear designer at J.Crew in 1990 before ascending to the top job of executive creative director—didn't totally prepare her for the reality of unscripted television. "Being more experienced and being older, it doesn't give you anything other than just more fear," she told W. But Lyons has been able to stay true to herself, especially in regards to her personal style, by making it clear early on to producers that she wasn't about to swap her signature flats for heels.
After becoming so synonymous with the J.Crew brand that it was once joked the "J" stood for Jenna, Lyons left the retailer in 2017 and launched LoveSeen, her own line of false eyelashes, inspired by her hair loss caused by a rare genetic disorder. An internet joke about her joining the cast of the rebooted RHONY led to a DM conversation between her and executive producer Andy Cohen, which then led to very real talks with the producers and her eventual casting on the show. Though she did have a stint on HBO's Girls in 2014 as Lena Dunham's GQ editor, the Real Housewives is a far more invasive form of filming, and like many Housewives before her Lyons struggled to find the perfect balance between privacy and disclosure.
Below, Lyons talks about her experiences with the RHONY cast, why reality TV group dynamics bring up schoolyard trauma, and how a woman known for her love of denim and flats handled one of the flashiest series on current television:
Opening up your life to reality TV audiences is a big decision that you can't undo. What made you say yes?
This was a huge risk for me that I felt like for once in my life, I could probably take. I don't work in a corporate environment the way I used to, so I don't have the same sense of responsibility to a company. And considering the fact that I have this business that I would love to be able to support, it felt like an honest way to do that.
Were you a fan of the show prior to joining?
I remember watching the series years ago when it first came out, and I liked getting to see inside the lives of these New York women who had access to things that I didn't. This new cast feels really different than what I had seen from the franchise prior—whether from a diversity perspective, a job perspective, or even a borough perspective. It just felt more current and modern, and like something that maybe people could relate to in a different way.
You came onto the show with the most public profile. Did that affect how you approached filming?
It was certainly challenging. I have a brand that I actually care deeply about—so it's not just me as a person, but also the brand that I'm nurturing and loving. I'm on the board of a public company, and I have a reputation to maintain. There are times when I think I played my cards close to the chest, maybe to my detriment, and certainly got called out by the other cast members of being too closed down. There's no roadmap. You can't really strategize around that. There are all these elements like, what will happen in the edit? How will people perceive you? There's a lot that you just can't predict.
Is there anyone you feel like navigated that particularly well?
Sai [De Silva] has done incredibly well in the way that she's managed to stay very true to herself. She has a very elevated perception of her in the industry that she wants to maintain, but she's very honest and real.
Which of the cast members did you bond with the most?
Because it was our first season, I think we were all just trying to figure out how this thing works. I found myself feeling closer to certain people, and then that dynamic might shift. And it's continuing to shift, because we all still talk to each other and see each other. So I'm apprehensive to even answer that, because I think I can see that it's going to continue to evolve. I genuinely have found things in each and every one of them that I deeply admire and deeply respect. And then I've also had moments where I've been like, "Oh, holy shit."
You've talked about how the group dynamic of the show brought back some old insecurities of yours, because you're in situations that most people wouldn't have been in since school.
Exactly. It was a lot harder than I expected, because of my own baggage. I don't come from a big group dynamic kind of home. The show played on all of my insecurities. I was one of those kids who's like, the last one picked on the soccer team and for dodgeball because I was a weird, awkward, not very cute kid. So I'm terrible at moving toward somebody. I don't want to go out and ask somebody to do something or try to start a conversation, because I don't want to be rejected. That is such a deep thing for me, but sometimes I think it feels like I'm not being forthcoming or I'm being standoffish, which I get. It's just the way I operate, and it's hard. It was really, really hard.
What do you feel like the enduring appeal of the Housewives and especially the RHONY franchise is?
In my job, when I was getting promoted, the biggest thing I struggled with was managing people. I was not taught that. I think it's the same as that. We don't have a map, oftentimes, of rip and repair. We don't have a map of what integrity looks like, or how people really want to be treated. We're not that open culturally. There's something really fascinating about watching people get into a little kerfuffle, and then to see, how do they actually manage through it? It is really this interesting dynamic of interpersonal relationships and how they play out, and you get to be a voyeur. Granted, some of it is very dramatic and goes into very dark, weird places, but of course, that's television.
Talking a bit about fashion, there's a clip going around of the women joking about you putting khaki on the dress code for an event.
Oh my God. It's so funny. I had no idea it was going to be such a thing. It was not intentional on my part.
Being that Housewives style is known for being flashy and over-the-top, how did you approach your styling and looks?
I'm not the person who wears a full-length sequin gown. And I love sequins all day long. That is my claim for fame, a sequin during the day. But that's not who I am. Even when I was agreeing to do the show, I told the producers what I'd like to wear for the opening imagery, and they were totally fine with it. I ended up wearing Converse sneakers in the very first image that was shot for W. Everyone's been very supportive of me just being me, and that feels really authentic to me.
Fashion to me is always looking at the new, looking at what's next. But style, to me, is slightly different. It's about creating your own persona and people recognizing you for what you do and how you show up. Style is about sticking to who you are and not falling into a mold of something else. I wear jeans and white shirts all the time, and I wear flats all the time. I am myself most of the time. I think some people are like, "I don't understand why you're not getting more dressed up and bringing the fashion." I'm like, "But this is my style."
What's the best fashion advice you've ever received?
Don't try too hard, looking forced and over-considered is not a vibe.
What was your first major fashion purchase?
When I was 28 years old I got my very first bonus and I bought a matching Marc Jacobs bag and wallet. The bag was insanely heavy, but I didn't care and wore it every day. I still have it.
What's the most prized possession in your closet?
Vintage Chanel suspenders.
Who's your ultimate style icon?
Slim Keith.
What's your style pet peeve?
Wide-leg pants that are too short and worn with heels. I hate a hovering pant.
Biggest fashion regret?
Muffin top, someone should have told me not to wear low-waisted pants.
The Real Housewives of New York City premieres on Sunday, July 16 at 9pm ET/PT on Bravo and streaming the next day on Peacock.