Kendall Jenner Wears a Dress That Bella Hadid Debuted on the Runway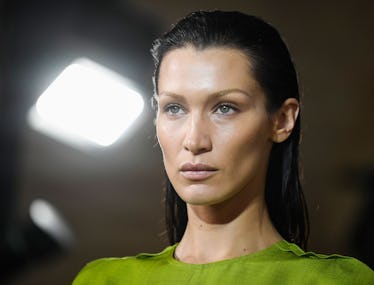 JULIEN DE ROSA/AFP/Getty Images
If Kendall Jenner, Bella Hadid, and Victoria Beckham are involved in a story, figuring out whose name to feature in the headline is basically a fashion magazine website's own personal "trolley problem." We'll surely figure it out by the time you're reading this, but we suppose we ought to first focus on Jenner. She's the reason behind looping all these names together in the first place.
Jenner took to her Instagram stories today wearing a fetching green knee-length dress that featured flouncy sleeves, defining her strong shoulders with ruching nipping in her waist. She paired the look with shiny thigh-high black boots and matching opera gloves (an increasingly popular red carpet choice at the moment). She wore her hair in an updo secured by a bow, along with a pair of gold earrings. Of course, the highlight of the ensemble is the jauntily carried glass of white wine (someone is not doing dry January).
If the outfit looks familiar, it's because it was Jenner's old Internet friend, Bella Hadid, who premiered in on the runway. Not just any runway, mind you, but Victoria Beckham's spring 2023 runway. There, Bella wore the garment with the same boots and gloves, but with a more editorially appropriate, stark beauty look.
Given Hadid's stature in the industry, most designers (when they're able to cast her in the first place) dress her in a key look meant to get attention. So we're sure Beckham is quite pleased that Jenner has decided to don the frock as well. Two major fashion "It" girls in the same dress—that's quite an accomplishment, even if Beckham is a member of the fashion "It" girl Hall of Fame herself.