King Princess Is Redefining Pop Stardom
The 23-year-old artist takes Bottega Veneta Wardrobe 04 for a spin.
Photographs by Shaniqwa Jarvis
---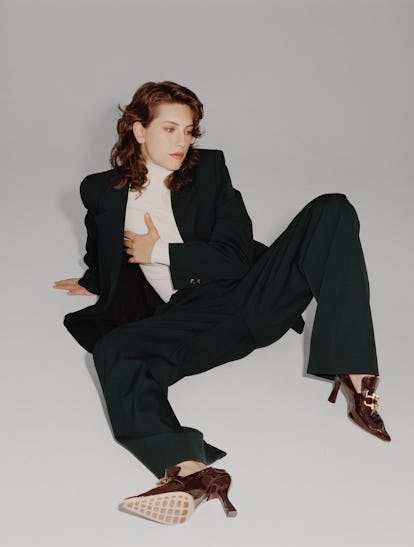 I meet King Princess on a stormy Monday morning in her native New York City, just three days after the debut of her second full-length album, Hold On Baby. A team of stylists gathers around her, hands on hips as they fit her in various looks from Bottega Veneta; at present, she languidly paces about in a pastel yellow shearling coat, a pop of color against the stark white studio. Nothing about her relaxed energy gives away the fact that she's just dropped a deeply personal record, or that, on the same day, she performed new tracks from that very project to a live audience at one of the biggest music festivals in the world.
For King Princess (or "KP," as she's referred to on set; or Mikaela Straus, the name she was given at birth), this high-fashion fitting is just another day in the life — not in a jaded rock-star way, but in a way that can only result from an upbringing in the music business. At 23 years old, she's coming of age alongside much of her fanbase, a group of individuals she speaks about (and to) with raw affection through her social media channels.
When I sit down with King Princess, she's dressed down in a robe, a nail artist going in on her toes while a makeup artist begins on her face. I ask how she feels, coming in hot off the tracks of her album's release.
"I feel amazing about it," she says. "I worked for a really long time on it, and I just really care about the music. It feels very dear diary." Indeed, Hold On Baby is a 12-track record laced with inner musings you almost feel like you're intruding upon, as if you cracked open the lock on your sister's journal.
"Did you learn anything surprising about yourself while writing these songs?" I ask.
"I think that I'm a lot more introverted than I give myself credit for," she says, as the nail artist moves from her toes to her hands. I ask if she'd ever taken one of those online personality quizzes, and she laughs, saying she "of course got lumped into the 'wants to party all the time' category," only due to the fact that she'd approached the questionnaire with too much irony and self-awareness. But her humanity shines through in ways not confined to a personality archetype, and fashion is a vehicle through which she expresses herself.
"What's it like getting dressed in the morning?" I inquire.
"I wake up and ask myself: do I feel like I should have tits today or not? Do I love the gendered form I was assigned, or am I deeply upset by it?"
"So, you can't predict what you're feeling day to day?"
"There are certain days when I'm like, titties to the sky in a corset, and there are other days when I feel as though that'd be the death of me. It's hilarious if you think about it conceptually — I love that this is my struggle [laughs]. To wake up and be like, whoa, I feel this way about my body, and I have to wear this to make it feel good."
When I ask about the ritual of getting dressed for a performance, she emphasizes how crucial a look is for being on stage: "I know it sounds kind of woo-woo, but you are trusting the armor you're wearing to be a part of your performance."
Does this change how she approaches her "off-duty" choices?
"My girlfriend would say that, since I met her, I've elevated my personal uniform to fit a stage situation," she explains. "I love a tank top and baggy jeans, but how do you do that on stage in a way that it's not just a tank top and baggy jeans? How do you take that to the next level, but in a way that's still true to you? That's my goal. I wear a lot of basketball shorts off-stage, and I don't think I would wear basketball shorts on stage…"
"Unless they're the Bottega Veneta ones you just tried on," I chime in.
"Yeah, full Bottega leather basketball shorts. In forest green."
I ask about where she looks for fashion inspiration, and she told me that she's "very referential," getting lost in old music videos, recordings of live performances, and coffee table books, much like her Gen Z peers. "I went to a party recently, and everyone was dressed very Y2K. To see an entire group of people in one space, emulating and referencing the same era (that is now considered vintage) is very interesting to me."
"It's wild that younger people are so referential to a time when things were so gendered," I interject.
"But there's a spin on it now," she says. "There's irony in that clothing. The lines are blurring in terms of what it means to just be a person in the world. It's so crazy to assume that everyone's gonna wanna get up and put on a fucking gown. But this Bottega Veneta collection … it's all very neutral in its own way."
"If you could wear one of these looks anywhere, where would you go?" I ask.
"The supermarket," she says, not missing a beat, perfectly summing up what makes King Princess so compelling as an artist and a fellow human being. Someone with the uncanny ability to inject charm and presence in just about any situation, ordinary or extra-.
"Just walk down the aisles in this gorgeous outfit. Slowly putting things into my cart…"