Kristen Stewart is All Business in Chanel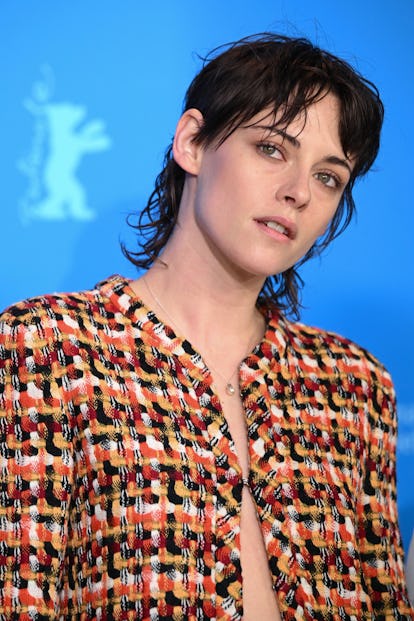 Stephane Cardinale - Corbis/Corbis Entertainment/Getty Images
Kristen Stewart is in full business mode. She should be, considering the actor is the jury president of the 2023 Berlin Film Festival. And on Thursday, when she hit the step-and-repeat for the event's opening press conference, she looked every bit of the head honcho thanks to the help on Chanel.
For the occasion, Stewart nabbed a suit from her go-to brand's pre-fall 2023 presentation—a tweed jacket of orange, red, yellow, black, and white, with a pair of matching, wide-leg pants. Given the immense amount of color provided by the set, Stewart, and her stylist Tara Swennen, kept the styling simple, opting for white, pointed-toe platforms, and a single pearl on a chain around the actress' neck. Stewart wore her hair in a disheveled mullet and seemed to opt out of any noticeable makeup.
When presented on the runway back in December, this suit was shown with a super cool vest and matching belt made up of gold time pieces, coins, and other found objects. It's a look that Stewart could have absolutely pulled off, and the added accessories would have provided a bit of edge to the otherwise fairly traditional outfit. Likely, though, Stewart thought the vest was a tad too ostentatious for the occasion and her position as president.
During the press conference, Stewart admitted that she has a bit of nerves entering the festival. "In full transparency, I'm kind of shaking," she said, according to Deadline. "It's not a weight that I don't fully understand and feel… not buckling under, but I'm bolstered by a really beautiful, talented jury." She continued, saying, "I can't wait to see who we all are at the end of this experience. It's kind of what you want a festival to do cumulatively. I'm ready to be changed by all the films and changed by the people around us. I think that's why we're here."