The Story Behind the Lady Dior Bag, a Princess Diana Favorite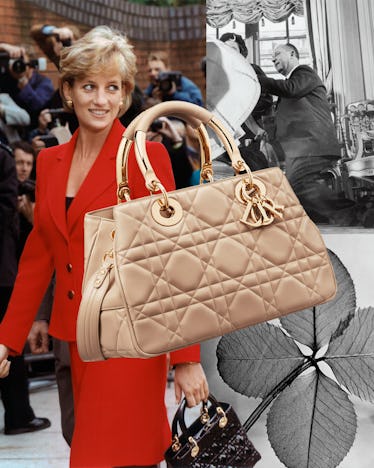 For a compact handbag, the Lady Dior packs a lot of history. Created in 1995 and named after Diana, Princess of Wales, it was gifted to her by Bernadette Chirac, the first lady of France at the time. She was so attached to it, in fact, that of all of Diana's contributions to style, from her FLY VIRGIN ATLANTIC sweatshirt and cycling shorts combo to the off-the-shoulder "revenge dress" she wore after news broke of her husband's infidelity, this may be her most enduring one. It's a quintessential example of how a celebrity and a brand can come together to create a best-seller.
A Dior offering ever since, the Lady Dior was hiding in plain sight until the most recent season of The Crown, in which it held its own against scene-stealing costumes and the leading lights of the British screen. Given the attention it garnered on social media, and the current move away from formless carryalls toward smaller designs with provenance in every stitch, it's not surprising that the classic has been revisited. "I wanted to do a sort of evolution of this project, like a new object of desire," says Dior creative director Maria Grazia Chiuri of her decision to launch the Lady Dior 95.22 edition. "Nothing can be invented, but everything can be revisited with fresh eyes."
Princess Diana with the Lady Dior bag in 1996.

Mathieu Polak/Sygma/ Sygma via Getty Images
A four-leaf clover, a good-luck symbol that Christian Dior always carried with him.

Keystone-France/Gamma-Keystone via Getty Images
For Chiuri, this meant softening the bag's architectural shape and further curving its handle to make it easier to carry. The original version was designed by then Dior creative director Gianfranco Ferré, who was unwaveringly reverential to the label's founder, Christian Dior. The stitching pattern, called "cannage," alludes to the cane chairs in the house's old couture salon; the D-I-O-R charms that hang from the handle—which presaged the trend for totes bedecked with trinkets that came years later—are a nod to Monsieur Dior's personal fascination with amulets and talismans. Chiuri has modernized these elements, playing with new proportions, and is offering three bag sizes in different shades, with ruthenium or pale gold finishes.
As much as it acknowledges the creative powerhouses who came before her, the Lady Dior very much fits into Chiuri's creative universe. Its femininity and hard structure make it a beguiling mix of contradictions—a hallmark of Dior under her auspices. An intellectual among designers, Chiuri understands that a purse carries a lot more than lipstick and keys. As an investment of passion that is visible to the world and whose contents are incredibly personal, it serves as a marker not only of status and taste, but also of identity.
Just as she has leaned on different talents in the past to communicate the poetry of her designs, Chiuri has tapped 11 international artists to interpret the Lady Dior bag as they see fit in two initiatives, Lady Dior As Seen By and Dior Lady Art. And while she claims not to have anyone specific in mind when designing, the faces for the advertising campaign—among them feminist writer Chimamanda Ngozi Adichie, tennis player Emma Raducanu, and actors Anya Taylor-Joy, Dilraba Dilmurat, and most recently Jennifer Lawrence—suggest that she is honoring the accessory's connection to exceptional characters. This doesn't mean, however, that they need to be in the public eye. As Chiuri says, "It's an empathetic bag that reflects the desires of any woman carrying it."
Jennifer Lawrence shares when she feels happiest and discusses producing her first film, Causeway, in the Lady 95.22 campaign by Tess Ayano.