Maiyet Brings Sustainable Luxury to a Mayfair Pop-Up Space
Do-good, sustainable luxury label Maiyet has popped up in Mayfair with its first-ever "stylishly considered" London store. Inside, you'll find unique pieces from global artisans, along with flowers, food, books, and more.
---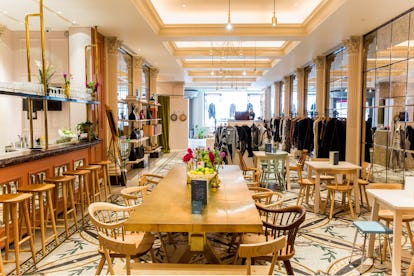 Maiyet, the ethical luxury fashion brand, has just opened it its first London store in the form of a three-month pop-up in Mayfair. This concept shop not only carries a full range of Maiyet products, but also flowers, fragrances, books, hats, eyewear, and food, by brands chosen for their ethical or artisanal commitment.
The five-year-old label partners with global artisans to incorporate exquisitely handcrafted details and unexpected fabric techniques into their designs, most of which is sourced globally and made locally. 
It makes perfect sense that the brands in the pop-up share the same ethos: the Tuk Tuk Flower studio, for example, will only have freshly picked flowers, arranged by its founder, Silka Rittson-Thomas; Ayurvedic chef Jasmine Hemsley will prepare recipes daily that mix eastern flavors with British seasonal ingredients; Yosuzi hats are all made with a diagonal weaving technique unique to the native South American tribes; and the skincare products by Tata Harper are 100 percent natural and nontoxic.
Tom Dixon has partnered in the project by offering the recognizable lighting as well a selection of home fragrances. The books, meanwhile, are by Phaidon.
"With this new concept store, I want to offer an experience that perfectly encapsulates our brand – an approach to the world that is fun, curious, stylish and considered," said Maiyet co-founder Paul van Zyl.
Even Cavendish Studios, the team behind the space's design, collaborated with artisans. Some of the goods are displayed on handcrafted sculptural installations made of Cornish clay, designed to dissolve back to the natural materials from which they were formed, leaving no environmental footprint.
While open, the Maiyet concept store will play host to a rotating program of events, including performance art, screenings, live music, chef's tastings, book launches, poetry readings, and magic shows.
Tribes:
 All the fashionistas who believe in sustainability. And it's only minutes away from the shopping of Bond Street.
Best sellers:
 Handpicked edelweiss flowers by the TukTuk Flower studio; custom glasses by Soho Bespoke; Maiyet's sleek leather bags.
Piece de resistance:
 The space itself is an experience, but the floor mosaics are a masterpiece.
Why shop there: Maiyet as a brand relies heavily on the support of NEST, an independent, not-for-profit organization dedicated to training and developing artisan businesses. So it's all for a good cause.
Location:
 41 Conduit Street, London Mayfair.