Manolo Blahnik Shares the Surprising Backstory of His Popular Maysale Shoes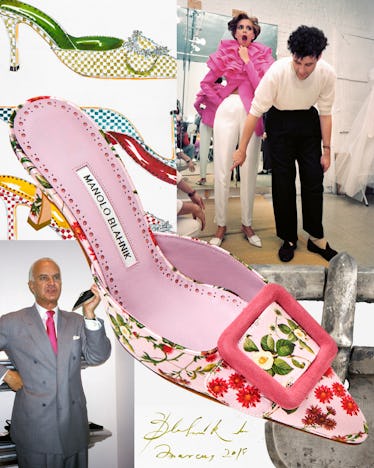 A mile in Manolo Blahnik's shoes is no casual stroll—it can resemble a lonely crusade against vulgarity. "Everything is bad everywhere," lamented Blahnik, the éminence grise of shoe design, now 80, on a recent afternoon. He was calling from one of his homes, an hour outside of London, bemoaning the decline of taste and intellect. "The platform shoe is evil—ghastly," he sniffed. "Sometimes I feel like I'm not really a part of the world."
Fortunately for women who are, Blahnik, the self-styled "borderless shoemaker" born in the Canary Islands to a Czech father and a Spanish mother, has forged his own contrary path and continues to find plenty to get excited about. "Why not?" he asks. "I'm always looking to the future. Maybe tomorrow is better." A pioneer whose namesake brand has become a byword for aspiration, Blahnik, for all his countless high-heeled creations, may well be best remembered for a buckled mule he designed for the Isaac Mizrahi spring 1991 collection. It was based on the collars and cuffs worn by the Pilgrims—or, as Blahnik refers to them, "the Mayflower people."
Manolo Blahnik in his New York boutique, 1980.

Photo by Rose Hartman/Getty Images.
A sketch of Blahnik's Maysale shoe designs from 2018.

Courtesy of Manolo Blahnik.
The Maysale, as the shoe (originally called Salem) is known, remains as chic as its creator. "Every five years or so, we revive it," says Blahnik. "It sells out every time."
Not surprisingly, a list of stars long enough to rival the Hollywood Walk of Fame has worn the Maysale. In the 1990s, Linda Evangelista ordered it in a range of hues (presumably to match her ever-changing hair color at the time); Madonna famously wore a pair for her red-carpet turns at the Cannes Film Festival in 1991. More recently, everyone from Mary-Kate Olsen to Rihanna has given relevance to new permutations, which include slingback and closed-pump versions.
According to Blahnik, the shoe's nods to the history of American adornment are at the heart of its appeal. "These historical codes are very reassuring, now more than ever," he says. "It's very hard to create glamour out of today's corporate world."
Without missing a beat, he offers another possible reason for the shoe's allure: The Maysale, he says, has always reminded him not only of Pilgrims but of late-19th-century Milanese prostitutes. "There is a scene in Bolognini's La Viaccia with Claudia Cardinale opposite Jean-Paul Belmondo," he explains. "She is in a bedroom and is obviously a prostitute, and she just flicks the shoes off to do the thing. So, yes, there is a conservative element to the design, but also that freedom. I love the mix."
It's the same dance between restraint and daring that attracts him to the cheongsam. "It makes me think of Wong Kar-wai and these gorgeous women in dresses that go up to the neck, very traditional, but then with a slit right up the leg," he explains. He also believes that's an apt way to describe himself. "A good friend of mine always says I have the potential to be vile, but then somehow I know when to put the brakes on," he says. "I think it's pretty accurate."