Marc Jacobs's Voluminous, Sky-High Tribute to Vivienne Westwood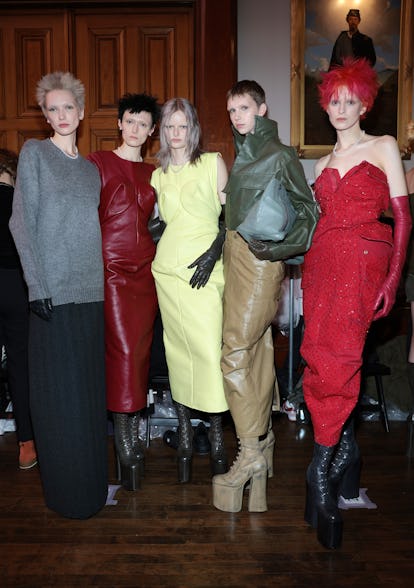 Photo by Dimitrios Kambouris/Getty Images for Marc Jacobs
Few events have shook the fashion world over the past few weeks like the passing of Vivienne Westwood. And so, on the evening of February 2, Marc Jacobs staged a last-minute fall 2023 show in New York City titled "Heroes," with a Westwood quote prominently featured in the show notes: "Fashion is life-enhancing, and I think it's a lovely, generous thing to do for other people."
It's been three years since Jacobs hosted a runway presentation at his usual spot, the Park Avenue Armory, but for so many reasons, he made it worth the wait. Enter: a visual and sonic feast. Think: models emerging from complete darkness into soft light to the tune of violinist Jennifer Koh playing Philip Glass's Einstein on the Beach. Debbie Harry and Debi Mazar sat front row, taking it all in.
Officially, fashion month hasn't even started yet. But the couture and pre-fall shows have proved designers are already putting a major emphasis on volume and structure. Jacobs has shown that's one of his strong suits in spades—piling on the drama for his shows which have, in recent years, shifted from closing the official New York Fashion Week calendar to going way off-schedule. Here, we saw his penchant for wacky, almost absurd-level volume explored, but with a rather utilitarian twist. Elements like suiting and traditional cargo pants, for example, were turned on their heads. There were big winter coats that somehow looked both wearable and like an example of highly technical shapes, reinvented. Garments shape-shifted to look like other things entirely. Was it a shrug or a little jacket wrapped and tied around the shoulders, twisted into an abstract form?
There was an allusion to the idea of playing with personal space in this collection. For example, many of the models walked with their arms crossed, backlit by the dramatic shadowing. It was all enough to make one wonder if the garment was constraining the model, or if the model was constraining the garment. The idea of clothing as a shield has been talked about quite a lot in the post-pandemic world, and these creations brought that idea to mind. The shadows cast on one model after the other also created a dystopian effect, as guests were seated in a single row of folding chairs.
But that didn't mean the collection wasn't without humor. Take, for instance, a fluffy, yellow-pastel dress paired with elbow length, leather opera gloves. The combination felt slightly off-kilter, a little vintage and a little weird—just what we might expect from a Jacobs interpretation of Westwood's work. Oversize shoulders, big bows, and short spiky hair that resembled Westwood's own in her early days cemented the collection as being one that felt fun in its formality. Draped polka dot gowns were topped off with single strands of pearls—one of the many, many inherent Westwood references—along with complex blouses inspired by Westwood's 1981 Pirate collection.
If the current shows have anything to say about footwear, it's that terrifyingly teetering heels are the new pièce de résistance of any wardrobe. Jacobs had every single model walk in his infamously towering Kiki boots, which he recently reissued under his Heaven line. Westwood, too, loved a scary-high heel, as seen in her 1993 show, when Naomi Campbell fell in the Super Elevated Gillies heels.
In a world where fashion collabs feel so ubiquitous, there's something celebratory and new about one designer looking to another as a reference point. Jacobs may have more than one hero, though—because within this collection were pieces that seemed to also pull from other various fashion legends, including Rei Kawakubo and beyond.