For Marine Serre, Upcycling Isn't Just Some Sustainability Trend
One of Paris's most in-demand designers discusses how she'd like to "close the fashion circle" through upcycling.
---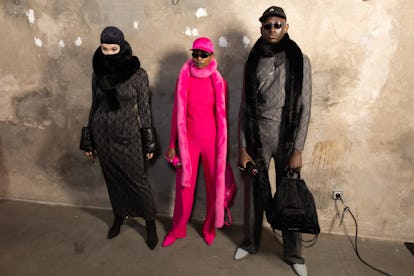 A few days after her fall 2020 show during Paris Fashion Week, Marine Serre is in her 19th arrondissement studio, training her sales staff for upcoming appointments. Like her clothing, which is often festooned with her signature crescent moon print, her studio is decked out in images of the celestial body: There's a black and white lunar-print couch, and even a rolling office chair covered with the shapes.
The pattern has become synonymous with the 28-year-old designer's brand, but Serre is also well-known for her crafty, postapocalyptic aesthetic. Her runway shows are unusually atmospheric; the spring 2020 presentation, for example, took place outside on a rainy, windy day, with guests sitting on drainpipes. Her fall 2020 show was staged in a red-lit basement where the audience perched on low, tapestry-covered benches. Masks covered the models' mouths and noses, while scarves and other pieces of clothing were piled on, shrouding bodies in material. Everyday items like bedspreads and tablecloths were refashioned into into wearable pieces.
Although "upcycling" is now the green buzzword du jour, an approach nearly every brand is suddenly onboard with, Serre—whose line is made from about 50 percent upcycled materials—has been fascinated by the concept since her childhood in southwestern France.
"I started wanting to do fashion when I was around 14 or 15, but then I was living in the countryside," Serre said. She recalled going to resale shops and collecting everything from old keys to Victorian blouses from the 1800s with voluminous sleeves. "I started patching pieces together, embroidering them, mixing jeans with really old puffy lace tops." Her grandfather, a secondhand dealer, also had a major influence on her as a child. "He was not fashionable at all," she said with a laugh. "But he would collect weird things that were beautiful to me."
Serre attended La Cambre Mode(s) Belgian Fashion Design academy, graduating in 2016 with a collection full of pieces made from her personal collection of recycled, vintage stuff. Having interned under Sarah Burton at Alexander McQueen, Matthieu Blazy at Maison Margiela, and Raf Simons at Dior, she scored her first full-time position at Balenciaga, where she worked as a junior designer for a year under Demna Gvasalia. "He is really skilled technically," Serre recalled. "That was always something really important for me, to work with people who know how to drape and how to construct. So, of course, I tried to get closer to that type of work."
It was during her tenure at Balenciaga that her name started to become more well-known in fashion circles. In 2017, her fifth-year graduate collection, Radical Call for Love, was shortlisted for the Hyères Festival, the ANDAM Prize, and the LVMH Prize. She won the LVMH Prize, becoming the youngest designer ever to do so and impressing judges Karl Lagerfeld and Phoebe Philo in the process. "I really wanted to do what I'm doing now, but maybe without winning the LVMH prize, it would have taken more time to do it," she said. The biggest change since winning the award: She's been able to expand her small team—before you could count them on one hand—to a staff of 60 employees.
It was in the Radical Call for Love collection that Serre debuted the crescent moon print, viewing it as both a political and aesthetic statement. "It was really hard to live in Paris at the time," she said. "The moon itself is of course referring to an Arabic country, but it's also referring to goddesses in Greek culture. The moon is there every night, also. So there's something a bit magical and also feminine that I really like about it. I wear the moon top myself almost every two days."
Serre's collection is now sold globally, both online and in department stores like Nordstrom. And she's also training her efforts on upcycling as much of the line as possible. "I think it's quite a challenge to transform old things into something new," she said. "One important thing for me is to close the fashion circle. Maybe in three years, you don't want a Marine Serre piece from five seasons ago. So what do we do with that? Maybe we could make it into something new."
Related: In the Studio With Olivier Theyskens