Megan Thee Stallion Regally Returned to the Red Carpet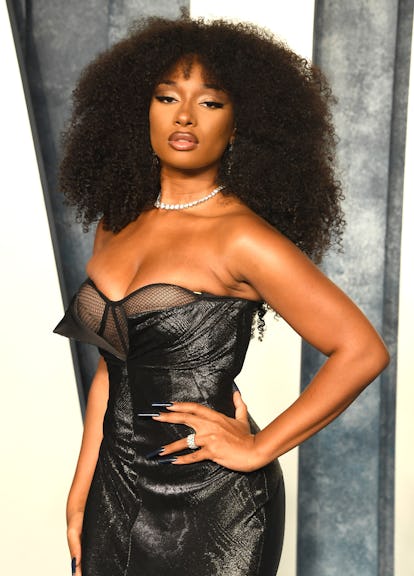 Steve Granitz/FilmMagic/Getty Images
If red carpets have seemed considerably less hot recently, that's likely because they have been missing the certified hot girl, Megan Thee Stallion. Luckily, though, the rapper made her return to the red carpet on Sunday night, and she did so in style.
Megan attended the Vanity Fair Oscar party wearing a custom black lurex Bach Mai dress. Mai also hails from Megan's home city of Houston and the two worked together (along with Law Roach) to create a mermaid-style piece with an exposed netted bustier top. Diamond jewelry in the form of chandelier earrings, a ring, and necklace completed the look, and classic red carpet glam brought it to the next level.
The Oscar after party was the first time the rapper stepped onto a red carpet since June, when she attended the second season premiere of the STARZ show P-Valley. At the end of 2022, Megan found herself embroiled in a legal trial regarding her shooting at the hands of Tory Lanez. Lanez was found guilty as charged and will be sentenced in April.
Next up, Megan will return to her hometown of Houston for her first concert of 2023. The rapper is set to headline the AT&T Block Party on March 31, as part of the 2023 NCAA March Madness Music Festival. "There's no place I'd rather be for my first performance of the year than my hometown of Houston," Megan said in a statement. "The AT&T Block Party Concert is gonna be such a vibe, and I can't wait to get back on stage in the city where it all began. I'm looking forward to seeing my Hotties and putting on an unforgettable show for them."
The Stallion is also set to make her own big-screen debut in the near future. Last year she shot a part in the upcoming comedy F***ing Identical Twins, which promises to be a very adult mash-up of The Parent Trap and Trading Places.