Meghan Markle's Style Evolution: From Actress to Royal to L.A. Mom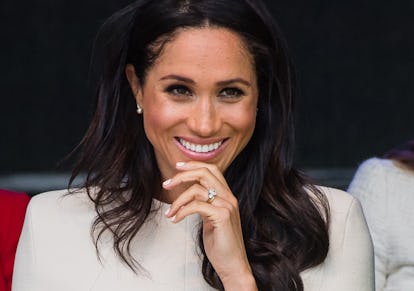 Photo by Samir Hussein/Samir Hussein/WireImage
Meghan Markle has had quite the journey over the past few years. Her style has reflected the momentous changes in her life, from actress to princess-to-be to working duchess, and finally into motherhood as she exited the royal family. As a star on Suits, she regularly worked the gala and fashion show circuits. Markle's earliest fashion go-to's included a killer pair of heels — she was often photographed wearing patent stilettos in red, black, and white, and loved a statement pair of ribbon-laced heels. On her off days, she didn't mind hitting the red carpet in a pair of jeans or a casual mini dress with flats. Markle's daytime looks were always especially unfussy, especially when wearing a look by her friend Misha Nonoo.
Then she met her prince charming. Markle and Prince Harry made their public debut in 2017 at his Invictus Games initiative. Engagement rumors buzzed all over Buckingham Palace, and shortly after, the newest royal couple announced that they were going to wed. Suddenly, Markle was thrust into the royal family, complete with its own style protocol and deeply-entrenched traditions. As a royal, she wore more modest silhouettes from beloved British designers, with crisp tailoring and exquisite fabrics befitting a Duchess. And yes, she donned plenty of hats. Markle also understood the power of bright, saturated colors — like the Queen, she loved monochrome looks in shades of green, blue, and red that photographed beautifully and allowed her to be visible among a crowd.
Markle's and Prince Harry's royal travels gave her an opportunity to play around with the dress code. They visited Commonwealth countries such as New Zealand, Canada, South Africa, and Morocco, where the Duchess enjoyed paying homage to each country's aesthetics, and no doubt enjoyed going sleeveless in hotter locales. As baby Archie grew, so did Markle's maternity style — she stayed comfortable in flowing gowns and lower heels, but worked a power dress that highlighted her baby bump.
Life wasn't perfect inside Kensington Palace. Now that Markle and her expanding family have left the working monarchy, she's free to recapture some of the freer looks from her earlier years. This evolution represents a step backwards through her life, but it gives us a glimpse into how she may craft her style going forward, now that protocol isn't a concern. One thing is for sure — she'll be the coolest California mom at the beach.
This article was originally published on