Men's Fashion Week Spring 2017: 5 Trends to Know
From broad-shouldered trenches to Teva sandals.
---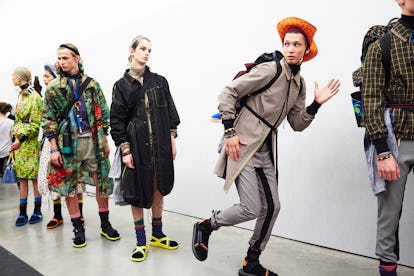 Ambra Vernuccio
For the spring 2017menswear shows, designers kept a rotation of last season's trends in turn with military influences and oversized trousers. However, the spring collections didn't fall short of surprises with the novel use of straps that buckled and hung loose in a BDSM way or made of chords and technical fabrics favored most memorably with Miuccia's wanderlust nomads at Prada. A play on shoulder proportions at Balenciaga among others was offset with flood pants and platforms, while playful prints like stripes, checkerboards, and animal prints made a solid argument. Here, we recount a few of our favorites.
Broad Shoulders
The silhouette of the season seemed to be jutting out at the shoulders reminiscent of women's power suits from the 80's.
Stripes
Varying in width and pops of colors, the playful print looked all the more fresh when layered like the candy stripes at Lanvin.
Tevas
The waterproof footwear dreaded since childhood is back in a range of colors and prints for fall. Paired with or without socks, the sandals sprung up at shows from Louis Vuitton and Prada who made their own to more collaborative version from smaller designers like Lou Dalton.
Nomadic Vibes
With travel an integrated part of our lives, designers reimagined technical fabrics into intricate travel cocoons complete with waterproof parkas, spurts of camouflage, and performance accessories.
Bondage
An underlying BDSM tone unraveled with the straps that hung loose from Walter Van Beirendonck and CDG Shirt's tailored foundations and harnesses that cinched the skinny suits at Dior Homme.