All that Glitters Is Fashion Gold
Have we reached the pinnacle of high-style reflection?
---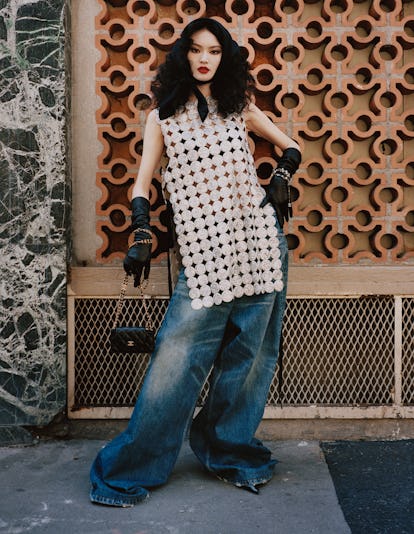 He Cong photographed by Angelo Pennetta, styled by Charlotte Collet
2023's must-have accessory? Protective sunglasses. Given the current state of fashion, we are all officially at risk of being blinded by shine. Sequins, crystals, lamé, gloss, satin and metallics — silver in particular — have had a commanding presence in fashion since 2021, but the obsession with reflection has reached incredible new heights on runways, red carpets and sidewalks alike this season.
Beyoncé, Lizzo and Harry Styles are among the many stars who gave us all-metallic-everything get ups at the Grammys, and the Oscars predictably followed suit. Jamie Lee Curtis, Jessica Chastain and Malala Yousafzai were all serving silver-surfer, and even men's suits came with memorable embellishments. While the appeal of shimmer and shine is always at play in fashion, what feels unique in 2023 is the quantity and commitment to it. Sparkle is no longer the icing on the cake, but the main sartorial affair.
Beyoncé at the 2023 Grammy Awards

Photo by Robert Gauthier / Los Angeles Times via Getty Images
Lizzo at the 2023 Grammy Awards

Photo by Sonj Flemming/CBS via Getty Images)
Harry Styles at the 2023 Grammy Awards

Photo by Christopher Polk/Variety via Getty Images
Shiny things are, in a somewhat literal sense, the most basic form of glamor. Scientific studies suggest that the allure of shine is an evolutionary byproduct of our survival instincts: it appeases the same part of our brain that makes us attracted to water. But why is our thirst for shine so unquenchable in 2023?
Jamie Lee Curtis at the 2023 Academy Awards

Photo by Jeff Kravitz/FilmMagic
Jessica Chastain at the 2023 Academy Awards

Photo by Jeff Kravitz/FilmMagic
Malala Yousafzai at the 2023 Academy Awards

Photo by Gilbert Flores/Variety via Getty Images
We largely have the futurist brands Balenciaga and Diesel to thank for planting the seeds of the 2020s shine craze. Prior to this season, Balenciaga was exploring a nightlife-fueled, post-pandemic joie de vivre that reimagined the spirit and sparkle of 1920s flappers — and now offer silver as a color option in everything from morph suits to sneakers. The brand has made many convincing advertisements for all things shiny: two of their most memorable runway looks in the past year were a head-to-toe metallic gown modeled by Nicole Kidman and a crystal-encrusted homage to dystopian glamor at their controversial mud show. Mirror effects and metallics are also integral components of Diesel's DNA under the leadership of Glenn Martens, whose designs revive Space Age aesthetics. Diesel has even gone so far as to paint their runway models' skin in glimmering hues.
MM6, Louis Vuitton and JW Anderson are among the brands that hopped on the glitterati bandwagon in Fall 2023. Many embraced the unexpected by applying shine and gloss to unusual garments, fabrics and entire color spectrums. At Armani and Collina Strada, even earth tones got the mirror treatment.
MM6 Maison Margiela Fall 2023

Photo by Victor VIRGILE/Gamma-Rapho via Getty Images
Photo by Victor VIRGILE/Gamma-Rapho via Getty Images
Photo by Victor VIRGILE/Gamma-Rapho via Getty Images
Photo by George Chinsee/WWD via Getty Images
Street style is no exception. Four of the ten items on Lyst's Hottest Product List for Q4 have a high-shine factor, including a TikTok famous Loewe puffer in shiny lambskin. Fast fashion companies like Zara are churning out all things glittering and gold, from a $169 rhinestone mesh gown to sequin bombers and headbands. Milan's best dressed wore enough of the latter hue during Fashion Week to warrant a New York Times headline: "The Streets Were Drenched with Gold."
Up until now, metallic, glittery and sequined apparel was typically associated with holiday occasion dressing—or relegated to the realm of tackiness—but these days, tis' the season all year round. The viral Balenciaga Swift Oval sunglasses and the Skims Metallic Swim collection have already optimized the trend for fun in the sun, while lingerie brands like Fleur du Mal have ensured that even those baring all can stay bedazzled. Founder Jennifer Zuccarini described Fleur du Mal's recent crystal and rhinestone collection as a "direct reaction to the super-casual, 'sweats all day' styles from the pandemic." Citing the renewed appreciation for dressing up and going out (and perhaps even being alive?) after years of quarantine, she noted, "Our inspiration for Spring was decadence. It's all about celebrating."
With a recession looming, some may call such gilded fashions ironic, but I say it's logic: Clothing has long been a canvas for fantasy and desire, and given the monetary associations with glitz and metallics, people may simply be masking what they feel they're lacking.
Vogue China Editor in Chief Tina Leung during New York Fashion Week

Photo by Jeremy Moeller/Getty Images
German influencer Leonie Hanne during New York Fashion Week.

Photo by Christian Vierig/Getty Images
The shameless embrace of glimmer, shimmer, and sheen is adjacent to the notion of "dopamine dressing," in that it's unapologetic and indulgent. This is the external iteration: rather than wearing what personally feels best, shine is about wearing whatever turns the most heads. A sparkling gown, lamé suit and reflective silver bomber are the fashion world's equivalent of a giant, blinking sign that says "LOOK AT ME!" It's arguably obnoxious, but always understandable. And after spending years locked away and out of sight, we all deserve to catch some light.