Miuccia Prada Talks 30 Years of Miu Miu, Her Greatest Experiment
As the wildly popular label celebrates its 30th anniversary, the designer reflects on her all-time favorite looks.
Photographs by Alasdair McLellan
Styled by Max Pearmain
---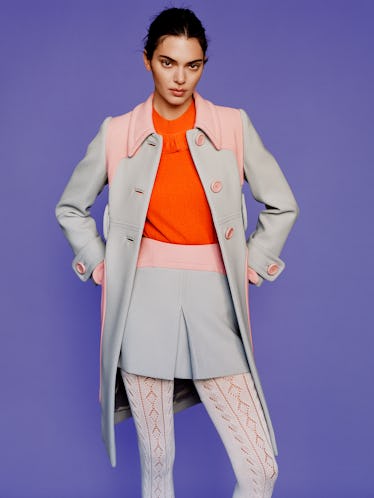 Spring 2014: "It's a lot of denying a certain kind of power dressing and wanting to have power dressing in a different way," says Miuccia Prada. "So instead of the big-shoulder jacket, basically they're narrow, very womanly. And some things are also just about fashion—the colored lace socks, for instance. This is a woman as a present, as a package—a cake as a dress." Kendall Jenner wears Miu Miu clothing and accessories (throughout).
There are many things that Miuccia Prada hates: The banality of luxury, "good taste," and the bourgeoisie are just a few of the topics that come up during a conversation from her art-filled home in Milan. These bugbears, however, have been useful over the years. They have given clarity to her work and provided her with something to react against in her collections, beginning in the 1980s with the introduction of handbags and backpacks made of practical black nylon, and continuing ever since with an aesthetic that the designer once described as "ugly chic."
Prada has something else on her mind today. Three years since the pandemic upended people's relationship with their clothes, and as her company embarks on a generational management shift that will have significant implications for its future, it troubles her that fashion is being positioned as a form of escapism or entertainment during difficult times. She wants to push back against that sentiment in the Prada collections she now codesigns with Raf Simons, but especially with her more personal and provocative Miu Miu label. The occasion for this rare audience with the designer—"Mrs. Prada," if we are being formal—is the 30th anniversary of Miu Miu, which she started in order to explore her more experimental ideas, from dresses made of sheer nylonette in the 1990s to pleated miniskirts cut so short that the pocket linings were visible in 2021. And while Miu Miu is undeniably having a moment—the shopping app Lyst named it Brand of the Year for 2022, following several viral hits like strapped ballet flats, quilted Wander bags, and those miniskirts—Prada insists she wants to design clothes that serve a purpose, a point she returns to several times during a late-morning Zoom call, a medium that suits her efficient and direct style quite well.
"I really don't like this idea that 'Fashion is a dream,' " Prada says. "First of all, if I have a dream, I want to achieve it, so it's an objective or a direction. Something that has a strange beauty of who-knows-what-it-is, I really detest."
Surprisingly, as she reflects on the Miu Miu archives, she still expresses doubts about collections that others consider some of her best. Fall 2009 is one example. It was Prada's riposte to the bourgeoisie, set ironically in a mansion on the Avenue Foch in Paris and featuring heavily embellished black evening dresses with exposed bra tops. "It was beautiful," Prada says. "But probably what I want in my life to attack most is the idea of beauty and sexiness. That is my obsession." Looking back, she also notices that the lines between Prada and Miu Miu have blurred—"because the more they told me that I should differentiate, the more I enjoyed doing in Prada what I should have done in Miu Miu, and vice versa," Prada says, and grins. "I like to mix up my ideas." Her desire to avoid trends—or, rather, to lead them—is a strength; but it can also be a weakness, she adds, when her eccentricity causes her to drift too far from the real world.
In 1977, she and her husband, Patrizio Bertelli, began their transformation of Prada's grandfather's luggage business into what would become a $4.4 billion fashion conglomerate. In those early days, the avant-garde thought she was not avant-garde enough, and the classicists found her disturbing. One of her collections was dismissed as "Flintstones meets Jetsons." "For them it was an insult, introducing reality, introducing the badness, introducing life, introducing culture," Prada says. "Fashion was, in general, a very stiff world where only design and glamour were relevant." If Prada had to be more serious, Miu Miu, launched in 1993 and titled after her family nickname, would become her playground.
Fall 2011
"This was a kind of serious, beautiful, appealing women's show. I will say that this is a show that had no irony, but I like this collection very much. It was the first show in Palais d'Iéna, it was daylight, and the space was so grand and beautiful that probably I wanted to match it."
Spring 2004
"At precise moments and for different reasons, I'm interested in a subject," Prada says. "I was always so pretentious that I wanted to be different from everybody else, since I was young. If everybody is in short, I do long; if everybody's in long, I do short. And that is the part about fashion that I like a lot."
"I thought that with Miu Miu I could be more radical, more avant-garde, more disruptive," she says. "Anything that in some way I couldn't do with Prada, I wanted to do with Miu Miu." In 1997, she summed it up like this: "Prada, at the end, is what I am, and Miu Miu is what I would like to be." From the early days, Prada made it clear that Miu Miu was not to be a commercialized spin-off. Even the way the collection was presented and advertised became a means for experimentation. She moved the runway shows from New York to London in the early years, then finally to Paris in the mid-2000s. Showing Miu Miu in Paris gave her a special kind of freedom: As the final collection on the runway calendar, it gets to close out the season, though many editors consider Miu Miu to be so directional that they call it the first collection of the next season. And, yes, Prada keeps an eye on the competition. "For sure, if I see what I was wanting to do and somebody else did it, I cancel it," she says.
An early breakthrough for Miu Miu came in 1995, just months after the release of Kids, Larry Clark's dark coming-of-age drama. Prada cast the film's 20-year-old star, Chloë Sevigny, to open Miu Miu's spring 1996 show in Bryant Park, and then featured her in that season's ad campaign. (Drew Barrymore appeared in another Miu Miu campaign that year.) It was a different time for fashion: That show, inspired by modern service uniforms that were rendered in sheer nylonette and dresses "à la Catherine Deneuve in Repulsion," as Prada describes them, featured only 17 models, with Kate Moss making no less than five exits. This was just ahead of the industry's obsession with celebrity-fashion connections, which has made even Prada's signature shows at the Fondazione Prada in Milan today look more like red carpet events, with hordes of fans lining the streets outside. "I loved that show," Prada recalls.
In the 1960s, Prada was involved in communism, as was common among young Italians, and in the cause of feminism; she has a doctorate in political science and considered herself a politician, but she has avoided discussions of politics throughout her career. She likes to tell the story of how she turned up at protests wearing high heels and Saint Laurent and Pierre Cardin dresses, rather than the jeans that would have made her fit in. "I don't like it when we are called on to be opinionists, because everybody is required to say everything on anything," she says. "Politicians, designers, no difference. Everybody counts, in good and bad." But it is fair to say that, perhaps more than any other contemporary designer, she is responsible for elevating the dialogue of fashion by attracting an audience of artists, architects, and intellectuals who otherwise would not have engaged with the subject.
At Miu Miu, beginning with the spring 2011 collection, she has asked female directors to interpret her work for a series called "Women's Tales." First up was Zoe Cassavetes, who filmed models as they passed through a powder room. ("In this world where everything goes by so fast, it's nice to have a little slice of life where glamorous women interact with each other," Cassavetes said at the time.) More recently, Prada has invited artists to contribute to the Miu Miu runway experience by creating video displays. "They can do whatever they want, but they comment on my show. It's like adding content and enlarging the discussion," Prada says. The spring 2022 presentation was accompanied by a film by the artist Meriem Bennani that spoofed trends in plastic surgery. For spring 2023, the Chinese artist Shuang Li projected images of stars and moons—they were meant to be abstract and artificial looking—that cleverly echoed Prada's own interest in the tension between what's material and immaterial.
Spring 2006
"I like to take something that is very low and elevate it. There was an obsession with that kind of Brighton dress that is the dress of a young girl who makes it glamorous by adding the gloves. That is not a glamorous dress, for sure; it's the opposite. As an instinct, if I have something very rich, I try to pare it down to pretend that it's poor, and when it's something poor, I like to elevate it. I don't know if it's a strange form of democracy, but always in my life, even in my home, in anything I do, if there is something rich, beautiful, expensive, I always tear it down."
Spring 1996
"I was doing everything that was considered 'not chic,' but at the same time I think that show was superchic, with the transparency of the nylon netting for dresses à la Catherine Deneuve in Repulsion," Prada says of a collection that was shown in New York with models including Chloë Sevigny, Milla Jovovich, and Kate Moss. "I remember Kate with the little red clogs—that, for instance, was a dream of mine. As a child, I was never allowed to wear pink or, for sure, not red shoes."
"Fashion was always a bit dismissed by certain groups of people," Prada says. "No one talks about clothes, because if you talk about clothes, you talk about your physicality, your sexuality—you have to talk about your intimate self. It's much easier to talk about cars and tables and the weather."
Seated at a desk in her living room, Prada was visible on-screen only from the waist up. She wore a simple top and a matching headband the color of champagne, with a fabulous statement necklace made of gold disks of varying sizes that brought the look to life; she would have been considered well dressed for any occasion. "I always thought that you should be able to go out for a party, but also take your children to school, and never feel ashamed of what you are wearing," Prada says. "I don't want to change myself according to what I have to do, or for different society planes. Because I loved to live a life that was not about rich people at all—actually, the opposite—I would have felt uncomfortable if I would change my way of dressing." While Prada has said in the past that she likes to hide herself behind formality, it is also true that more and more she feels a desire to be overtly political. "People should care about our collective destiny much more," she says. "It's important that people have again a sense of the community, of social responsibility of some kind."
Spring 2003
"It was an ironic take on a world of Hawaiian dressing, basically—the obsession of men with Hawaiian shirts, the plastic flower leis."
Spring 2011
"Aggressive sexiness, kind of cool," Prada says of a show that included audio snippets from American Idol and Dancing with the Stars on the soundtrack. "It was the idea of the audition, and you want to impress—you show yourself with something. I was thinking about Germany and my favorite dancer, Pina Bausch—I spent one week in Venice to see her work every single day. It was about upgrading yourself."
At 73, Prada says she feels the burden of her responsibilities. In January, she and Bertelli, 76, stepped down as co-CEOs of Prada Group and appointed the former CEO of Luxottica Group, Andrea Guerra, to helm the company, which they eventually plan to hand over to their eldest son, Lorenzo. As a businesswoman, she wants to pass on to him a company that is "well prepared, well structured," she says. "When it was just us, we could do whatever we wanted. I don't think that we woke up one single day wanting to make more money. But now I feel the responsibility even more—first of all, the responsibility towards my son's decision to join the company, but after that, the responsibility of a company as a whole, that gives work to so many people. I have had, for a few years, the sense of teaching being very important. It doesn't sound so appealing, but at my age, I think that what you have to do, or what makes sense of your life, is also being so good at what you do that you transmit knowledge and behavior to the people who are going to follow."
Prada plans to continue designing, she says, "but now the primary work at Prada is with Simons. He's more organized. To have somebody who shares your responsibility in such a difficult world is nice. And so I can do Miu Miu earlier, which is a great luxury for me." (In the early days, Prada would sometimes design the Miu Miu collections in just 15 days, only after completing Prada.) One result of her partnership with Simons is that the distinction between Prada and Miu Miu is clearer. "If you see, you read, you watch movies, and you are interested, you become instinctively connected to the world," Prada says. "And it's not changed much, my point of view. I'm interested in people. What can I do that is useful to people?"
Spring 2023
"I was in love with this light layering, very thin, thin, thin little pieces, everything kind of looking bad, but sexy for me. It was the lightness that I liked most."
Still, that tiny miniskirt that went viral is not what comes to mind when Prada says she wants to be "useful." What she means, she says, is that she wants to help individuals express their personality. In a subtle shift that fans have obsessed over as if hunting for Easter eggs online, her casting for Miu Miu shows now includes not only models of the moment, but also culturally significant figures. Her spring 2023 presentation, for example, included Ethel Cain, Miranda July, Emily Ratajkowski, and FKA Twigs. "People should express themselves in the way that they want, not follow the clichés of sexiness and beauty—this is my first law," Prada says. "But I don't want to be the one who promotes this because it's trendy, or to be politically correct." She doesn't want to be that obvious, she says.
"I believe in freedom of the people," she says. "To be a serious person is useful. To have a connection between culture and fashion is useful. I believe in that, and I don't want to do it in a way that is for the sake of pleasing, or because you sell more. I want to do it because I really believe in it."
Hair by Cyndia Harvey for This Hair of Mine at Art Partner; makeup by Lauren Parsons at Art Partner; manicure by Pebbles Aikens for Dior Vernis at the Wall Group. Set design by Andy Hillman at Streeters.
Model: Kendall Jenner at the Society Management; casting by Michelle Lee at Michelle Lee Casting; produced by Partner Films; executive producer: Kimberly Arms; junior producer: Lola Sharrock; production assistant: Ash Renshaw; photo assistants: Lex Kembery, Simon Mackinlay, Jess Pearson; fashion assistants: Emma Simmonds, Eleonora Frattini; hair assistant: Emilie Bromley; makeup assistant: Anastasia Hess; set assistant: George Miller-Hoare.