Nicki Minaj's Best Red Carpet Looks Are the Pinkprint of Out-There Fashion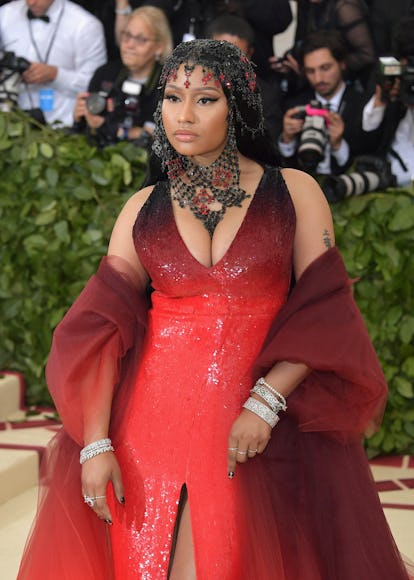 Neilson Barnard/Getty Images Entertainment/Getty Images
When people think of Nicki Minaj's style, they likely immediately picture the outrageous wigs and and clashing patterns of her Pink Friday era. Back when Minaj was just entering the scene in 2010 and 2011, the rapper embraced multi-colored hair, heavily embellished looks, and red carpet stunts (who can forget the faux Pope at the 2012 Grammys). But over the years, Minaj has gone through many different iterations of dressing, like in 2014, when her style got noticeably more refined.
"I went so far to the other side that there's only one place to go from there," Minaj told MTV News in April 2014. "You can either continue doing costumes or you can just say, 'Hey guess what? This will shock them even more. Doing nothing will shock them even more.'"
From there, Minaj began to embrace sleek dresses—many by Alexander McQueen—which hugged her body and showed off her curves. Since then, though, Minaj has found a balance, a way to show off her quirky style without throwing all the ideas at the wall at once. These days, its more rare to see the rapper on the red carpet, but we know when she appears, she's going to give us a look to talk about.