How Will Nigo Usher Kenzo Into the Future?
The multihyphenate designer reflects on his journey into Kenzo's archive and the brand's essential east-meets-west spirit.
---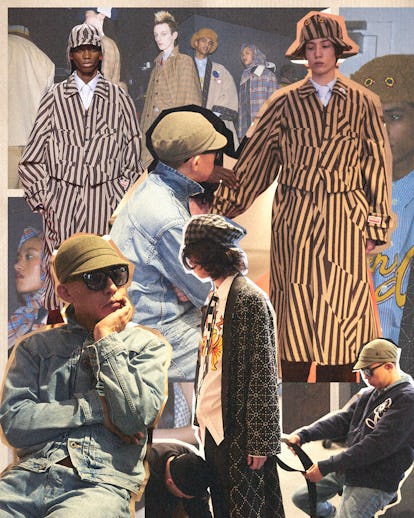 Photographs courtesy of Kenzo; Collage by Ashley Peña.
By the time the final look from Kenzo's spring 2023 collection appeared on the runway last June, the brand's artistic director, Tomoaki Nagao—better known by his moniker, Nigo—was already creating a whole new line for the following season. That kind of overlap, Nigo explains to me over Zoom, is a natural part of his creative process.
The OG multihyphenate, now 52 years old, has spent decades in the fashion, music, art, and design industries. He first became a cult streetwear figure with his Japanese label A Bathing Ape, which he launched from his Shibuya clothing store in 1993. He then went on to work with Marc Jacobs and Virgil Abloh at Louis Vuitton, along with Pharrell, with whom he helms the menswear brand Billionaire Boys Club; in 2010, Nigo launched yet another streetwear company called Human Made. When it comes to music, he's collaborated with A$AP Rocky; Tyler, the Creator, and Kid Cudi; his debut album, I KNOW NIGO—a nod to those who drop his name at the threshold of VIP sections all over the world—featured these rap-game heavyweights and many more. Whether as a producer, a DJ, a designer, or a collaborator, Nigo has cultivated a list of fans and followers that rival most of today's hottest red carpet tip sheets.
But the latest (and arguably most significant) feather in his cap came in September 2021, when Nigo was appointed the position of artistic director for Kenzo—the first, in fact, since founder Kenzo Takada retired in 1999. Since then, Kenzo has become something of a life's-work project for Nigo. Over the course of two years and three collections, the designer has fused his own American-workwear-meets-street signatures with Kenzo's prep-school, print-heavy house codes—to joyous and youthful effect. The fall 2023 season expanded upon that foundation, with 60 looks debuting at his January show in Paris alongside a live string quartet performing songs from The Beatles' White Album. Although technically a men's show, the presentation featured looks for all genders: pleated skirts worn over wide-leg pants, dimpled vests layered on top of superlong sweaters, denim overalls, knitted balaclavas, shearling leather coats, and oversized takes on the classic business suit.
Photo by Giovanni Giannoni/WWD via Getty Images
Photo by Giovanni Giannoni/WWD via Getty Images
Photo by Giovanni Giannoni/WWD via Getty Images
Photo by Giovanni Giannoni/WWD via Getty Images
Photo by Giovanni Giannoni/WWD via Getty Images
Photo by Giovanni Giannoni/WWD via Getty Images
The only difference this time around, Nigo tells me through a translator, was the research process. The designer has been a dutiful student of Kenzo's history since his appointment as artistic director, spending his time in deep conversation with the maison's archive department, leafing through show notes, photographs and paraphernalia connected to previous collections, sketches, and, of course, clothing from the 1970s on. But his third and latest collection bears particular significance—because it's the only one so far that he's been able to approach with the knowledge of what sells in stores.
"I could actually get some real feedback on how people were reacting to the collections," he says, speaking from his home in Tokyo just a few days after the fall 2023 runway presentation took place. "In the first show, I introduced some elements of traditional Japanese clothing through kimono forms. Instinctively, I felt that would make sense for Kenzo, but I wasn't sure how that would go down. Would people be interested? But it actually seems to have been really popular, and the reaction from customers has confirmed my feeling."
That idea—merging classical Japanese fashion with Western influences—is at the heart of both Nigo and Takada's design vision. Both men were born and raised in Japan, but made clothing out of a Paris atelier for a Paris-based label. And, as Nigo points out, Japanese fashion often plays around with icons of Americana. But the point of being artistic director at Kenzo isn't to make what Nigo describes as "Nigo for Kenzo," nor to outright copy Takada's designs. Rather, the hope is to "take his approach, and make modern clothes that are a synthesis of various influences" so that each season's offerings don't feel like a repeat of previous collections.
Thematically speaking, though, each piece of clothing contains echoes of Kenzo's roots. Every month, the designer travels to Paris to spend about a week in the studio to work with the team—and asks the Kenzo archivists to show him things he "wasn't aware of," as Nigo puts it. "I have my own personal collection of vintage Kenzo pieces that I've collected over the years, which forms the basis of my entry into understanding Kenzo," he adds. "I'll ask the archivists about a certain period that I don't know about and they'll be able to send pieces from their warehouse." (One such piece: Kenzo's suiting fabric from the 1980s, which ended up inspiring a dazzle stripe motif Nigo used on wool jacquard suiting and printed denim for fall 2023.) Nigo says that, through his research, he's been surprised by the very first shows that Takada mounted back in the 1970s. They were, in fact, quite experimental. "I don't see [that] reflected in the later period of the brand," Nigo says. "But that's been informative in understanding the freedom that can exist within Kenzo."
Of course, despite the fall 2023 show closing just one week ago, Nigo is already knee-deep in his plans for where to take the brand next. In which direction will he take it? What does he hope to achieve in the next collection? As always, he says he is looking ahead while simultaneously keeping his eye trained firmly upon the rearview mirror, paying homage to the past.
"Brands tend to age with their creators," he explains. "[Technically, that makes] Kenzo relatively middle-aged. That's not true to the roots of the brand, which should always appeal to young people. My overriding theme is that the brand must go back to this idea: it belongs in a zone that appeals to young people. That's the essence of my project."