Proenza Schouler Celebrates 20 Years
Surrounded by their muses, designers Jack McCollough and Lazaro Hernandez showed an intimate collection for the modern woman.
---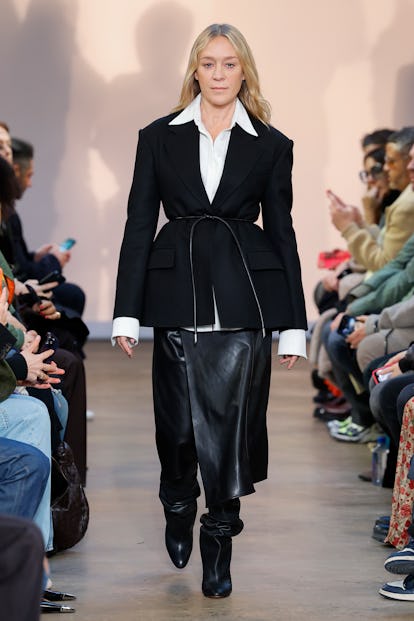 Chloe Sevigny opened Proenza Schouler's Fall 2023 show. Courtesy Proenza Schouler.
"This is possibly our most personal collection," wrote Proenza Schouler designers Jack McCollough and Lazaro Hernandez in a typed-up letter placed on everyone's seat at the brand's Fall 2023 show, which took place on Saturday afternoon in Chelsea. This year marks their 20th anniversary in the business, and so they returned to what started it all: the women in their lives who inspire them most, and whose wardrobes they want to create. (Proenza Schouler is, after all, the combination of their mothers' maiden names.)
"The collection started and ended with a bank of images of women who we personally know and have felt connected to in one form or another over the years," the designers explained. Those women include longtime friends and supporters like Sienna Miller, Natasha Lyonne, Karen Elson, Jemima Kirke, Leigh Lezark — all of whom were in the audience, plus Olympia Scarry and Chloë Sevigny, who walked the runway. Together, they comprise the quote-unquote "Proenza Schouler woman," and the show offered 40 different looks for her day-in-the-life, from a casual blazer she might wear to work and school pickup, with large tote bag to put her laptop in, to longer gowns she might wear to a wedding, a gala, or a daughter's friend's bar mitzvah.
In addition to showing what this Proenza Schouler woman looks like on the outside, though, McCollough and Hernandez also wanted to dig a little deeper and draw out her inner monologue as well: What thoughts consume her everyday life? For the show's soundtrack, they recruited the author Ottessa Moshfegh to compose a series of fictional journal entries from the day of the show — February 11th, 2023 — which were read aloud by Sevigny in a recording composed by Arca. (Sevigny's got a career in ASMR, if she wants it.) They begin with said "woman" going to a party for a young artist uptown: "I didn't really want to go because I'd seen the work and wasn't crazy about it, but I knew Claudine would be there and I hadn't seen her since she'd moved back from Berlin." And follow her as she puts her daughter to bed, laments about her husband, and reflects on her "angsty youth" while listening to "Disintegration" by The Cure on the subway to Brooklyn.
"As we have grown up over the years, in front of all of you, so has she," wrote the designers of their collective muse. "She is an adult, a professional, she is engaged with the world at large…" The collection would work for women of any age, profession, and Spotify interests, but it possessed a sophistication and effortlessness gained only from two decades of experience — of refining, and refining again. "Devoid of theme or a specific visual narrative wrapped up in a neat silhouette or shape, it is simply a collection of clothing we find compelling and essential right now," they explained. "A complete wardrobe."
Standout pieces included a blazer with a zipper on the back, allowing for a slight change in silhouette depending on where you're going and what you're doing — and how hot it is; a perfectly oversize navy blue suit with wide, sloped shoulders and a nipped waist, worn with a crinkled, bright yellow shirt underneath; and a sheer skirt set with adjustable snaps. McCollough and Hernandez also played with new textures this season, including crinkled metallics, soft leather and cashmere, and rich velvet.
Sitting front row in a green striped dress from the Pre-Fall 2023 collection was none other than Anna Wintour — the woman who started it all. As the story goes, back when Hernandez was a young college student, he found himself on the same flight as Wintour, who was, of course, sitting first class. Brimming with youthful boldness, he gathered the courage to introduce himself, and went up and tapped her on the shoulder. She refused to acknowledge him, but rather than give up, he instead came back with a note, written on a napkin, and placed it on her tray table. Two weeks later, he received a call from Michael Kors, who said Wintour passed along the note, and that he should hire him as an intern. The rest is history.
Seated next to Wintour at the show was Sienna Miller's 10-year-old daughter, Marlowe Ottoline Layng Sturridge, who wore large black sunglasses like Wintour herself. She represented the next generation of Proenza Schouler women — the ones who will inspire them for another 20 years to come.