Rachel Brosnahan Puts a Devilish Twist on Red Carpet Style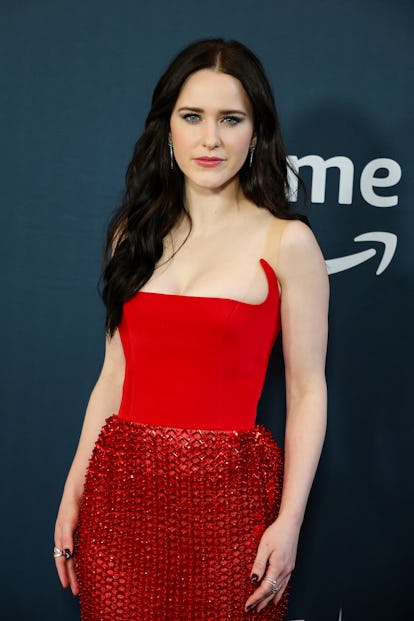 Theo Wargo/Getty Images Entertainment/Getty Images
Rachel Brosnahan is ending her time on The Marvelous Mrs. Maisel with a bang. The actress, who has been portraying the stand-up comedian on the Prime Video series since 2017, attended her final premiere for the show on Tuesday night, and she made sure to leave us with something to remember her by.
Brosnahan attended the premiere for the show's fifth and final season in a red hot, ankle-length dress from Goerges Hobeika's fall/winter 2023/24 collection. The top of the look featured a straight neckline with two horn-shaped pieces protruding from her bust, with nude straps allowing for a strapless look with added support. From there, the piece transitioned into a glittering column skirt, covered in red beads that added a bit of dimension to the look, which she completed with a pair of Paris Texas's Lidia mules.
While on the red carpet, Brosnahan discussed what it has been like to say goodbye to a character after portraying her for six years. "They become a part of you. You become a part of them in ways that you can't articulate," she told People. Just weeks after wrapping Maisel, Brosnahan started production on a play, The Sign in Sidney Brustein's Window, and she explained that the transition between the roles made things even more difficult. "I realized how much, physically, [Midge] was a part of me that I didn't realize it's hard to let go of that fast-paced dialogue."
The actress' time portraying Midge Maisel has been quite the successful one. Brosnahan scored two Golden Globes for her work on the show, as well as an Emmy, SAG Award, and two Critics' Choice Awards. The Marvelous Mrs. Maisel's final season will premiere with its first three episodes on Friday, April 14th, on Prime Video.